Hong Kong, an astoundingly vibrant city that rarely sleeps, offers visitors a mix of the traditional and modern. With a population of 7.47 million in January 2020, it is regarded as the world's most vertical city. Hong Kong is an exceptional city-state that has developed into one of the top-ranked global cities in terms of per capita GDP, partly because of its strategic location in Southeast Asia.
Hong Kong has had the highest degree of economic freedom in the world since 1995 according to the Index of Economic Freedom. The city's economy depends highly on international trade and finance and is governed under positive non-interventionism. Due to these conditions, it is considered as among the most favorable places to start a company.
Hong Kong holds a lot of potential when it comes to developing a digital marketing strategy due to its status as a multicultural hub in Asia and its proximity to China. However, there are various challenges as well. This article will discuss Hong Kong's digital marketing environment, industry challenges and opportunities, successful campaigns, as well as the best possible ways on how to reach the audience.
Digital Landscape in Hong Kong
According to the 2020 Global Digital suite of reports from We Are Social and Hootsuite, Hong Kong has a total population of about 7.47 million with an internet penetration rate of 91%. This accounts for 6.79 million Hong Kong residents that are online.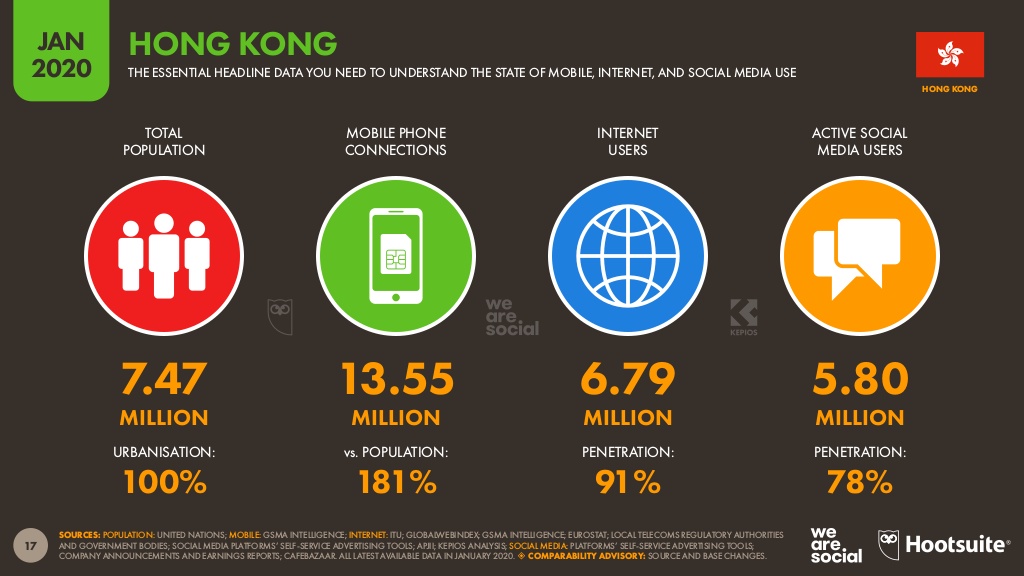 Source: https://wearesocial.com/hk/digital-2020-hong-kong/
Among this number, 5.8 million of them are active social media users, which equates to a penetration rate of 78%.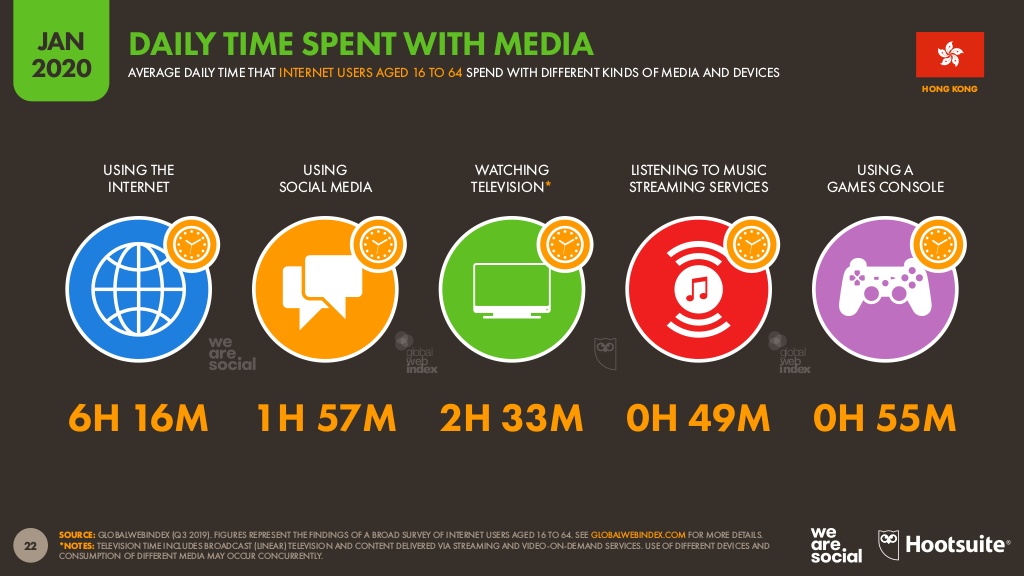 Source: https://wearesocial.com/hk/digital-2020-hong-kong/
The average amount of time that Hong Kong residents spend online daily is over six and twenty-three minutes, including 1 hour and 57 minutes on social media. In addition, 91% of the population access the Internet every day.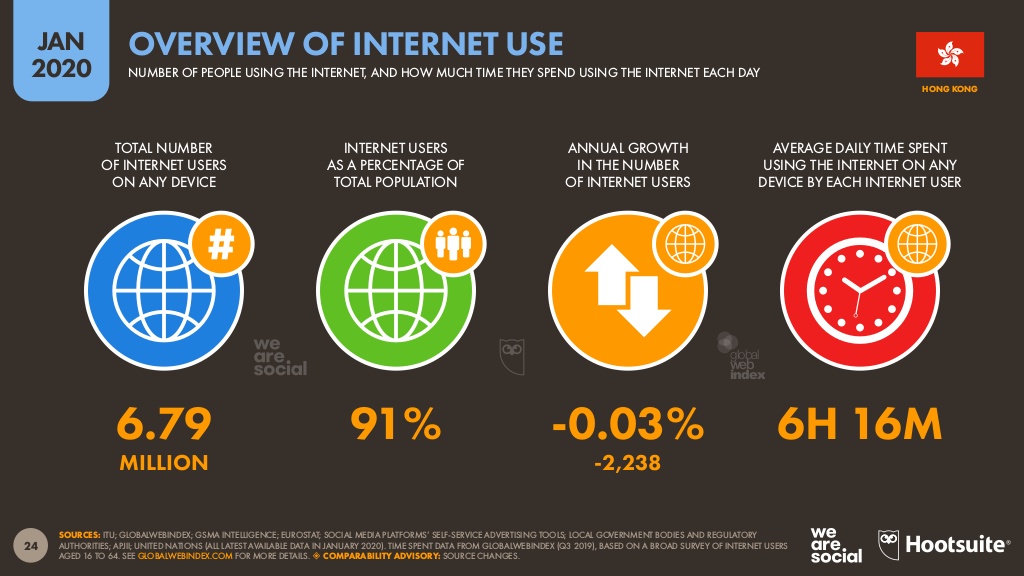 Source: https://wearesocial.com/hk/digital-2020-hong-kong/
Hong Kong has two official languages, Chinese and English, which play key roles in the economy. Aside from Cantonese (Traditional Chinese) as the main language, Mandarin (Simplified Chinese) is also spoken, written and used in their daily working life. Thus, it is vital that these languages are part of a company's digital marketing strategy.
Unlike the rest of mainland China, Hong Kong's most popular social media platforms are Facebook, with a penetration rate of 82%, as well as YouTube and WhatsApp closely following up.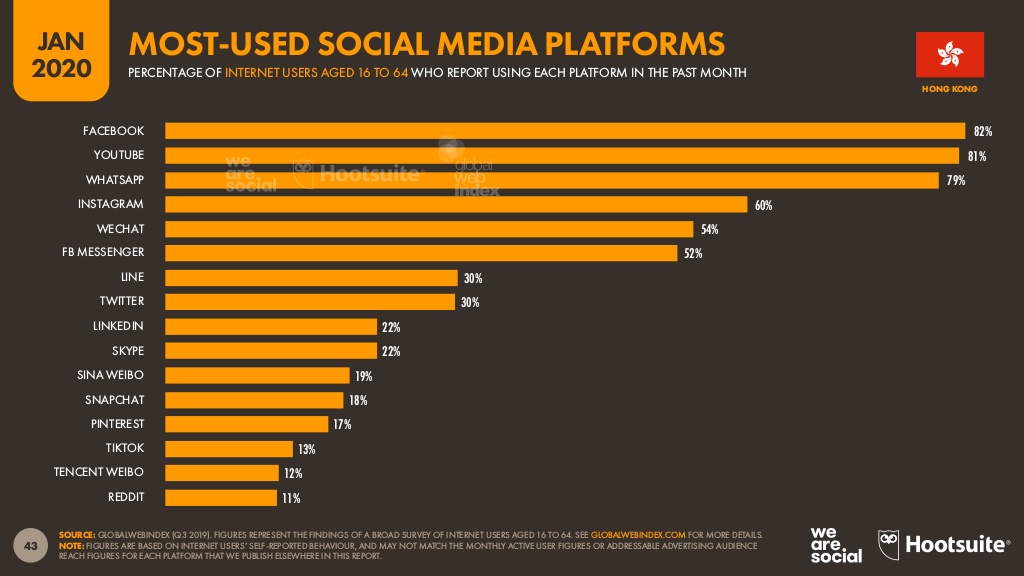 Source: https://wearesocial.com/hk/digital-2020-hong-kong/
In addition, Google is Hong Kong's main search engine. As seen in the image below, Baidu, another search engine, is also advancing as top eight on Hong Kong's top websites.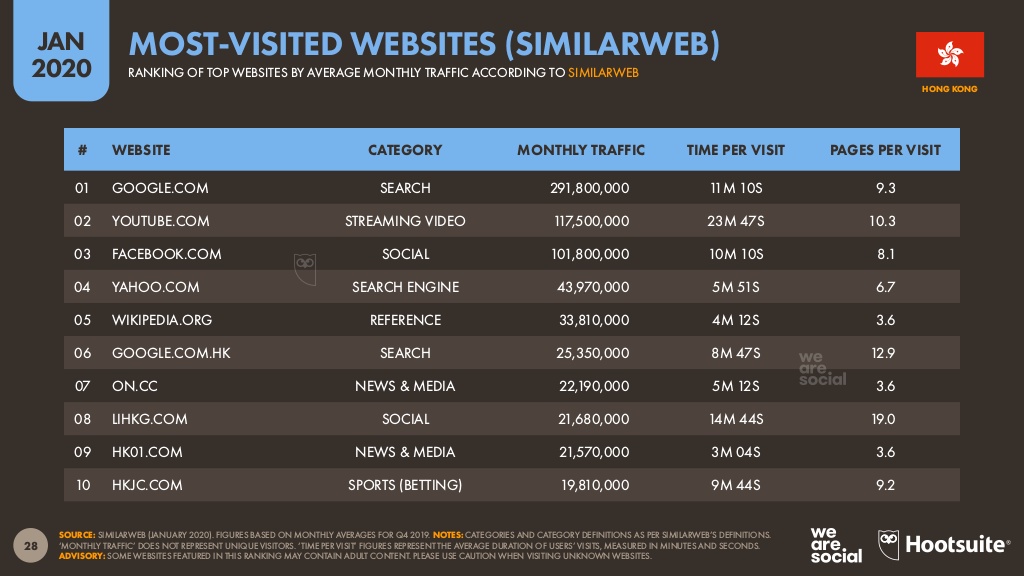 Source: https://wearesocial.com/hk/digital-2020-hong-kong/
Even though Hong Kong has well-developed infrastructure and high internet penetration, its pace of digitalization is lagging behind neighboring cities. The second edition of the "Smarter Digital City White Paper" by Google Hong Kong states that the consumer digital index only marginally increased compared to last year. In addition, only 30% of local residents considered Hong Kong a smart city, ranking it third behind Tokyo and Singapore.
However, it is understandable that businesses show little regard to the digital industry since it is a relatively new concept. Companies situated in the city are very much married to traditional mindsets, as reported by a WL Media HK study which found that Hong Kong's businesses are three times less likely to have adopted internet marketing than their rivals in Singapore.
Hong Kong's digital marketing industry faces many challenges, yet there are also distinct indicators of positivity. The city is growing and changing as there are younger generations discovering new art forms and indulging in alternative and diverse lifestyles. If marketers wish to engage with this new Hong Kong and the needs of its consumers, then they will need to become accustomed to more innovative marketing approaches.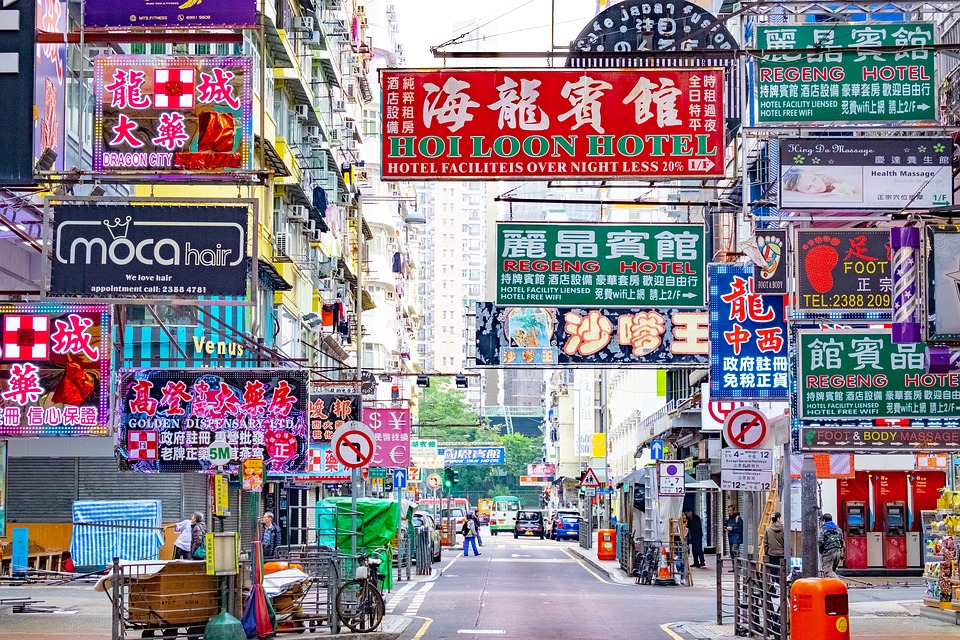 Trends and Opportunities
The realm of digital marketing is ever-changing. Due to developments in technology, there are new and innovative ways to reach audiences in the Hong Kong market. Therefore, companies that wish to achieve success in the market should be aware of these trends to ascertain that their digital marketing strategy doesn't lag behind the competition.
Consumer Data Analytics
Marketing campaigns, both traditional and digital, can only be effective if its promotions or advertisements reach the target audience. Rather than spending huge amounts of the marketing budget for the mass market, company owners can utilize consumer data in order to improve the effectiveness and efficiency of their marketing efforts.
The world has increasingly become more connected; thus, companies can gain access to social media information and other large data sets. This particular information is generally referred to as "big data". Such data can include details of consumers' internet browsing habits, online searches, purchasing history, and so on. With these data reinforcing those collected by their own websites, companies have access to an abundance of big data which can help them identify the profile of a particular set of customers as well as the ideal ways to approach them.
Majority of enterprises collect data from various channels – their own website, CRM systems, marketing automation software, social media sites, call center software, among others. When utilized effectively, all of these data can provide significant insights for marketers which can be used to generate more effective advertising campaigns. By combining big data and advanced analytics, countless opportunities across the value chain are now available to companies. One of the most profitable opportunities is the capability of engaging in personalized marketing.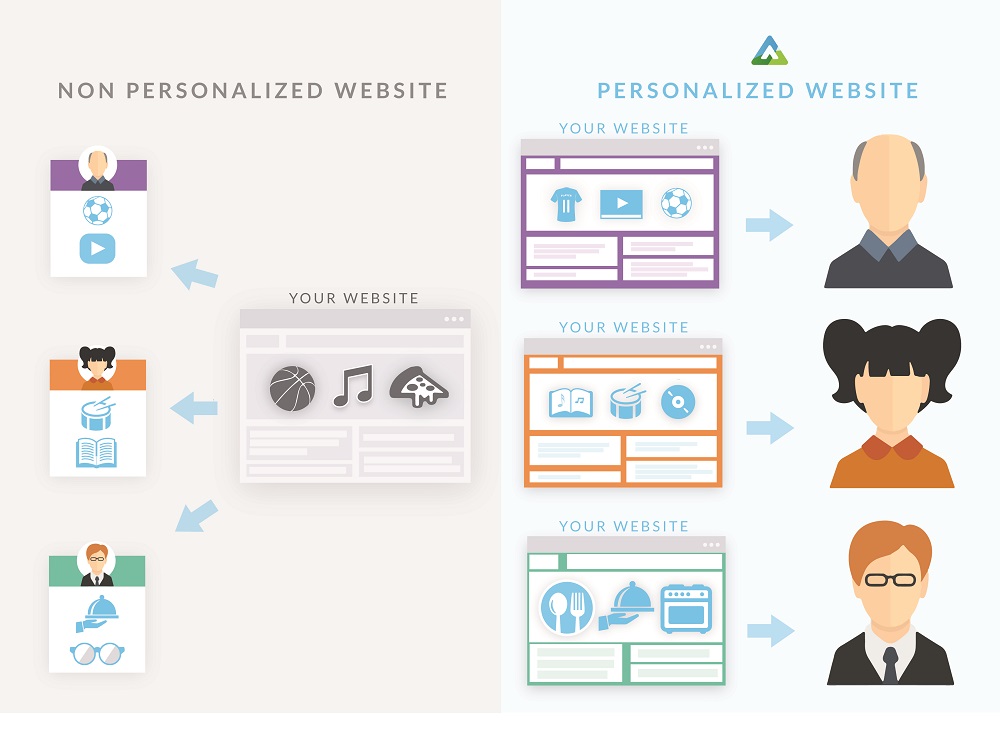 Source: https://betapage.co/startup/adapti-me
O2O Marketing
A combination of both offline-to-online and online-to-offline retailing strategies, O2O, assimilates digital sales channels with physical stores through a blend of online and offline activities. Several technologies have the potential to feed into the O2O model. These technologies include the use of mobile, cloud computing, e-wallets, big data, augmented reality (AR) and the Internet of Things (IoT). Due to these developments, the practice of O2O marketing is now thriving worldwide and has become a game changer in the Chinese marketing arena.
Numerous communities in mainland China have quickly adapted to the O2O model. As a result, the O2O market is now maturing and could sooner or later even overtake Taobao, Alibaba's e-commerce platform. At present, O2O commerce is rapidly penetrating all aspects of the daily lives of many Chinese people.
Mainland China's e-commerce is unique in several ways – from the preferred social media platforms to the design and content of websites and the promotional strategies utilized. While most small companies based in Hong Kong still focus on merely getting online, those in the mainland are attaining synergy by incorporating their online networks with offline networks in order to create a seamless customer experience. This has resulted in the need for a new breed of marketing experts who are proficient in the technology behind the O2O ecosystem, as well as understanding the distinctive behavior of mainland customers.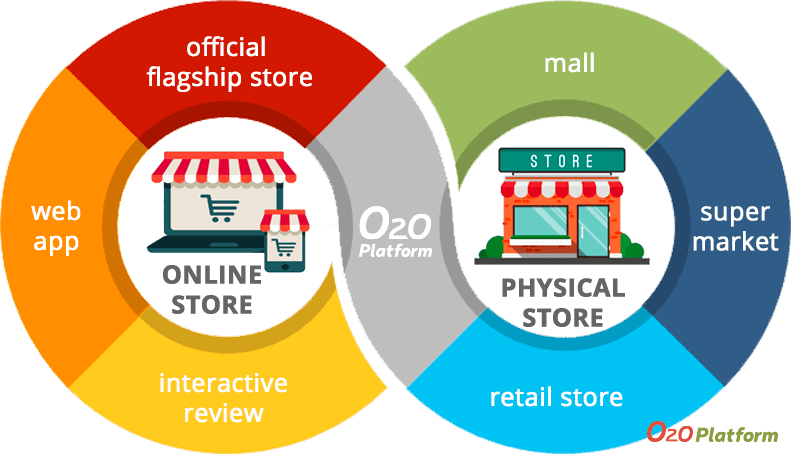 Source: https://www.o2oplatform.com/blog/o2o-marketing
Mobile Marketing
There has been substantial growth in mobile video consumption across the globe in recent years, with Hong Kong proving no exception. Viewers of mobile videos can be somewhat considered as a "captive" audience. There are many instances when people tend to look down on their phones instead of the advertisements around them. To make the most of the potential from this undivided attention, marketers can use mobile video as an effective way of reaching their target audience, particularly elusive teenage consumers who are seen as being constantly on the move. Consequently, the rising popularity of mobile marketing is anticipated to continue as one of the key digital trends.
As a matter of fact, the profits from mobile advertising are now outdoing desktop-based advertising revenue, with the widespread use of "phablets" (large-screen smartphones) continuing to drive the growth of mobile marketing and promotions. Currently, various mobile promotional tactics are being used by both global and local businesses. Some of these tactics involve participation contests, "instant winner" promotions, mobile coupon incentives, and user polling apps. The utilization of all these strategies has proven that mobile marketing can yield remarkable results for marketers.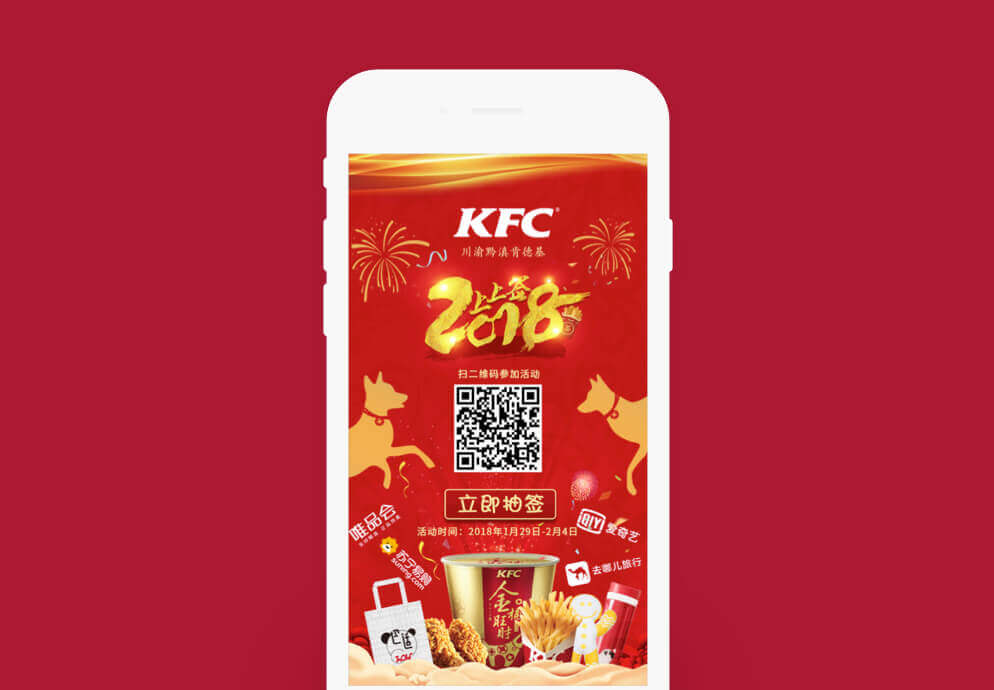 Source: https://www.o2oplatform.com/blog/o2o-marketing
Micro-influencers and Key Opinion Leaders
The emergence of social media networks, such as Facebook, Instagram, and Twitter, has enabled the speedy development of online peer-to-peer communications. As a result, nowadays, everyone has the potential to become a Key Opinion Leader (KOL) as long as their content appeals to a healthy community of followers. A KOL is someone who discusses their interests, shares their experiences and offers critiques of numerous subjects through digital platforms. Indeed, KOLs seem to be becoming more influential online than celebrities or journalists who are active in mass media.
Collaborating with KOLs has then become a fresh and significant option for marketers wishing to target a particular set of audience. However, marketers should remember that in most instances, KOLs are not motivated exclusively by money. Instead, they give greater priority in regards to what would interest their followers. Company owners and marketers are advised to develop an intensive and creative marketing strategy rather than turning to push tactics, while also finding effective ways to help KOLs better connect with their audience.
In addition, micro-influencers are those who are described as having 10,000 and 50,000 social media followers but generate an outstanding rate of engagement with their content. Some agencies found that collaborating with micro-influencers are an effective marketing tool for many of their clients in Hong Kong. One of the reasons is that many of their followers are usually from a specific geographical area making targeting easier. Furthermore, partnering with micro-influencer is much more cost-effective than using influencers with a larger following. For instance, when spin studio XYZ was launched in Hong Kong, micro-influencers, who were also female office workers, were provided free passes to try some classes and share their experiences via their social networks. It was a locally targeted strategy that was successful in enticing people to check out their offerings.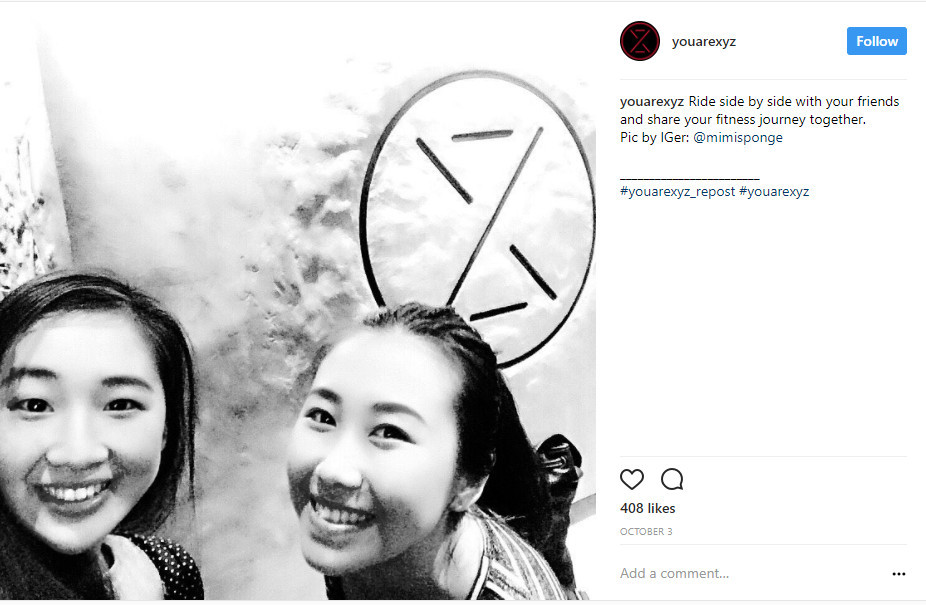 Source: https://www.linkedin.com/pulse/digital-marketing-trends-hong-kong-dr-karen-sutherland-/
Summary
When it comes to digital marketing in Hong Kong and, to an extent, in China, it is crucial to adapt your business model to the market as well as new innovations in technology to go ahead of your competitors. Some of the digital marketing developments that can greatly benefit you are consumer data analytics, O2O marketing, mobile marketing, and collaborations with micro-influencers and KOLs. With the help of these strategies, brands will be able to attain success in their marketing campaigns.
Talk to us at Info Cubic Japan today to learn more about online marketing in Hong Kong.
---
Featured Photo by Florian Wehde on Unsplash