Access to Local Affiliates

Human Based Operations

Multilingual Creative Production
Open up new sales channels with Japanese affiliate marketing
You may be losing out on incremental growth if you aren't utilizing affiliate marketing as an additional marketing channel. Affiliate marketing can be an effective channel that could shape the future of your business, but it needs to be run properly in order to be successful. If you don't use affiliate marketing at all or very little, you may be missing out on vital connections to new clients. Offer too much in terms of commission or other incentives and it may cut into your profits. If you are looking for a happy medium for your affiliate marketing needs in Japan, we can help you.

Info Cubic's Affiliate Marketing Solutions

We understand that every business is different, and that in order to gain the most exposure for your product, your business needs to be handled individually:
For medium-sized businesses, we can work within your budget needs to find an affiliate platform that works for you.
We can also make sure you don't head down the dangerous road of poor affiliate choices. You might think that any affiliate is good for business, but people who choose to present your products in an unprofessional manner can often turn people off your brand rather than excite them to purchase.
Timeline
We can take you live in as short as 14 business days depending on your needs. The general process until launch consist of the following 6 steps:
1Hearing Session
2Proposal Creation
3Account Registration
4Account Content Uploads
5Account Inspection/CV Tests
6Launch
Project Management Structure
In order to provide the best support possible, our teams are led by bilingual marketers who provide direct consulting on our clients' Japanese affiliate marketing campaigns in English. This ensures that communication with clients and our in-house operations team is quick and accurate.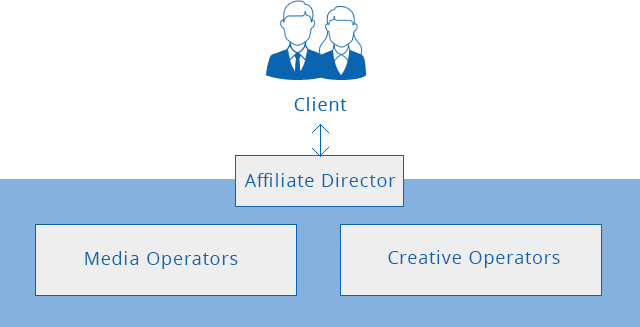 How much of a difference can affiliate marketing really make?
Affiliate marketing is one of the best ways to market your business. Your advertising dollars are only spent when it generates a sale. This is a lot better for your purse than pay-per-click or banner ad impressions, because your advertisers only profit when you do. Affiliate marketing can lead to a huge boost in sales, as much as 35% in some cases. That bump in revenue can mean a lot for your business. It could mean a chance to add new products, fund additional advertising campaigns, or simply give your business a buffer against hard times.