Native Japanese Creators

Content per Marketing Funnel Stage

SEO Content
Do you need more effective Japanese content for your brand?
Many clients believe that they can take their currently working English language content and directly apply it to the Japanese market. This strategy may work sometimes, but it often leads to mediocre results or even failure. It is crucial that the content you utilize to sell your products/services has been properly localized for the Japanese market in light of market trends or the expectations Japanese businesses/consumers have. Our content creators are all native Japanese speaking professionals and base their work off of what has been proven in the Japan market.

Info Cubic's Content Creation Services

While there are many agencies or individuals in the market who can produce content in Japanese for your business, working with our team has its own unique benefits. With our content creation services you can guarantee the following:
Professionally produced, native Japanese language content created from scratch or localized from English or other languages.
SEO based writing with proper inclusion of keywords and synonymous language for bettering your chances to rank.
Bilingual project direction so that you can communicate in English and ensure your wants/demands have been fully understood and implemented into the final content produced.
Timeline
First, our team will develop a mid and long-term content roadmap for your brand including the KPI goals we will optimize to. While creating your textual or visual content, we will make sure that everything published is tracked for efficacy. Subsequent decisions on new content to create will all be data based.
1Hearing Session
2Proposal Creation
3Content Plan Creation
4Content Creation
5Content Delivery/Upload
6Data Gathering & Analysis
7Reporting
Project Management Structure
In order to provide the best support possible, our teams are led by bilingual content marketers who provide direct consulting on our clients' Japanese content marketing initiatives in English. This ensures that communication with clients and our in-house operations team is quick and accurate.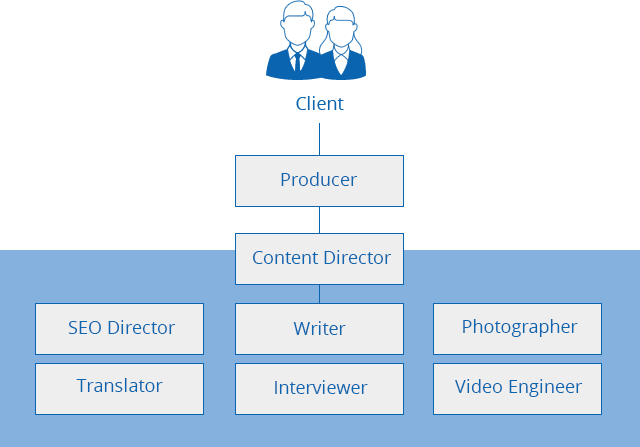 Content that resonates with the Japanese market
Let us help you to create content that will garner more awareness and interest in your product/service for the Japanese online market. Our project directors will work one-on-one with you to develop the type of content that properly reflects your brand's core values but has been uniquely tailored for the Japanese market.