Increasingly, Singapore is being considered as the hub of Asia. While it only has a population of about 5 million, 71% use the Internet, which means Singapore is one of the more Internet savvy countries in Asia.

| | | |
| --- | --- | --- |
| | | Reference |
| Population | 5,405,000 | IMF-World Economic Outlook Database 2012 |
| Internet population | 3,650,000 | Internet World Stats 2012 |
| Internet use | 67.5% | |
| Scale of online advertising market | S$135.91 (107 million USD) | Interactive Advertising Bureau 2011 |
Approximately 62% of the Singapore population is on Facebook (Socialbakers).
Among Singapore's Internet population, 80% of users utilize Facebook (Socialbakers).
The size of Singapore's 2010 online shopping market was 1.1 billion SGD, and it has been estimated that it will quadruple by 2015 (PayPal 2011).
In 2011, Singapore's total number of online searches per month reached approximately 300 million. Compared to 2010, that is a 43% increase (comScore 2011).
The number of broadband circuits in 2011 reached 9.22 million, 7.9 million of which were high speed wireless Internet networks (IDA).
Singaporeans spend an average of 25 hours per week on the Internet (Nielsen).
In Singapore, there are four commonly used languages: English, Simplified Chinese, Malay, and Tamil.
Consequently, when planning to market online in Singapore, one must first choose which language to focus on.
In terms of the ethnic makeup of the country, the following three groups comprise the majority of the population: Chinese (74%), Malaysian (13%), and Indian (9.2%).
Given the fact that, in Singapore, all schools use English as their language of instruction and Singaporeans understand the language well, there is good enough reason to develop websites in English. It is said that 36% of the population is made up of foreigners, so this also argues for using English for website development.
Since 74% of the population is ethnically Chinese, though, the Chinese language is another viable alternative or addition to English.
According to research conducted by PayPal in 2011, from 2010 to 2015, the online shopping market in Singapore is expected to grow approximately four times its current scale.
When looking at the 2010 online sales data by industry, the travel sector had the highest figures at 307 million SGD, which is 28% of the online shopping market.
Another interesting piece of data pertaining to e-commerce is that Internet users in Singapore use domestic websites and foreign websites differently when shopping online.
When purchasing things such as insurance or event tickets, Singaporean websites are mainly used, but when purchasing books or other forms of entertainment, such as music or games, foreign websites are preferred.
Additionally, for apparel, more than 50% of online purchases are made on foreign websites.
| | | |
| --- | --- | --- |
| Category | Market Scale | Share |
| Travel | 307 million SGD | 28% |
| Fashion/Beauty | 146 million SGD | 13% |
| Entertainment/Lifestyle | 143 million SGD | 13% |
| IT/Electronics | 83 million SGD | 11% |
| Insurance | 83 million SGD | 7% |
Reference:
http://www.mediabuzz.com.sg/asian-emarketing-latest-issue/1247-paypals-first-comprehensive-study-on-online-and-mobile-shopping-in-singapore
The Singaporean Search Engine Market
In Singapore, Google has the highest share of the market at 86.51%.
And, since English is a first language for most of the citizens, searches in English are growing in number.
The scale of the SEM market in 2008 was 2.8 million SGD; however, in 2010 it reached 15.9 million SGD, which means in only three years' time, it grew five times its original size (Ref: mvfglobal).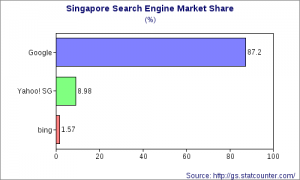 Fig 10.1.1: Overall search engine shares in Singapore
Google Singapore has a four-language interface (English, Simplified Chinese, Malay, and Tamil), so searches can and are being done in each one.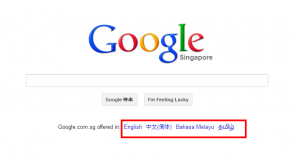 Fig 10.1.2: On Google Singapore, you can select up to 4 languages for your search.
The second most used search engine in Singapore is Yahoo! Singapore. Its interface only supports English, though.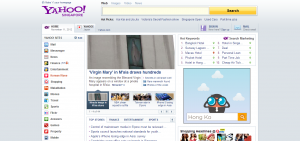 Fig 10.1.3: Yahoo! Singapore—English is the only supported language in its interface.
PPC Advertising in Singapore
Because Google's share of the search engine market in Singapore is the highest by far, PPC marketing is done predominantly through Google AdWords.
According to 2011 research conducted by comScore, in Singapore there was a total of approximately 304 million searches per month, which amounted to an average of 115 searches a month per person.
As previously mentioned, there are four major languages spoken in Singapore, so it is imperative to choose which language you would like to target when developing and marketing your website.
We naturally recommend using Google AdWords' keyword tool to research search volumes as an initial step of your marketing research, as it will reveal the reach of your potential market.
Many corporations are search engine marketing in English or Simplified Chinese, which means there is less competition in the Malaysian and Tamil language online markets.
Singaporean SEO
Because Google's share of the search engine market is so high in Singapore, SEO should be performed with Google's algorithms in mind.
Google's search engine algorithms are universal, regardless of country, so naturally your site's SEO should mirror that of any other country's Google-based SEO strategy.
This means you will need solid internal and external SEO.
Of course, when you develop link building strategies, it's recommended to use domestic sites or those with .sg domains as the links are more effective.
For help with your digital marketing campaigns in Singapore, contact us today.
Featured Photo by Peter Nguyen on Unsplash