Internet use in Taiwan is at 75.4% of the total population, which is relatively high compared to other countries.
The search engine advertising market in Taiwan is growing at a rate of 15% each year and is forecasted to continue do so into the future.

| | | |
| --- | --- | --- |
| | | Reference |
| Population | 23,316,000 | IMF-World Economic Outlook Database 2012 |
| Internet population | 17,530,000 | Internet World Stats 2012 |
| Internet use | 75.4% | |
| Scale of online advertising market | 346 million USD | IAMA |
There is an 82% rate of Internet use among Taiwanese housewives (Institute for Information Industry).
The results of an investigation found that Taiwanese access the Internet mostly for news (29.9%), then entertainment (23.3%), consumption (14.4%), work-related issues (12.6%), travel (10.4%), and finally financial matters (10.1%) (RDEC).
The paid search market is valued at 3 billion TWD and is growing more than 15% a year. It comprises 30.1% of the online advertising market (IAMA).
Business-to-Consumer based e-commerce in Taiwan is worth 8.33 billion USD and is growing each year by 25% (China Economic News Service).
Apparel is the number one type of online purchase in Taiwan (The China Post).
67% of Taiwanese Internet users refer to social media before making their online purchases. And, after they have made their purchases, 50% of them will use social media to express their opinion on the product or service they bought (FIND-III DoIT).
4% of Taiwanese Internet users have their own Facebook account (Socialbakers).
In Taiwan, Chinese is the spoken language and the main language of advertising; however, it differs from mainland Chinese in that traditional characters are used instead of their simplified counterparts.
When planning to market online in the greater China region, a site that incorporates traditional Chinese characters will have to be developed for Taiwan.
The Taiwanese Search Engine Market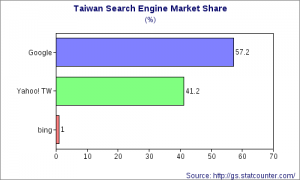 Fig 8.1: Overall search engine shares in Taiwan
Taiwan is one of the countries in the world that still has a large percentage of users on Yahoo! performing their daily searches.
The market share that Google has in Taiwan is only around 57%, so when considering SEM in Taiwan, it is best to advertise on both platforms.
Baidu, on the other hand, which commands the largest share of the Chinese market, only has captured a mere 1% in Taiwan.
Consequently, for SEM in the greater China region, Taiwan should be considered separately from the mainland.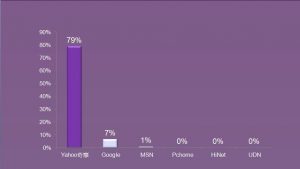 Fig 8.2: Home page setting for internet browsers in Taiwan (percentages).
Source: Nielsen Media Research, 2011
In Taiwan, 79% of Internet users have set Yahoo! Taiwan as their home page. This shows how influential Yahoo! is in Taiwan.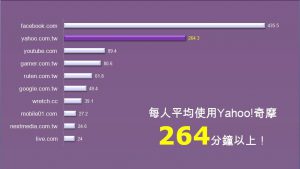 Fig 8.3: Average time spent on websites by Taiwanese Internet users
Source: InsightXplorer ARO Report, Jan. 2012
As the graph above illustrates, Yahoo! Taiwan is second only to Facebook for the longest amount of time spent per site visit (264 minutes).
PPC Advertising in Taiwan
In Taiwan, the paid search advertising market is split largely between Google and Yahoo! Taiwan.
Since Taiwan's population is approximately 23,000,000 people in size (a comparatively small market), it is recommended that both Yahoo! Taiwan and Google are used for any paid search campaigns.
| | | |
| --- | --- | --- |
| | Google AdWords | Yahoo! Taiwan |
| Ad title | 15 characters (2 byte) / 30 characters (1 byte) | 15 characters (2 byte) / 30 characters (1 byte) |
| Ad description | 19 characters (2 byte) / 38 characters (1 byte) | 38 characters (2 byte) / 76 characters (1 byte) |
Taiwan uses traditional Chinese characters for its writing system, which makes it a 2-byte language digitally.
For 2-byte languages, there are different PPC ad character limits than those whose script only has 1-byte characters.
Yahoo! Taiwan and Google AdWords also differ in this area. Yahoo! Taiwan allows twice the number of characters to be entered into the description as what is permitted on Google AdWords.
Yahoo! Taiwan PPC ads are therefore able to convey more information to search engine users, which can lead to higher CTRs than the Google counterparts.
Yahoo! Taiwan PPC: Characteristics
One characteristic of Yahoo! Taiwan's paid search platform that is beneficial for non-Chinese speakers is that it can be displayed in English.
Another important (and cautionary) characteristic about the Yahoo! Taiwan paid search platform is that there is a three-month suspension imposed on PPC campaigns if switches are made in SEM agency.
Therefore, when considering which SEM agency will manage your Yahoo! Taiwan PPC campaign, it is imperative you thoroughly investigate their background and see if they truly have the ability to provide you the quality of service and performance you desire.
Traditional and Simplified Chinese: Differences
It is important to always keep in mind the difference between traditional and simplified Chinese characters when planning your paid search campaigns in Taiwan.
It doesn't simply stop at the script, though; there are myriad differences between the vernacular of Chinese spoken in Taiwan and that of the mainland.
Consider the word "yogurt" as a simple example. In China it is pronounced /suān nǎi/ and written酸奶, but in Taiwan it's /yōu gé/ and written優格.
It is recommended that you check your ad copy and keywords with a native Taiwanese before uploading them to your campaigns, even if you have checked a Chinese-English translation tool or dictionary.
You can't expect great results if your Taiwanese ad copy is written in simplified Chinese or a vernacular from the mainland. It's always best to get a native's opinion.
Taiwanese SEO
In the same fashion as paid search advertising, the target media for SEO in Taiwan are Yahoo! and Google.
For Yahoo! Taiwan, though, it must be noted that it is currently using Microsoft's Bing.
Therefore, in order to optimize for both Google and Yahoo! Taiwan, similarities must be found between Google and Bing's algorithms.
SEO on Bing
Bing, like Google, ranks websites higher if they contain rich content and backlinks from high quality, relevant sites. Listed below are some SEO tips for Bing.
Bing Webmaster Tools Registration
The first step to doing SEO on Bing is registering for a Bing Webmaster Tools account. (http://www.bing.com/toolbox/ webmaster).
Numerous features are available to help you analyze your data, so it is highly recommended that you create an account.
It is OK to register most any language's site, since Bing's Webmaster Tools is universal.
Site Map Setting
For SEO on Bing, it is particularly important for you to register your website's site map.
This can also be done using Bing Webmaster Tools. Compared to Google, Bing tends to be weaker in its ability to index websites.
Therefore, it is very important to register a solid site map so that Bing's robot can crawl your site properly.
Make sure to register every page you want indexed in your site map.
Utilizing the SEO Analyzer and SEO Report
Bing's Webmaster Tools also contains an SEO analysis element (in the beta version at time of this book's writing).
This tool can help one perform fundamental SEO for his/her site.
Using it, you can identify all the various SEO problems your site is facing and ultimately get the information you need to improve it.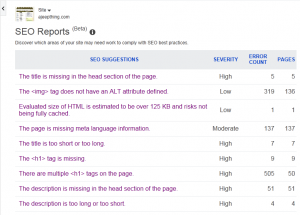 Fig 9.4: A screenshot of Bing's SEO Reports, wherein fundamental SEO suggestions and error reporting are provided
Link Building
For Google and Bing, it is important to develop link building strategies.
This is naturally important for Taiwan, too. One point not to forget for your Taiwanese SEO, though, is that it is important to make sure your backlinks are from sites with the same traditional Chinese characters.
In Taiwan, paid link services are not easy to come by (most search engines forbid them anyway), so you will need to earn as many links as possible from contextually relevant sites that have the same language in order to strengthen your link portfolio and increase your ranking.
Google AdWords and Yahoo! Taiwan: Keyword Data
Contrary to Google, Yahoo! Taiwan has a keyword tool that can be used even if a user doesn't have a paid search account.
For Google AdWords, if you have an account, you can alter the language and country search options to extract the keyword data you need for your Taiwanese SEM campaigns.
Fig 9.5: Yahoo! Taiwan's keyword tool
Its interface might bring back memories for those of you who have been in paid search since the early days: http://tw.emarketing.yahoo.com/ysm/guide/index101.html
More Tips About Taiwan
Yahoo! Taiwan also features other types of online ads. Here I will introduce a couple.
Run of Network Ads
Run of Network (RON) ads are advertisements with special placements that only Yahoo! Taiwan partner agencies can sell.
These ads can appear in areas such as the Yahoo! Taiwan top page, news, money, dictionary, and blog pages.
These are pay-per-click type ads, so you will only be charged if they are clicked on. Depending on the position of the ad, the number of impressions can vary from a million to tens of millions of appearances per day.
The lowest possible CPC for this type of ad is 10 TWD (.34 USD), and they can be run from 5,000 TWD (about 170 USD) a day.
This type of ad is different from a general paid search ad in that it has a broader reach, which can be great for introducing new products or strengthening your brand.
Get help with your digital marketing campaigns in Taiwan from our Taiwanese digital marketing experts, contact us today.