Russia has been a nation of power and potential all throughout history, and it continues to be so in the digital age. The landscape extends to over 17 million square kilometers, making it the largest country in the world. It is geographically located between North Asia and Europe, the Pacific and the Arctic, and spans 11 time zones. As of February 2020, the country hosts nearly 145.9 million residents, which also makes it one of the biggest markets all over the globe.
Despite experiencing a dip in its economy over the past few years, recent reports show that its rates are back on a healthier track. According to the World Bank, Russia's GDP has risen to a rate of 2.3% from 1.6%, which is considered to be its best growth rate since 2012. In 2017, its lowest inflation rate was recorded at only 2.7%, and it is expected to remain below 4% in the future.
Russia still maintains a significant international role in today's digital age. Although experiencing various setbacks over the years, such as the 2017 recession and its ever-changing political climate, it is still regarded as a technological hub and a major producer of skilled IT professionals. Currently, a massive development program is underway, aiming to digitalize the entire country to develop entrepreneurial energy, new technologies, and more skilled professionals.
Factoring in Russia's tech-savvy residents and flourishing e-commerce market, the future of digital marketing in the country undoubtedly offers promising opportunities.
This article will discuss Russia's digital marketing environment, its biggest channels, industry challenges, and opportunities, as well as the best possible ways on how to reach the Russian audience.
Russia's Digital Landscape
According to We Are Social's annual digital ecosystem report, the country's total population is over 145.9 million, with over 118 million internet users and an 81% total penetration rate. Its overall urbanization rate lies at 74.6%; however, the country has an impressive 100% overall literacy rate. This goes to say that internet connectivity is very active even among its rural regions.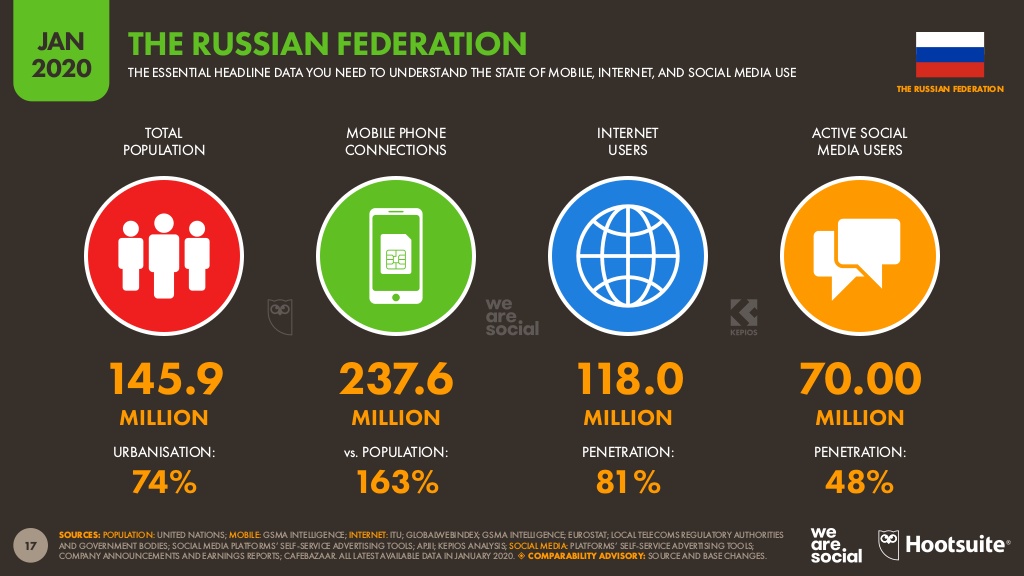 Source: https://www.slideshare.net/DataReportal/digital-2020-russian-federation-january-2020-v01
Of the total population, 70 million are active social media users with a 48% penetration rate. Nearly double that amount is its number of mobile subscriptions at 237.6 million or 163% of the total population. This may owe to the fact that most Russians carry more than one mobile phone, highlighting the significant role of mobile devices in penetrating the Russian market.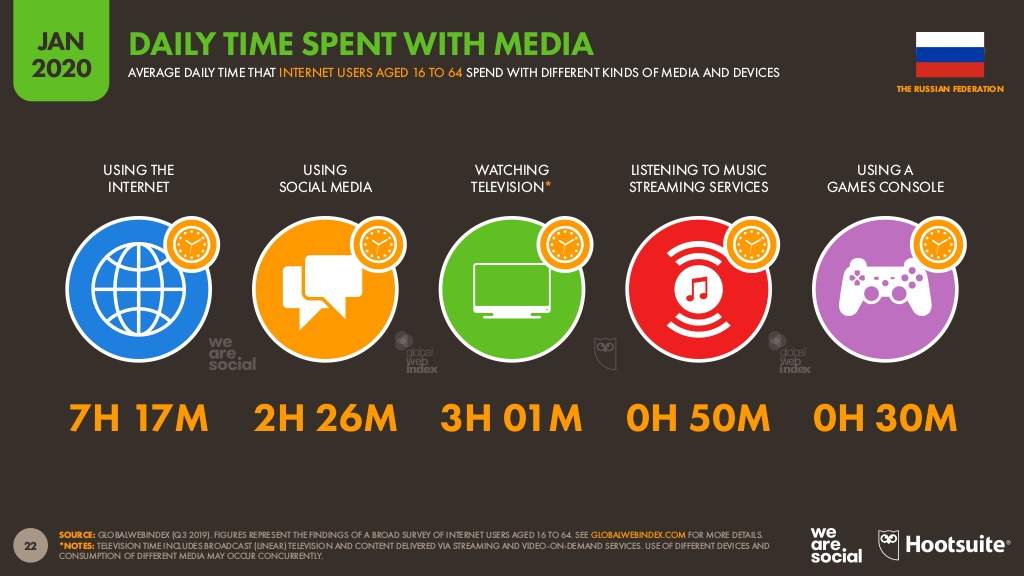 Source: https://www.slideshare.net/DataReportal/digital-2020-russian-federation-january-2020-v01
On media usage, residents typically spend around 7 hours and 17 minutes daily on the internet, with 2 hours and 26 minutes of this devoted to social media. Unlike the previous year, more time is spent on watching television now with an average of 3 hours and 1 minute. Of Russia's 118 million internet users, 92% spend their time watching online videos.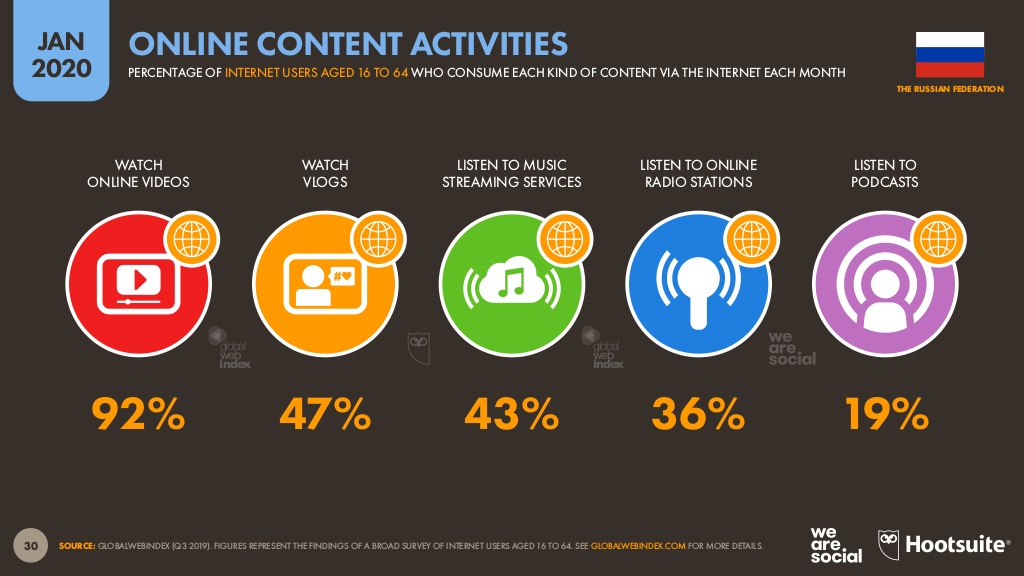 Source: https://www.slideshare.net/DataReportal/digital-2020-russian-federation-january-2020-v01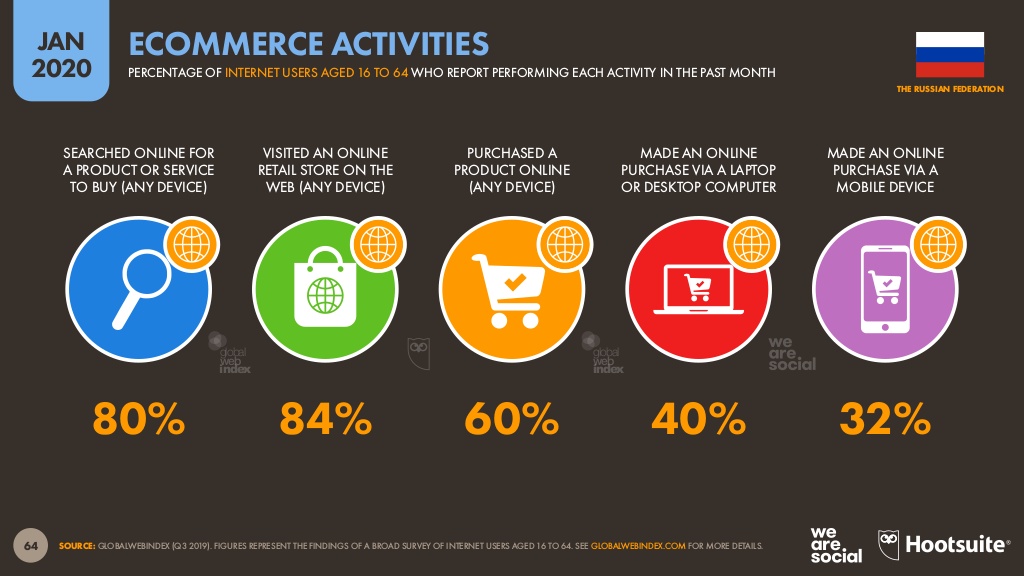 Source: https://www.slideshare.net/DataReportal/digital-2020-russian-federation-january-2020-v01
The Russian market is also growing more comfortable with online shopping, as proven by 80% of its population who searched online to buy goods or services, and the 84% that visited an online retail store.
According to Statista, Russia's e-commerce market is projected to reach a 21,626 million USD revenue by the end of 2020. With this, it's expected to show an annual growth rate of 6.9% resulting in a projected market volume of 28,230 million USD by 2024.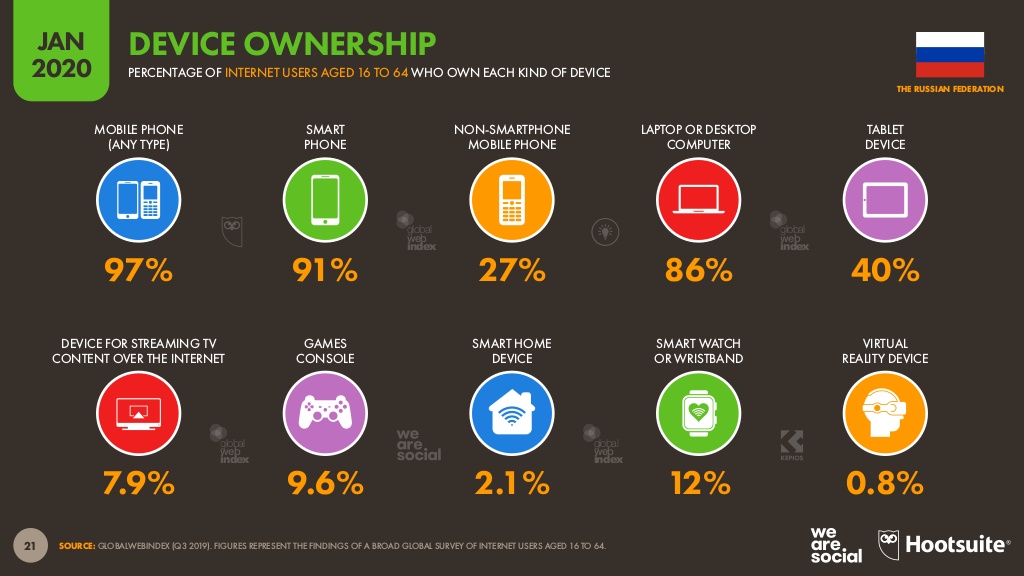 Source: https://www.slideshare.net/DataReportal/digital-2020-russian-federation-january-2020-v01
According to a survey done by Hootsuite, 97% of Russia's internet users aged 16 to 64 own a mobile phone, and 91% of those own a smartphone. As noted earlier, mobile phones are the most popular device among Russians. They spend almost a quarter of their day surfing the internet.
Biggest Channels
According to Hootsuite's yearly digital report, the most active social media platforms in Russia as of February 2020 are YouTube, VKOntakte, and WhatsApp.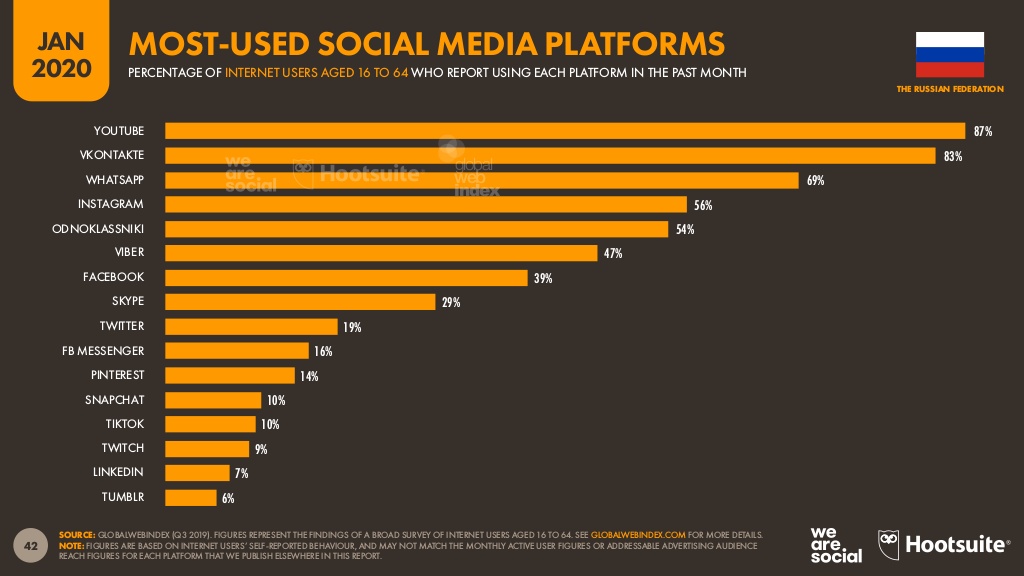 Source: https://www.slideshare.net/DataReportal/digital-2020-russian-federation-january-2020-v01
YouTube
YouTube is the top social media platform in Russia, which may explain why watching video content is one of the country's most popular online activities.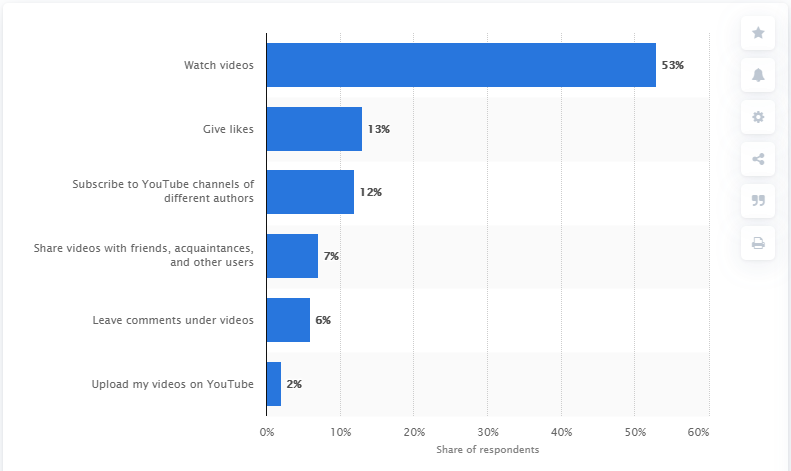 Source: https://www.statista.com/statistics/1076113/youtube-use-by-activity-in-russia/
According to Statista, most turned to YouTube to watch online videos, while giving out likes was the second most popular activity on this social channel. According to Alexa, YouTube is also the third most-visited website in Russia with an average time of 11 minutes and 44 seconds per visit on a monthly basis.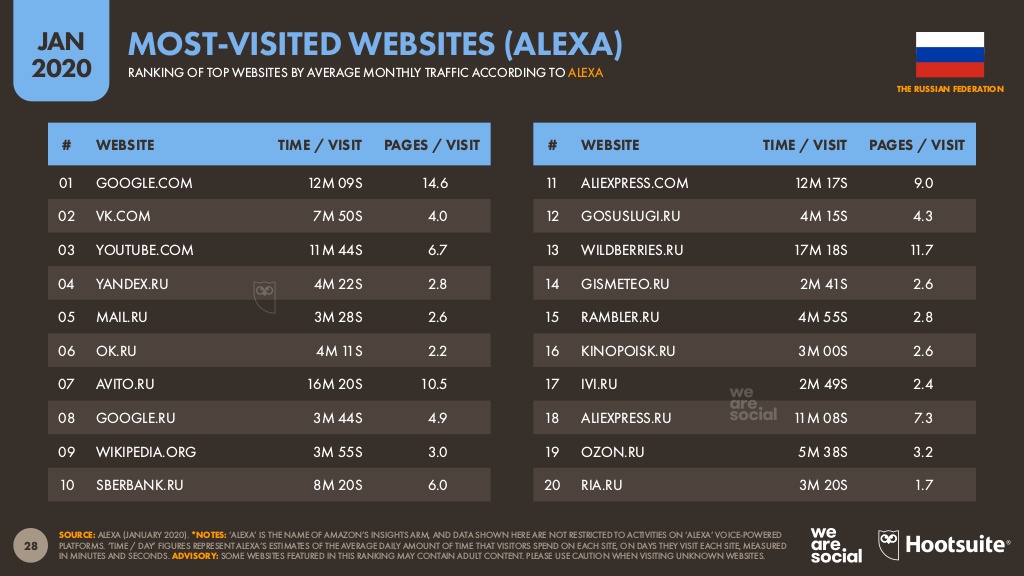 Source: https://www.slideshare.net/DataReportal/digital-2020-russian-federation-january-2020-v01
VKontakte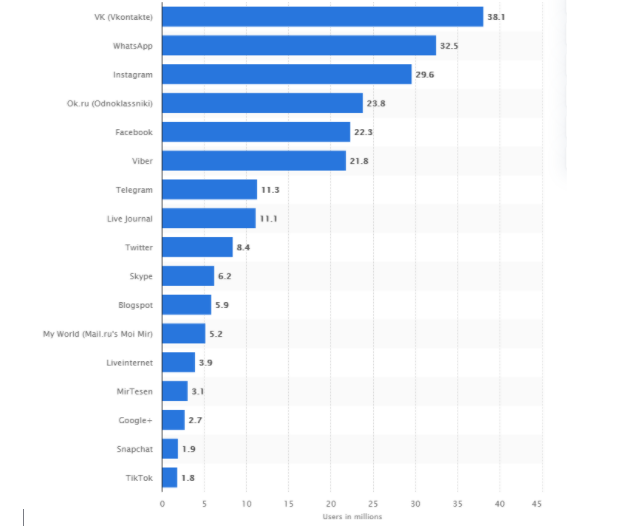 Source: https://www.statista.com/statistics/1110977/russia-social-media-audience-by-platform/
Unlike in most European countries, Russia favors local platforms more than foreign ones, which is why VK (previously known as VKontake) is the country's most popular social media site. The site, which translates as "to be in touch", holds a large user base of more than 90% of active internet users. Interface-wise, the site is similar to social media giant Facebook. However, its various functionalities are what makes it such a hit with the Russian market.
As its literal translation suggests, VK is an important platform for marketers to understand in-depth the Russian audience. The site provides detailed profile information due to its specific user base, which helps brands gather essential social insights on the Russian market and Russian consumers.
It holds valuable conversations regarding various opinions, beliefs, trends, and even customer experiences. With the categories, such as basic info, interests, and even political views, being broken down, brands can conduct narrow marketing to create campaigns and target them to any audience they want. According to Statista, Vkontakte has over 38 million monthly users.
The uniqueness of advertising in VKontakte is in its ability to reach specific audiences. Unlike in Facebook where advertising is in the news feed of its users, Vk allows for advertising within its communities so that marketers may pre-select a specific audience that is best suited for their campaigns.
WhatsApp
WhatsApp is the third most-used social media platform in Russia. According to Statista, it's also the most popular messenger application with 69 million active monthly users. The coronavirus pandemic led to significant traffic growth of this platform in 2020. The application amassed over 15 million users last March 2020, the highest throughout the observed period.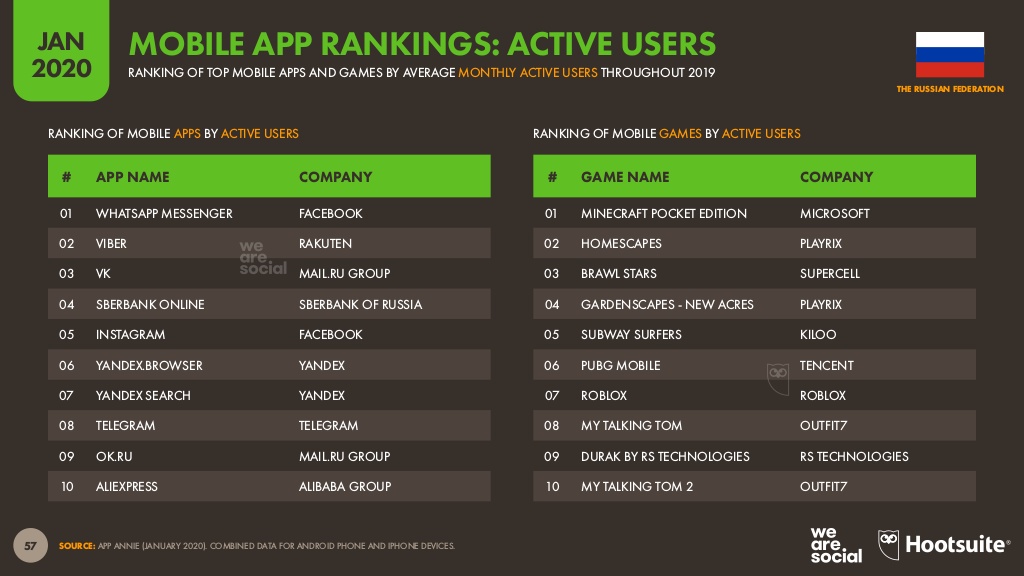 Source: https://www.slideshare.net/DataReportal/digital-2020-russian-federation-january-2020-v01
Opportunities and Challenges
Although Russia has been a consistent leader in the realm of innovation, it has been quite resistant to integrating recent technologies into its system over the past few years. This has been due to the clash between what the Russian market wants, a relatively decentralized network, and the government's innately centralized system.
However, a shift has recently occurred when its government announced that starting July 2017, a development program called the "Digital Economy of Russia" will be implemented nationwide. With an estimated budget of 3.5 trillion rubles, the project will center on regulation, personnel, the formation of research competencies, education, and cybersecurity.
Various programs are already underway within its vocational and higher education systems to train residents to become skilled in the IT field at a global level and to produce professionals with various IT specializations. By 2024, the program is expected to increase the total share of the population with digital skills by at least 40%.
Right now, the country has seen steady progress in encouraging market interest in the digital economy. In 2018, there have also been 28% more people registering in the Moscow portal compared to the year before. Furthermore, there has been a spike in Yandex queries from December 2017 to this year. From 32,000 queries, the number doubled to 64,000.
"Centralized" Blockchain Technology and Cryptocurrency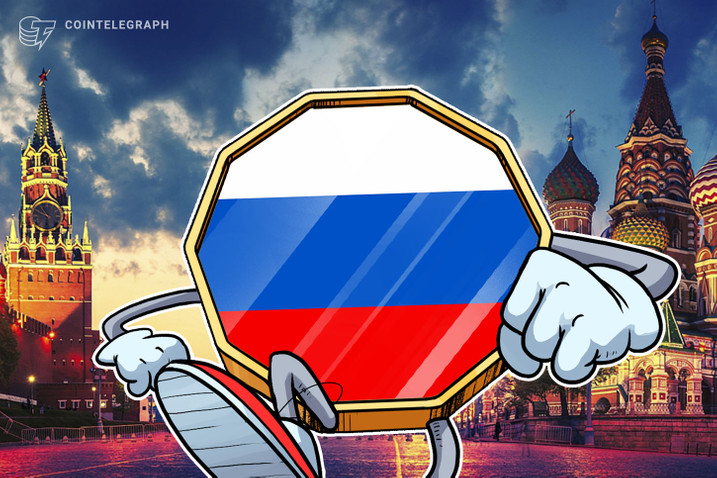 Source: https://cointelegraph.com/news/moscow-govt-to-launch-blockchain-enabled-it-innovation-cluster-by-summer-2019
Perhaps the most exciting opportunity for digital entrepreneurs is the implementation of blockchain technology and cryptocurrency in Russia. In fact, the country is a hub for blockchain projects and cryptocurrency mining.
According to angel investor, Elena Masalova, Russians either founded or partly-owned 20% of the top fifty blockchains in 2017 alone. In addition, a good number of the CEOs of these projects came from Moscow, an amount that has surpassed that of Silicon Valley. As of now, about 15% of the Russian blockchain market find blockchain as a major source of their income.
Russia is a powerhouse for talented IT specialists, which with its low electricity costs, creates a thriving environment for the crypto mining industry. This year, it led to the highest initial coin offering (ICO) launches where, yet again, Moscow ranked first all over the globe.
To amplify this vital information, the government has recently expressed its support in integrating these innovations into the country's development program. As of October 2017, President Putin discussed the potential of these technologies to become necessary stepping stones for the country's development. However, their decentralized nature will be changed to benefit the centralized government system. Most likely, the new bill on cryptocurrency will impose a tax on crypto investors, maintain the Russian bank's role in currency emission, and enforce severe punishment onto unregistered crypto operations in the country.
Smartphone Marketing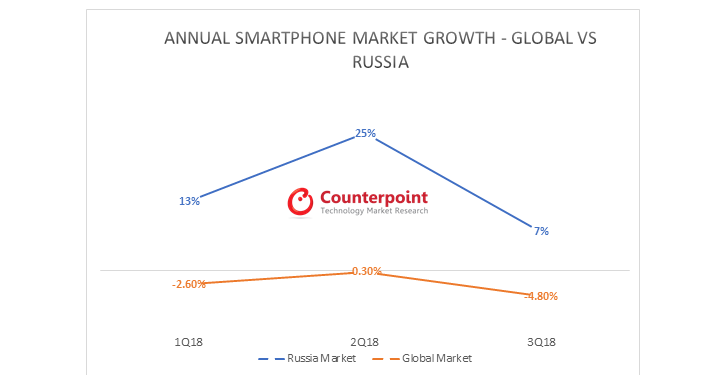 Source: https://www.counterpointresearch.com/key-trends-driving-russian-smartphone-market-2019
The smartphone industry is rapidly increasing in Russia. This is due to the relatively low prices of high-quality mobile devices and connectivity. Hence on average, residents own more than one device. Moreover, since there are many public places that offer free WiFi, the Russian smartphone market covers a wider range of the more rural regions.
In line with this, it is crucial that sites must be optimized for mobile-friendly strategies. Global players have also taken notice of this attractive mobile environment and have begun initial investment. For instance, Huawei and Xiaomi have fiercely begun the initial stages of expansion. Vingroup, Vietnam's number one company in terms of market value, expressed interest in penetrating the Russian smartphone market.
In line with the country's anticipated digitalization, smartphones should be blockchain-friendly. The cryptocurrencies in Russia are one of the highest in the world, which places blockchain at an important position for generating the country's future revenue. The technology is also being implemented across other sectors of Russian businesses and society, which entails a need for devices to be optimized accordingly and at the same time a great opportunity for the rise of blockchain-friendly products.
Artificial Intelligence

Source: https://wilsonquarterly.com/quarterly/living-with-artificial-intelligence/russia-tries-to-get-smart-about-artificial-intelligence/
With the various technologies brought by the development plan, AI integration is just around the corner for Russia. According to a 2018 study by the Netherlands Embassy in Russia, neuro technologies and artificial intelligence (AI) are key technologies in elevating the Russian digital economy.
The country's rapidly growing e-commerce market and ongoing "Smart City" program are just some of the factors that show the readiness of the Russian market for AI and neuro technologies. Most of the country's Ai projects have been spearheaded by the state and science, but as of 2018, the private sector has slowly realized its potential.
By 2020, it is estimated that AI and the machine learning market will increase to 380 MEUR. Since Russia already has the talent to conduct more of these projects, it will only take a matter of time for this to gain a large share in the digital market. The Netherlands Embassy estimates that the AI sector will have also represented 330 MEUR in the Russian market share by the year 2021.
Social Media Marketing (SMM) and Search Engine Optimization (SEO)
To successfully tap the Russian online market, marketers must devote a large part of their strategies in gathering invaluable insights on the culture and mentality of the Russian people. For instance, residents respond more to content in the Russian language. This goes to show that localizing or translating content is a very important step in generating market visibility. Translating your content into the local language will also help establish professionalism and to develop trust among potential customers in the Russian market.
Invaluable sources for understanding the market are the local-based portals, with arguably the most important one being Yandex. Aside from having the biggest user-base in the country, Yandex was developed specifically for native Russian speakers as it is the first search engine to process the Cyrillic alphabet. The site now easily identifies the language's orthography, grammar, and even sentence structure. As such, it becomes a vital tool for marketers to develop the best keyword lists based on their specific target audience and in establishing a professional and engaging web presence.
Success Story
Active Leisure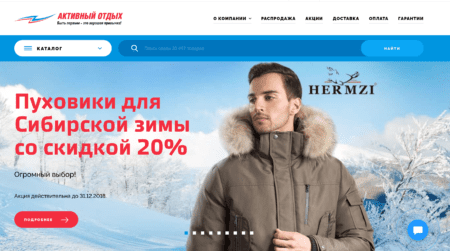 Source: https://russiansearchmarketing.com/success-story-active-leisure
A Novosibirsk-based brand called Active Leisure managed to increase their site traffic, CTR, and sales by 500% without having to increase their budget by using text-based advertising. According to company owner Vladimir Borisovich Iofin, the company started to use this medium for advertising their luxury items until it was suggested they also use it to include advertisements for 90% of their inventory. This strategy led to increased audience coverage and product sales in all of their divisions.
The company now uses Yandex as their main online portal. 50% of their budget is allocated to e-commerce platforms, and 20% go to other types of contextual ads and the rest is allocated to social media marketing.
Summary
It is important to note that Russia's internet market may sometimes extend to all Russian-speaking Internet users and not just native Russians. This is called "Runet" or the Russian internet worldwide and is an aspect of the Russian market that digital marketers must pay special attention to. Other trends and challenges that might benefit foreign digital investors are content localization, blockchain, cryptocurrency, AI, SMM, and SEO.
With history as proof, Russia is a nation whose vital role in society spans over the rest of the globe. This also goes to say that it is undoubtedly a game-changer in the global digital environment.
Explore different strategies for marketing and know more about the Russian market with us at Infocubic Japan. Contact us today.
---
Featured Photo by Serge Kutuzov on Unsplash