In 2011, the online advertising market surpassed the print advertising market in Russia. The value of the Russian online market in 2011 was 41.8 billion rubles, which is 55% more than its value one year prior (26.8 billion rubles). The pace at which Russia's online advertising market is growing is remarkable, and many predict that it will continue to grow well into the future.

| | | |
| --- | --- | --- |
| | | Reference |
| Population | 141,924,000 | IMF-World Economic Outlook Database 2012 |
| Internet population | 75,645,000 | World Bank 2012 |
| Internet use | 53.3% | |
| Scale of online advertising market | 41.8 billion rubles | Association of Communication Agencies of Russia |
Russia's most popular SNS is Vkontake (http://vk.com/). Facebook only has a 5% share of the social media market (Socialbakers).
Russia is ranked seventh in the world for Internet use (Wikipedia).
Overall, 73% of Russian citizens aged 18-24 are online, but real usage rates differ by region; Moscow, for example, has a penetration rate of 97% (Yandex and TNS).
Russia has the highest rate of growth in online sales in all of Europe. From 2010 to 2011, there was a 15.8% increase in e-commerce (comScore).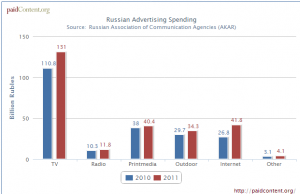 Fig 7.1: Russian advertising spending by medium: following television, online advertising is the second most popular variety of advertising.
The Russian Search Engine Market
In Russia, Yandex has the largest share of the search engine market at 60%, with Google trailing behind at 25%. For SEM in Russia, it is recommended that Yandex be the dominant medium.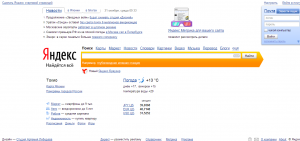 Fig 7.2: Yandex's homepage
Yandex commands 64% of Russia's total Internet traffic, which makes it the most popular site in Russia.
Yandex is also commonly used for searches in Kazakhstan, Turkey, Ukraine, and Belarus.
Yandex is an interesting name; it's actually an acronym-like name meaning "Yet Another iNDEXer."
Yandex is used in various countries, but it generally ranks Russian websites higher than those in other languages.
Therefore, if you are considering promoting your website on Yandex, it is important to develop a proper Russian website.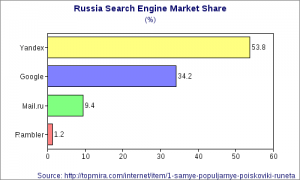 Fig 7.3: Overall search engine shares in Russia
PPC Advertising in Russia
In Russia, the two main platforms for PPC advertising are Yandex Direct and Google AdWords.
If you happen to already have a Google AdWords account, then you are definitely able to start advertising in Russia; however, given Google's market share in Russia is only 34%, Yandex Direct is naturally the preferred advertising medium.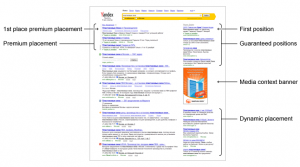 Fig 7.4: A Yandex SERP—Like Yahoo! or Google, ads appear on the top of the page and on the right hand side.
Fortunately, in addition to Russian, Yandex Direct also provides its paid search advertising platform in English.
Don't worry. There is hope for those not versed in the Russian language.

Fig 7.5: The Yandex account creation screen
When you create an account on Yandex Direct, you can choose between a "Light" and a "Professional" version.
The Professional version operates just like an AdWords account; the Light version, on the other hand, is built for those just starting their paid search advertising journey.
For the Light version, many functions are limited. No matter which version you decide to sign up for, you can always switch to the other at a later time, so there is not much cause for concern.
What I recommend, though, is to start with the Light version until you get used to its format and functions, then switch over to the Professional one.
Bidding on Yandex
On Yandex, you can start advertising with bids as low as 30 kopecks, but you will need to set up the account with an initial budget of 300 rubles.
As for the bidding features, they are similar to that of Google AdWords, such as having the ability to adjust according to geographic location or time.
When bidding on keywords, Yandex used to only allow those with CTRs above 0.5%, but this has recently changed, and now keywords of various CTRs can be bid on.
The only catch is that the keywords with low CTRs will generally have higher CPCs.
In order to avoid high bid prices and still increase your ranking, it is recommended you amend or delete keywords and ads with low CTRs.
Quality Factor and Efficiency Factor
Yandex has two indices that work cooperatively to determine a minimum CPC — the "Quality Factor" and the "Efficiency Factor."
There are many elements that comprise these two indices, with certain factors outweighing others.
The main components of the Quality Factor are keyword and ad relevancy, ad and landing page relevancy, and ad performance.
The Efficiency Factor, on the other hand, looks at ad impression, CTR, and the period of time an ad runs.
These factors are all analyzed in real time and combined to calculate a minimum CPC for an ad.
Ad Copy
Text ads on Yandex have to conform to the following specifications:
Title — up to 33 characters
Description — up to 75 characters
Some of the information you cannot insert into ads includes phone numbers, e-mail addresses, physical addresses, instant messenger data, and other sensitive information.
The top three ad spots on the Yandex SERPs are considered the premium area, and the format of the ads looks like this:

Fig 7.6: Ads for premium position
If an ad falls below the third position, however, it will appear on the right side of the SERP and take on the following appearance:

Fig 7.7: Ads for basic position
The CTRs for ads in the premium area and the right side are also significantly different.
Since ads with low CTRs still run the possibility of being paused by Yandex, it is best to aim for appearing in the premium area.
Yandex's Advertising Regulations can be found here:
Match Type
For the most part, the match type for Yandex Direct is the same as for Google AdWords.
There are minor differences though; for example, Google AdWords exact match is designated by brackets ([used cars]), while Yandex uses quotation marks ("used cars").
Furthermore, Yandex's exact match type will display the singular and plural version of a keyword ("used cars" or "used car"), but AdWords won't.
Overall, it is best to exercise caution when designating match type if you are used to Google and just starting out on Yandex.
Information on Yandex's match type can be found here:
Tips on increasing the effectiveness of your SEM campaigns on Yandex can be found on the official site:
Regularly A/B test your ads to increase your CTRs.
Adjust your keywords based on performance and add or delete keywords as necessary.
Eliminate keywords with low CTRs.
Use the Yandex Autobroker Tool to improve your ads and your CPC.
Use Yandex's Autofocus feature to improve the CTR of your keywords.
Adjust your advertising locations accordingly.
Adjust your advertising times.
Put actual prices in your ad copy.
Regional Settings
Russia is a very large country. Thus, you can expect different levels of performance by region.
For Russian SEM, it is recommended you utilize Yandex's regional settings to the best of your abilities so that you can increase your performance.
Two locations you cannot afford bypassing are Moscow and St. Petersburg. These cities have great access to quality ISPs, so rather precise targeting can be performed.
Yandex also allows targeting for countries other than Russia, but it is limited to only a few neighboring countries.
Since Yandex's share in these places isn't exceptionally large, it is best to keep your location settings to just Russia.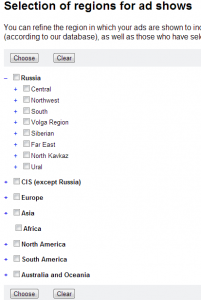 Fig 7.8: You can target specific regions within Russia.
Differences in Yandex and Google's CTR
According to research by Neiron.ru, the top three ad placements on Yandex (premium positions) have a combined average CTR of 75.5%, where the same three positions on Google.ru command an overall CTR of 91.1%.
This shows that for Google, more than for Yandex, it is important to be in the top three positions if you want an increase in site traffic.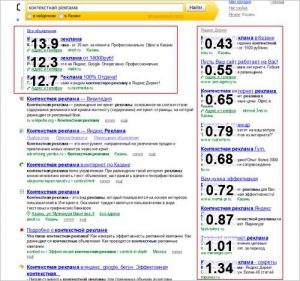 Fig 7.9: CTR per ad position on Yandex
Source: http://neiron.ru/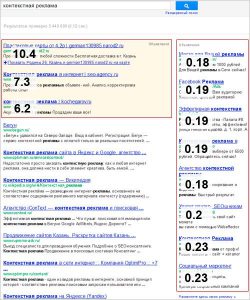 Fig 7.10: CTR per ad position on Google.ru
Source: http://neiron.ru/
The Yandex Keyword Tool
Yandex has a keyword tool named "Wordstat," which can be used to investigate keyword search volume and keyword trends: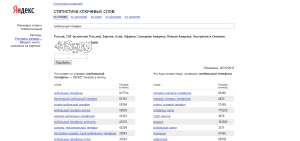 Fig 7.11: Wordstat by Yandex—Keyword search volumes and other data are available
Using the Yandex keyword tool, Wordstat, you can research monthly keyword search volumes, regional keyword search data, related keywords, and weekly differences in search volume; there's even a map display of keyword data.
Yandex's data is constantly being refreshed, and there is a large variety to take advantage of.
So, I would say Wordstat is a must-use tool for your Russian paid search campaigns on Yandex.
Tracking Conversions
One surprising thing about Yandex Direct is that it does not have a conversion tracking feature.
In order to track conversions, you must use Metrika, Yandex's version of Google Analytics (Metrika will be explained in more detail later).
Fortunately, this tool can be linked to Yandex Direct, so you can track conversions.
Tracking conversions is essential to measuring your advertising expenditure and performance, so Metrika, or Google Analytics at the very least, needs to be integrated into your campaigns.
Russian SEO
Search engine optimization in Russia is generally performed on Yandex or Google.ru.
Since Yandex prefers Russian language content to that of other languages, first and foremost you will need a Russian language website in order to have hopes of ranking higher.
Besides, Russian is the national language of Russia, and so most commerce on the Internet is conducted in it.
Yandex's Thematic Citation Index
One of the characteristics of Yandex is that it has its own system of scoring websites, similar to something like Google's PageRank.
And, it ultimately is influential in ranking search results. Yandex calls this its Thematic Citation Index (TCI), and it is a good indicator of the trustworthiness of a website.
The TCI analyzes numerous elements of a site when attributing a score, which is eventually used for ranking purposes, but Yandex considers links for its ranking as well.
For SEO on Yandex, it is important to have backlinks, or for you to link to, sites that are highly relevant to yours.
Yandex's TCI scores websites from 0 to 150,000. Generally speaking, the higher the TCI, the higher ranking a site will have on the SERPs.
However, like Google's PageRank, this is not always the case. That is why it is important to invest in your website's internal and external SEO, too.
Ensuring a high quality site with relevant links from equally high quality sites will raise your TCI score and other factors which improve your ranking.
TCI is comprised of the following elements:
The number of backlinks
The quality of your backlinks (i.e. linked site's domain age, linked site's own number of backlinks)
The relevancy of your backlinks (e.g. for used auto sales, links from sites related to the automobile market have a high relevancy)
The TCI score of sites linked to yours (the higher the score, the better)
The quality of your site's content (e.g. content that users will find informative and helpful)
The types of sites you link to (e.g. how many relevant sites you are linking to)
The number of links in your site
Link pattern analysis (i.e. checks to make sure your links are not uniformly set, as would be the case for systematic link building)
Geographical hosting information
How many days you have been registered in the Yandex Catalog (Yandex Catalog is Yandex's search engine directory)
How to look up your TCI score
There is more than one way to look up your own site's TCI:
Yandex Catalog (Yandex's directory)
Yandex Toolbar (http://bar.yandex.ru/)
Yandex Webmaster Tools
Domains
While I stated previously that it is important to have a Russian language site for SEO in Russia, having a Russian domain is also key to ensuring a higher ranking.
I highly recommend acquiring a Russian country code top-level domain (ccTLD), as Yandex will value it over foreign counterparts. It is a great first step to improving your site's SEO.
Metadata
For Yandex, just like other search engines, you want to make sure your website's metadata is optimized for SEO.
Yandex especially values the title tag. The length of your pages' title tags should not go over 70 characters, and they should definitely include your target keywords.
The meta description tag, on the other hand, should be around 150-160 characters in length.
For these tags, it is important that you not only include target keywords, but also write an accurate and appealing description that will lead to more visits to your site.
However, like Google, Yandex will first crawl your page and decide whether your meta description is good enough to display in its SERPs. When it isn't, Yandex will create a snippet to show as your site's description.
This is done by selecting excerpts of text from your web page and combining them to create a paragraph description of the page.
In order to bypass this feature of Yandex, it is important to write your descriptions accurately, stylistically, and informatively, all within the recommended character limit.
For the meta keyword tag, although Yandex doesn't disregard it like Google (for the most part) does, it doesn't place much importance on it overall.
Regardless, it's a good idea to include your target keywords in your keywords tag, just in case. The maximum number should be five or six.
Yandex Catalog Registration
Yandex has its own directory site that you can submit your website to.
For SEO on Yandex, it is recommended you submit your site to its directory; just by registering, your TCI will increase.
The Yandex Catalog has both paid and free registration. The paid version has a one-time application fee of 12,500 rubles (about 390 USD).
Upon payment, your site will be investigated, and after a few days, will be posted on the Yandex Catalog.
Acceptance is not guaranteed though, so make sure to develop a high quality Russian language site with plenty of rich content so that you can pass the Yandex inspection.
One word of caution is that the application fee of 12,500 rubles is non-refundable, so it is important you develop a quality site.
The other option is to go the free route, but the drawback here is that your site can take months to be inspected, and if it eventually fails the examination, you will have to start the process all over again.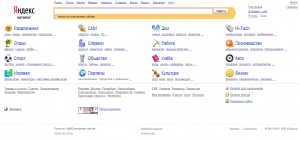 Fig 7.12: Yandex Catalog—The largest Russian directory
Free submission to the Yandex Catalog can be found here:
If you are curious as to why Yandex names its directory "Catalog," it is because in Russia, search engine directories are called "catalogs."
Other Search Engine Directories in Russia
http://top100.rambler.ru/
Website Registration
Website URL registration can be done through the link below. Registering on this site is recommended, as it will speed up the indexation of your website.
However, whether your site is indexed or not is up to Yandex, so there are no guarantees. Also, it will not affect the ranking of your site.
Yandex Webmaster Tools
Yandex also has its own version of Webmaster Tools, which will provide you a plethora of data about your site.
Yandex's Webmaster Tools is functionally very similar to Google's, with features such as site map registration, search for error pages, and link analysis.
Just like Google's Webmaster Tools, in order to be able to use the service, webmasters will have to insert Yandex's tags within their pages' source code and get verified.
Contact Info Cubic for help with your Russian digital marketing campaigns today.
Featured Photo by Serge Kutuzov on Unsplash