The number of Internet users in Indonesia has increased rapidly since 2009. In two years' time (from 2009 to 2011), this number grew 270%. In terms of Internet access,  most users (57%) in Indonesia connect via mobile devices, as opposed to PCs (Nielsen). And, one interesting characteristic about Internet use in Indonesia is that Internet cafes are still quite popular. In fact, a report by Nielsen shows that more than half of the online population in Indonesia (66%) accesses the web from Internet cafes.

| | | |
| --- | --- | --- |
| | | Reference |
| Population | 244,468,000 | IMF-World Economic Outlook Database 2012 |
| Internet population | 37,648,000 | World Bank 2012 |
| Internet use | 15.4% | |
| Scale of online advertising market | 40 million USD | Jakarta Update 2011 |
The online advertising market in Indonesia will grow to 150 million USD by the year 2016 (Jakarta Update 2011).
The number of Facebook users in Indonesia in November 2012 was measured at 50,261,100. This placed Indonesia fourth in the world, behind only America (168,742,860), Brazil (62,240,840), and India (60,843,200) (Social Bakers).
Broadband use in Indonesia was measured at 6% in 2011. It is estimated that this figure will grow to 60% by the year 2016 (Frost & Sullivan).
50% of Internet users in Indonesia are under 20 years old (We Are Social).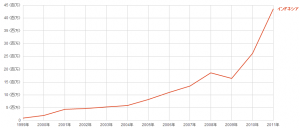 Fig 10.4.1: The increase in number of Internet users in Indonesia
As the graph above shows, since 2009, this number has risen rapidly. Yet, compared to other Asian countries, Indonesia's increase in broadband use is low. This is the next issue Internet users in Indonesia will face.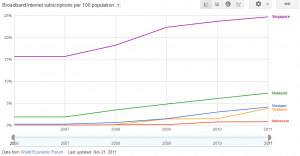 Fig 10.4.2: Number of broadband Internet users per 100 individuals
As you can see, Indonesia's figures are lower than its neighboring Southeast Asian countries.
The Indonesian Search Engine Market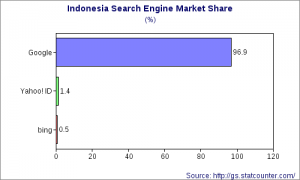 Fig 10.4.3: Overall search engine shares in Indonesia
Just like in most other Southeast Asian countries, Google commands the top share of the search engine market.
PPC Advertising in Indonesia
Since Google commands the top share of the Indonesian search engine market, advertising online in Indonesia is best done through Google AdWords.
However, the percentage of mobile Internet access in Indonesia is high, and Google is not always the preferred search engine on mobile devices.
Yahoo! can command a higher traffic rate depending on the keywords searched.
Since there is a large amount of Internet access through mobile devices, it is safe to say that it is good idea to run mobile campaigns on both AdWords and Yahoo!.
While Indonesia does have a surprisingly high number of English speakers within the population, naturally, it isn't spoken as much as the country's native language; therefore, for SEM campaigns, the Indonesian language is recommended.
For instance, consider a search for the keyword "airline ticket" in English and Indonesian.
It becomes clear that the disparity between the two in terms of searches per month is significant: For English there are only 110 monthly searches, but for Indonesian, as many as 165,000.

Fig 10.4.4: Monthly search volume for "airline ticket"

Fig 10.4.5: Monthly search volume for "tiket pesawat"
Google AdWords allows for PPC advertising in both English and Indonesian; however, it is not recommended that you use Indonesian keywords for an English language landing page (or vice versa).
The problem is that your ads can stop in certain instances and there will be an overall disconnect between the service/product the Indonesian search user is looking for and what he ends up finding at the end of his or her journey.
Indonesian SEO
For Indonesia, SEO should naturally target Google, as it is the most widely used search engine.
However, as mentioned above, Yahoo! does command significant traffic for mobile device use, so considering mobile SEO for Yahoo! is also recommended.
One important point about Yahoo!, though, is that it is now powered by Bing.
This means that Yahoo! Indonesia and Bing Indonesia will provide identical search results, and in terms of SEO for Yahoo!, you must do everything in accordance with Bing's algorithms.
Need help with digital marketing in Indonesia? Contact Info Cubic today!
Featured Photo by Artem Bali on Unsplash