With Vietnam being a developing country and being governed by a communist party there are many challenges for companies to enter this market. With close to a 100 million people in this country and 50% of them having access to the internet, there's also a lot of potential.

| | | |
| --- | --- | --- |
| | | Reference |
| Population | 90,388,000 | IMF-World Economic Outlook Database 2012 |
| Internet population | 35,703,000 | World Bank 2012 |
| Internet use | 39.5% | |
| Scale of online advertising market | 27.6 million USD | Vietnam Advertising Association 2011 |
It is estimated that Vietnam's Internet population will reach 58,000,000 by the year 2016 (EIU).
95% of Vietnamese aged 15-24 are avid Internet users (Cimigo NetCitizens 2012).
News is the main reason Vietnamese access the Internet, followed by general searches, music, research, and online chat (Cimigo).
Internet users in Vietnam spend an average of 16 hours per week online (Nielsen).
58% of the Internet population in Vietnam researches a product it is interested in buying before it makes a purchase (VCCI).
97% of 15-24 year old Vietnamese participate in social media (We Are Social).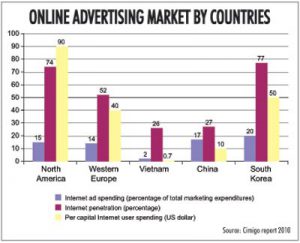 Fig 10.3.1: The price of online advertising in Vietnam is low compared to other markets.
In a 2011 investigation by Kanter Media, it was found that online advertising in Vietnam was only 3.5% of the entire Vietnamese advertising market.
While this figure is undoubtedly low, the scale of the market is expected to grow as the number of Internet users in Vietnam increases, just as in other Asian countries.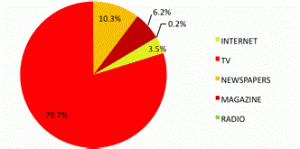 Fig 10.3.2: A comparison of the various advertising forms in Vietnam, where in the share of online advertising is only 3.5%
Source: http://ads.zing.vn/blogs/blog/10/Online-trends-in-Vietnam
The Vietnamese Search Engine Market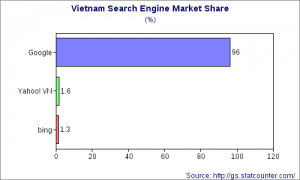 Fig 10.3.3: Overall search engine shares in Vietnam
As seen above, Google has been able to command an extremely large share of the Vietnamese search engine market.
PPC Advertising in Vietnam
As previously mentioned, the size of the entire Vietnamese online market is rather small, so the amount of advertising that is being done online is also very small.
The good news is that it means there is less competition. If you are planning to target the Vietnamese online market, planning your integration now or the near future could be the best time.
And, since Google has the highest share of the search engines, AdWords is the best platform to utilize.
When searching for the keyword "insurance" in Vietnam and in the Vietnamese language, there is a low level of competition with an equally low monthly search volume of 1,300.
In Japan, however, there is a high level of competition and the monthly search volume is 49,500.
Naturally the CPC in Vietnam is lower than in Japan, at an average 23 JPY (approx. $.23 USD).
Fig 10.3.4: Monthly search volume, competition level and suggest bid price for "insurance" in Vietnam.

Fig 10.3.5: Monthly search volume, competition level and suggest bid price for "insurance" in Japan.
Vietnamese SEO
Just as in other Asian countries, SEO needs to be performed in light of Google's search engine algorithms.
As titles and meta tags will be shown in the Google search results, it is important to not only include relevant keywords with enough search volume, but also to write attractive titles and meta tags so that you can capture a good amount of traffic.
With regard to backlinks, since there are relatively few sites in Vietnam that can be used for building your link portfolio, it is recommended you submit your site's URL to directories, such as the one below.
For assistance with your digital marketing campaigns in Vietnam, contact us today.
Featured Photo by Florian Wehde on Unsplash