Thailand's Internet community is comprised of 17,059,000 persons, which is only 26.5% of the population. The share that online advertising holds of Thailand's total advertising market is only about 2.1%. It is clear that the Internet and online marketing in Thailand are really just getting started.

| | | |
| --- | --- | --- |
| | | Reference |
| Population | 64,377,000 | IMF-World Economic Outlook Database 2012 |
| Internet population | 17,059,000 | World Bank 2012 |
| Internet use | 26.5% | |
| Scale of online advertising market | 2 billion THB | Digital Advertising Association of Thailand 2011 |
75% of the Internet community in Thailand is under 35 years old (comScore).
Thai Internet users spend an average of 27 hours online per month (comScore).
96% of Internet users participate in social media (comScore).
The Thai Search Engine Market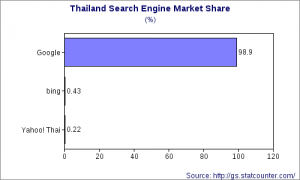 Fig 10.2.1: Overall search engine shares in Thailand
As the graph above illustrates, Google has captured nearly the entire Thai search engine market at 98.9%. Bing and Yahoo! combined don't even amount to 1%.
PPC Advertising in Thailand
By search engine marketing on Google, you will be able to reach nearly all of Thailand's search engine users.
When planning your keywords and ad copy for your campaigns, it's important to have native speakers do it so that you will not lose any of the extensive reach you can capture in Thailand.
Thai SEO
In Thailand, there really isn't a strong understanding of how important SEO is for the promotion of a business's website.
This is because Thailand's SEM market is still underdeveloped, when compared to that of its neighboring Asian countries.
As a consequence, there isn't a great source of Thai-oriented information on SEO to reference.
However, since Google is Thailand's main search engine (by far), it is best to generally tailor your SEO to suit Google's algorithms.
For link building, as Thailand's SEO industry is still significantly small in scale, developing an extensive and diverse portfolio can be challenging.
One positive point about Thai SEO, though, is that the online market is not flooded with sites (as is the West) and so there are fewer to compete against for ranking.
If you were to be one of the first sites to optimize for Google, you could position your site to gain more traffic than your competitors.
For help with your Thai digital marketing efforts, contact Info Cubic today.
Featured Photo by Evan Krause on Unsplash