Since its introduction in 2011, LINE has grown to become the most popular messaging app in various Asian countries, such as Thailand, Indonesia, Korea, and Japan. Especially in Japan, LINE has become so ingrained into the culture that it is also the most popular social networking service (SNS) that functions as a multi-functional, lifestyle platform. Within the app is a multitude of features users can enjoy, spanning from games, group video, hardware digital assistants, and even taxi and delivery services.
LINE is a strong marketing tool for businesses looking to advertise to the Japanese market. With its 84 million monthly active users (MAUs) in the country, it can reach a wider range of users compared to other SNS platforms. Additionally, the app has shown steady and consistent increase in its user base over the years. Paired with the right strategies, brands can drive the right kind of traffic that converts to more sales and leads.
With this, digital marketers should heavily invest in advertising on LINE if they are looking to penetrate a huge part of the Japanese digital sphere.
This article will discuss in detail the scale of the dominance of LINE in Japan, its various features, and the best ways for brands to optimize them in their digital marketing strategies.
What is LINE?
LINE is an instant messaging app by Naver that allows users to message friends and groups through texts, images, videos, and famously, stickers. Founded in Japan, it was originally developed as a disaster response for NHN Japan company employees during the 2011 Tohoku earthquake and tsunami. Three months later, LINE Messenger was introduced to the Japanese public and within a year, the app had gained nearly 58 million users.
Recent survey from Statista reveals that LINE has risen to 84 million users in Japan for the fourth quarter of 2020, surpassing social media giants such as Facebook and Twitter. This is not surprising as 90% of its revenue comes from Japan. Furthermore, this leaves little doubt that the platform will continue to be one of the biggest channels in the Japanese online market, especially with its constantly evolving and expanding services.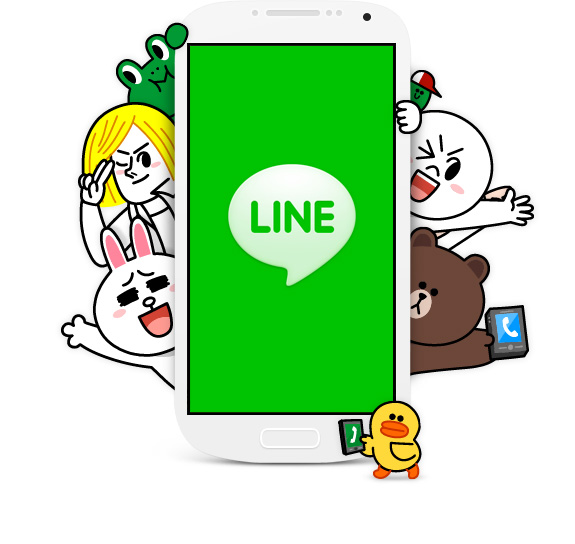 One of the reasons for this growth is LINE's many services offered, such as stickers, games, and tools for businesses. Currently, it offers over 35 apps available for download, which will be further explained later on in this article.
LINE Key Features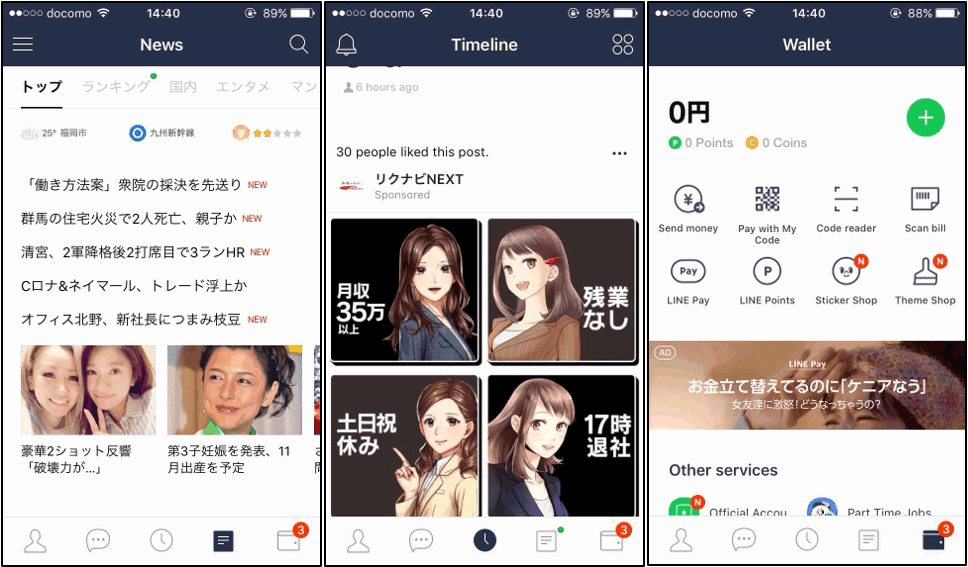 As mentioned earlier, LINE is not just a messaging app; it is an all-around social media platform with more integrated features compared to its competitors that allow it to stand out. Some of these features include news, timeline (newsfeed), manga (comics), and wallet (online banking), which provide users an all-around source for daily information and entertainment. Also, unlike its competitors, it is a mobile native from the start of its development.
Digital marketers must note, however, that LINE does not provide any specific user information or third-party data. To analyze user behavior and create more targeted advertising strategies, extrapolated data must be utilized.
With over 35 subsidiary apps worldwide, here are some other examples of LINE platforms and features available in Japan:
LINE Friends – Cony, Brown, Moon – these are some of the most popular sticker characters of the app. The characters are so adored by Japanese users that they are used as a brand featured in various products, animation, game, café, hotel and theme park.

Line@ – A platform where both corporations and individuals can send messages for both business and personal communication-related purposes.

LINE Camera – A camera app that allows for fun photo effects, filters, and stickers.

LINE Manga – LINE also has its own source of manga stories which users can subscribe to via this platform.

LINE Music – A music streaming service available in Japan, as well as Thailand.

LINE News – A Japanese news portal service that releases localized news.

LINE Pay – Launched in March 2014, this cashless payment service can be accessed through the LINE app itself. It allows users to request and send money from users in their contact list, and even offline wire transfers for purchases as well as ATM transactions.

LINE Taxi – A taxi-hailing service launched in January 2015 in partnership with Nihon Kotsu, a local taxi service in Japan. Just like LINE Pay, it is also available within the LINE app itself.
Advertising on LINE
The multi-functionality of LINE offers many ways for brands to promote themselves on the platform. For those specifically targeting the Japanese audience, start with creating an account on LINE@ or become a LINE partner.
Create a LINE@ Account
As mentioned earlier, LINE@ accounts let businesses communicate with their customers. Brands can create a LINE@ account for free on the LINE website, which is a recommended first step. However, the paid version provides more options such as choosing your own custom name. With this platform, brands can: create their own account page; post content on the LINE timeline; send batch messages to followers; communicate in one-to-one messages via chat; share coupons and announcements; conduct surveys; and even track statistics.
Become a LINE Partner
LINE partnerships basically let businesses promote on LINE's various apps and services. To become a LINE partner, a partnership proposal must be submitted, which will be then reviewed by LINE Corporation, LINE Plus Corporation, LINE Biz Plus Corporation, LINE Business Partners Corporation, LINE Financial, LVC, LINE MOBILE Corporation, LINE Pay Corporation, and LINE Studio. Once approved, brands can then receive added support and contact from the LINE Corp. itself. They can then utilize LINE Official Accounts, Promotion Stickers, LINE Points, LINE Game Services, and more.
LINE Stickers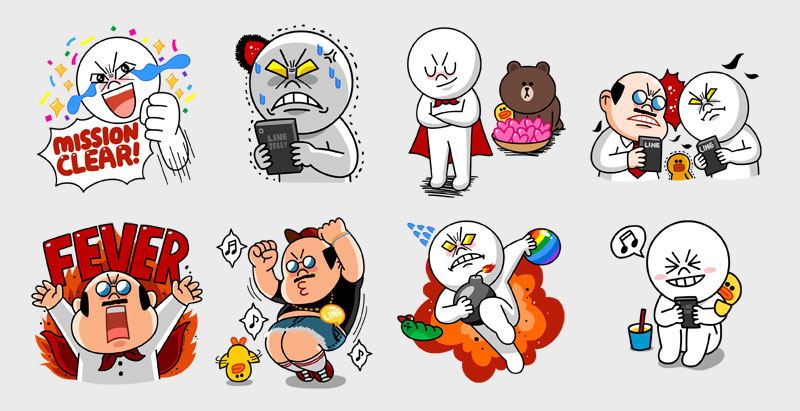 Source: http://official-blog.line.me/en/archives/30383087.html
With the popularity of characters and mascots in Japan, it is simply a must for brands to invest in optimizing this into their strategies. Companies can utilize the LINE sticker shop as a sure way to catch the Japanese audience's attention and set the tone for their business. Although this strategy takes a lot of time and is rather expensive, it is an effective way of building a network of followers in Japan. Typically, most sticker packs are sold at 100 yen, but businesses may also give out free stickers in return for users adding their company's account as a friend to download the sticker pack. This will, in turn, create a large following on LINE and translate to a wider reach.
In 2013, LINE launched a new sticker pack collection called "Pray for the Philippines" in light of the devastation caused by the Typhoon Haiyan that struck the country. The pack cost 50 LINE coins. At the end of the campaign, the app had generated over 58,773,190 yen which were donated to the Philippine Red Cross to help rebuild affected areas and lives.
LINE's charity stickers also provided some much needed financial help to the people of Kumamoto, Japan, when the city was hit with a massive earthquake in 2016. All proceeds of their JPY 120 "Support Kumamoto" stickers directly went to the Japanese Red Cross Society's relief fund for the area.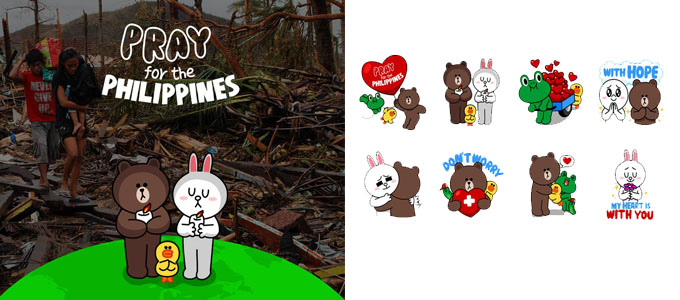 Exclusive Offers
Another effective LINE marketing strategy is offering users special discounts and promotions, which is very helpful for business-to-consumer (B2C) relationships. It provides an excellent contact list in the form of followers. More importantly, it helps in promoting the business account at physical stores or online, where it can offer prospect customers coupons and other discounts. Once added by a LINE user, brands can then send their promotions directly to their users where these can be immediately redeemed at stores or online.
LINE Points Ads
LINE Points is another great way to generate brand awareness. Through this channel, users are asked to complete tasks such as watching advertisements, downloading an app, or adding an account as a friend in exchange of earning points in the app. These points can be used to buy stickers and themes, among others.
LINE Ads Platform
Ad Formats
When distributing ads, LINE Ads platform is the way to go. There are three basic ad formats:
Web ad – for promoting on an external site

App ad – for promoting app downloads

Video ad – used to promote brand awareness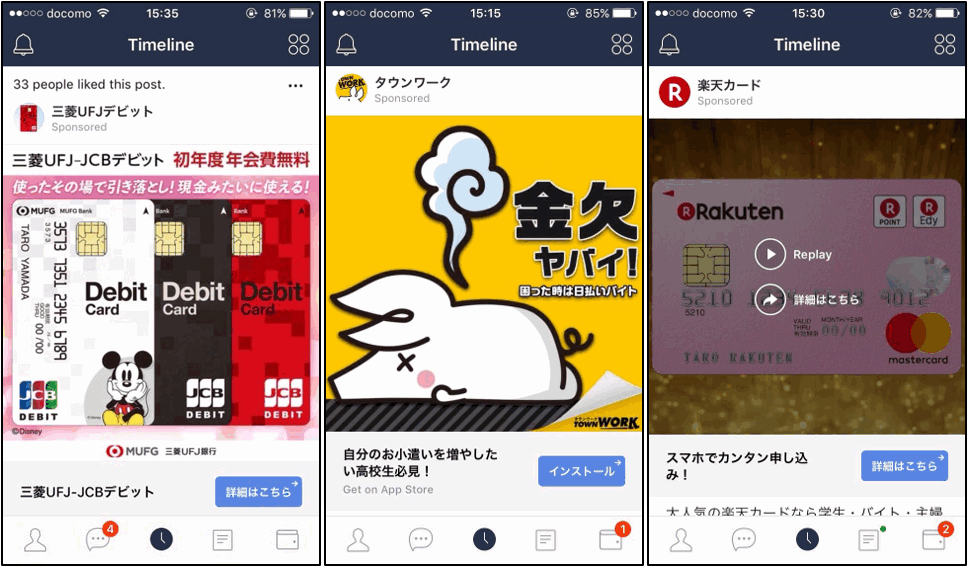 Components
Additionally, these may be reflected as three to five basic ad components, which will also depend on the ad's location. Ads shown on the LINE timeline have all six components, and will show:
Icon/account name

Description

Image

Title

Action button

Likes
Audience Targeting
Creating cost-effective business campaigns lies heavily in strategic audience targeting. Once a users' mobile operating systems and versions, as well as interests, are determined through extrapolated data, brands may utilize LINE's Segments to target their specific audience in order to drive more traffic.
Segments are lists of your own custom data from your own CRM lists, app activity, or website visits.
In LINE, the segments to choose from are:
Age

Gender

Region

Interest

While driving traffic is important, it is equally crucial to ensure that these convert into sales and leads. Therefore, it is important to re-target audiences on the LINE Ads platform to narrow them down into traffic that will most likely convert.
Available Metrics
Brands must take time to track user behavior. Clicks, impressions, conversions, CTRs (click-through-rates), average cost, and cost can be viewed on LINE via the management tool. To view more detailed data, the data should be exported into a .csv file through Excel, or use other business intelligence tools such as Google Analytics.

Summary
LINE is undoubtedly an important channel in the Japanese online market because of its large user base and influence over Japanese society. Utilizing its many tools and services, paired with strategies like audience segmentation, will aid businesses in traffic that successfully converts. For digital marketers, LINE is simply a necessary platform to include in their campaigns.
To learn more about marketing on LINE in Japan, contact us today at Info Cubic Japan.