In most places across the globe, comics are considered as something merely for children. However, in Japan, manga can be a brand's key to penetrate the market. Manga are comics or graphic novels corresponding to a style developed in Japan.
Rather than being for children, manga can be for anyone. Manga is consumed by readers of any age, from elementary school students to senior citizens. In fact, a survey by Shinfield, a Japanese firm specializing in manga marketing, found that 69.7% of respondents aged 40 and up still read manga. One of manga's greatest strengths is that it appeals to readers, whether young or old.
For a long time, manga has been a staple reading material in Japan, appealing to nearly all social classes and age groups. Even though the market for manga in Japan has been steadily declining and domestic sales of printed copies have been falling since 2002, the market has slowly started to rise once more in 2013 due to an abundance of newfound digital manga apps and services for mobile devices. In 2019,  digital sales for manga rose 29.5%, totaling 259.3 billion yen (about US$2.37 billion).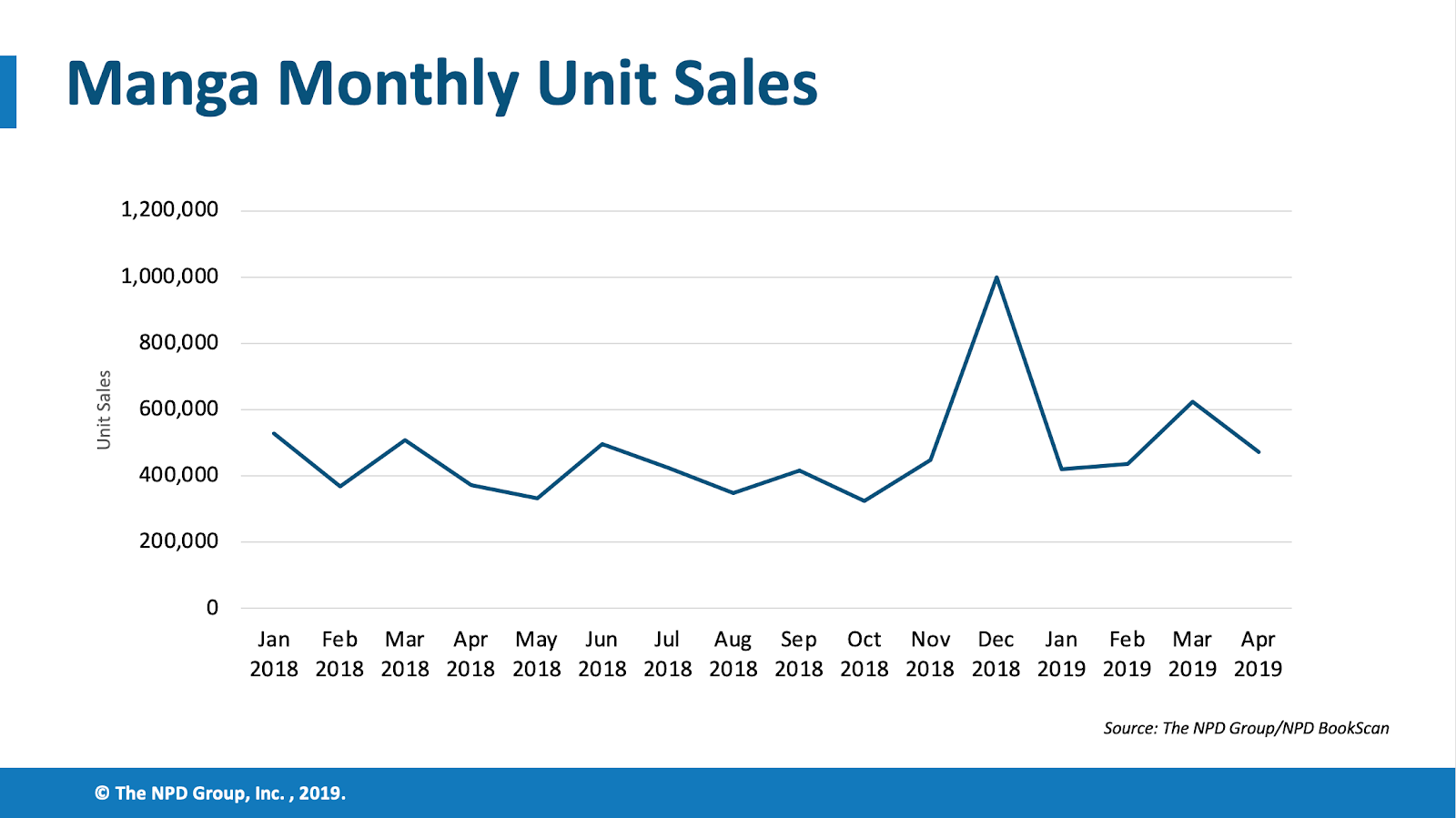 Source: https://www.npd.com/wps/portal/npd/us/news/press-releases/2019/sales-of-manga-books-are-on-the-rise-in-the-united-states-the-npd-group-says/#:~:text=Based%20on%20NPD%20Bookscan%20information,comic%2Fgraphic%2Dnovel%20category
In other countries, the manga is increasingly becoming more popular in markets such as the United States, France, South Korea, China, Taiwan, Hong Kong, India, and Singapore. According to the NPD Bookscan information, the manga sales in American retail trade channels grew 16% from January 1, 2019 to May 11, 2019.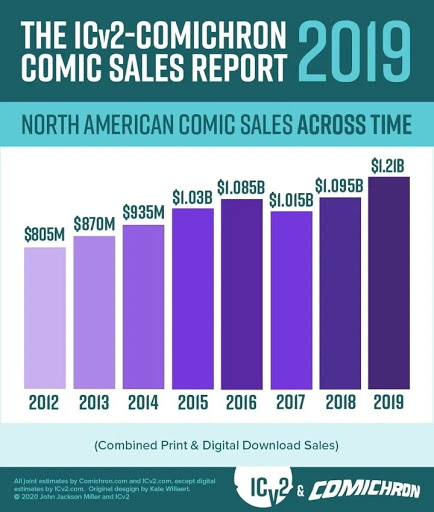 Source: https://www.comichron.com/yearlycomicssales/industrywide/2019-industrywide.html
Dave McCaughan, McCann Worldgroup's strategic planning director for the Asia-Pacific, refers to manga as a "mainstream medium." He states that, while books continue to be the most common format, mobile has the most substantial growth. Mobile manga utilizes a subscription model and typically comes in two forms: one is a direct conversion of the printed version, and the other is a parallel story that serves as a supplement to the one in print. Additionally, Gregory Birge, founder and managing director of F5 Digital Consulting, stated that mobile has made manga more accessible to female readers who felt ashamed of purchasing hard-copy 'adult' titles; he says roughly 70% of mobile readers are female.
The established affinity of the Japanese to manga means that conveying a brand's message through this medium could put them on the fast track to Japanese hearts. Furthermore, the increasing popularity of manga overseas also opens opportunities for utilizing this tactic in other countries. Businesses can take advantage of these opportunities by using manga advertising in their marketing campaigns.
What is manga advertising?
Manga advertising is characterized as a marketing technique that utilizes manga as a marketing tool. This approach in branding is relatively new; nevertheless, industry observers anticipate exciting opportunities. Takuya Matsuo, the regional creative partner at Ogilvy Japan, notes that manga and anime have significant potential for the advertising business.
Manga advertising is mainly used as a means for product placement and branded content, in place of the traditional approach. The wide-ranging subject matter of manga means that it can be utilized to promote anything, from beer to sportswear to cars. Marketers have two options: a brand can either produce its own manga storyline in collaboration with a publisher and mangaka (manga artist), or a product placement fee can be paid to the publisher. The first option enables the brand to extend its story and characters beyond the manga format to television and various other media. Advertising using manga can prove to be useful due to the following reasons:
It captures and retains people's attention.
Great walls of text such as those in terms & conditions or product information can be tiring to read. Alternatively, manga has been recognized to capture and retain people's attention effectively. This feature has allowed brands to have information understood by their customers. Moreover, research by Shinfield indicates that people stay on a webpage longer to read manga. When a health drink company introduced manga to their landing page, the visitors' average staying time increased from a minute and 32 seconds to 3 minutes.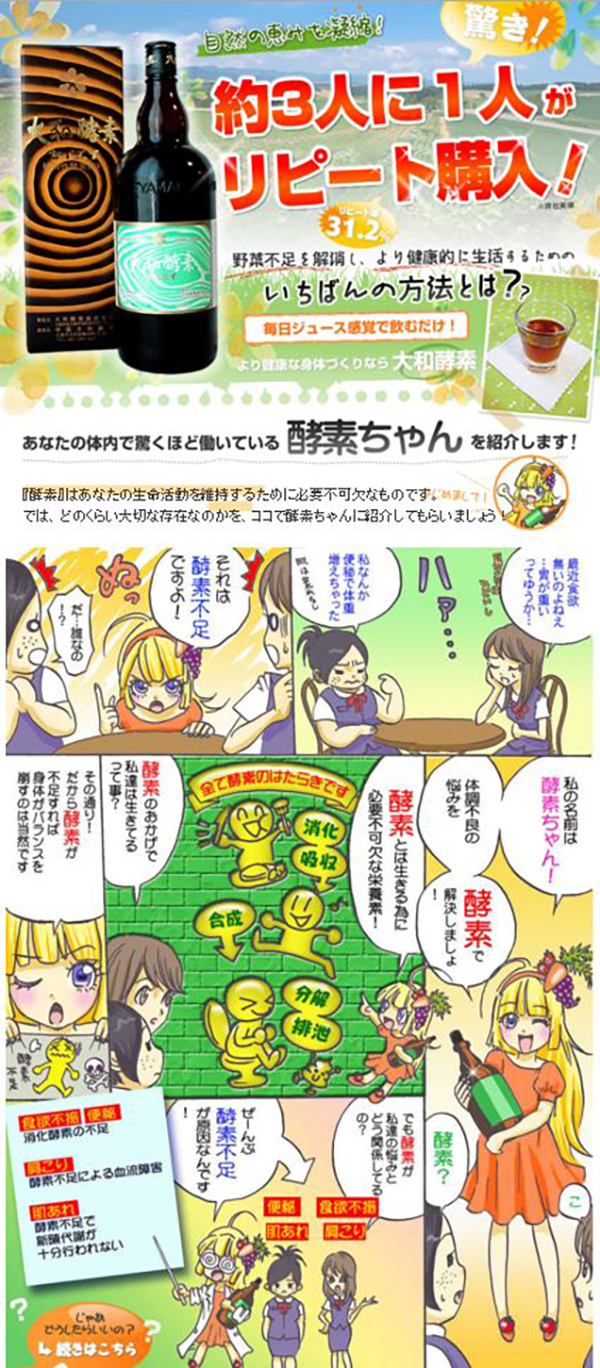 Source: https://www.lancers.jp/sharebiz/1001
In addition, since manga communicates more with visuals and minimal text, it has good synergy with social media platforms that have a word limit for each post such as Twitter. A study by Shinfield indicates that posts which include manga were three times more likely to be retweeted. The most up-to-date social media handlers have quickly caught on to this trend. For instance, now-popular Palette, an account advocating the LGBTQ+ in Japan, has successfully integrated the use of manga as one of the primary strategies to engage readers. Their regular posts using simple images or links usually get about 50 retweets, on the other hand, their posts featuring manga are retweeted in the hundreds sometimes even reaching nearly 17 thousand.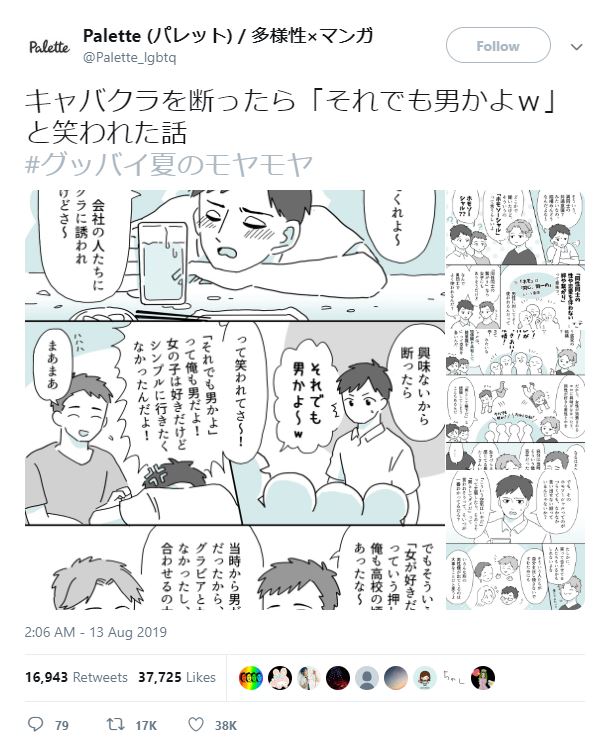 Source: https://twitter.com/Palette_lgbtq/status/1161202290285408258
Due to its visual nature, manga can be used as a communication tool that can make explaining and presenting complex ideas or processes much easier. As a result, manga is not only effective for B2C companies but B2B as well. For instance, manga can be used to explain a complicated business concept to somebody who is not particularly business-savvy.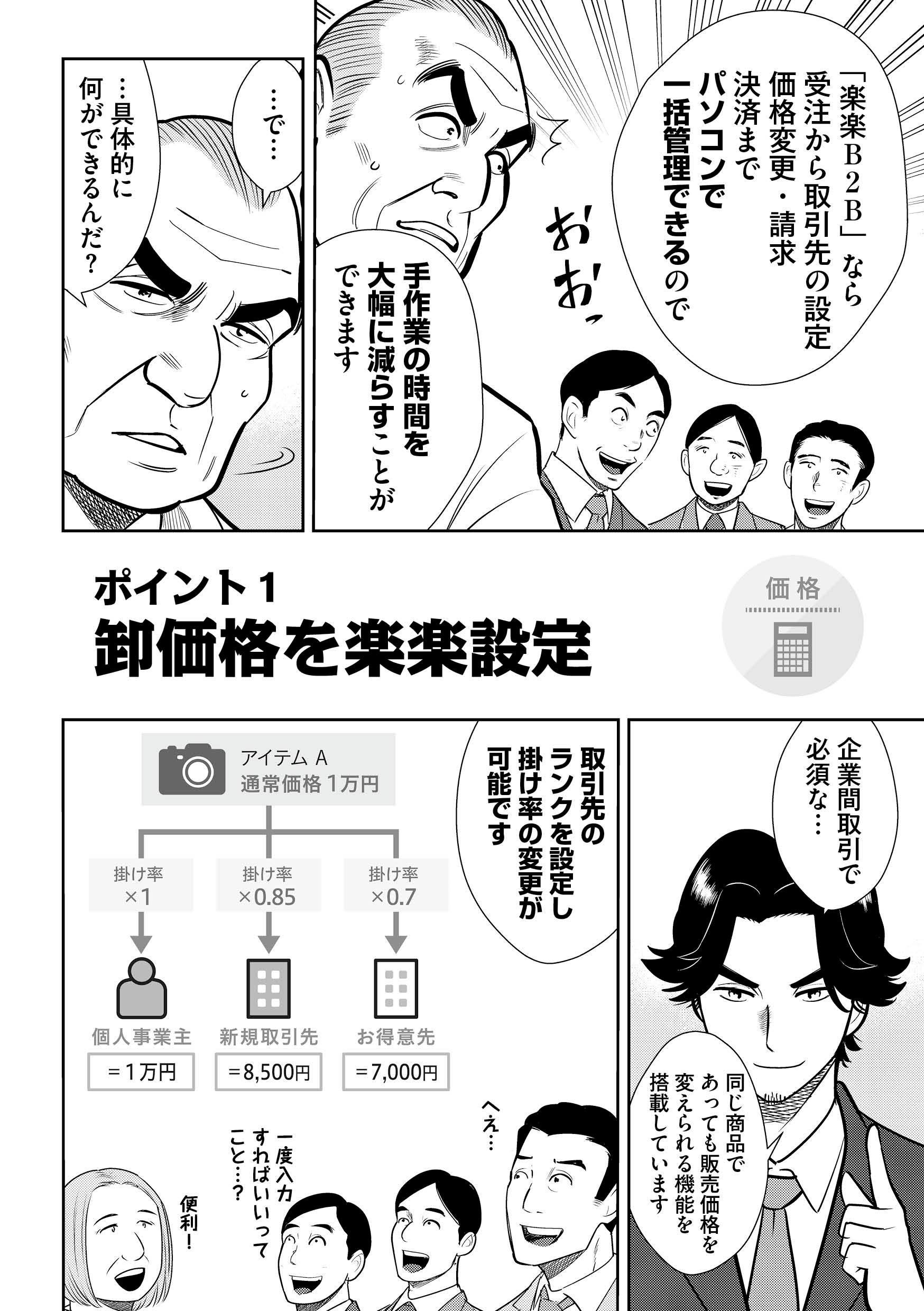 Source: https://raku2bb.com/manga
It increases the click-through and conversion rates
A study conducted by Japanese marketing firm ferret indicates that when a company featured manga in their newsletter, their click-through rate (CTR) experienced a 10% increase.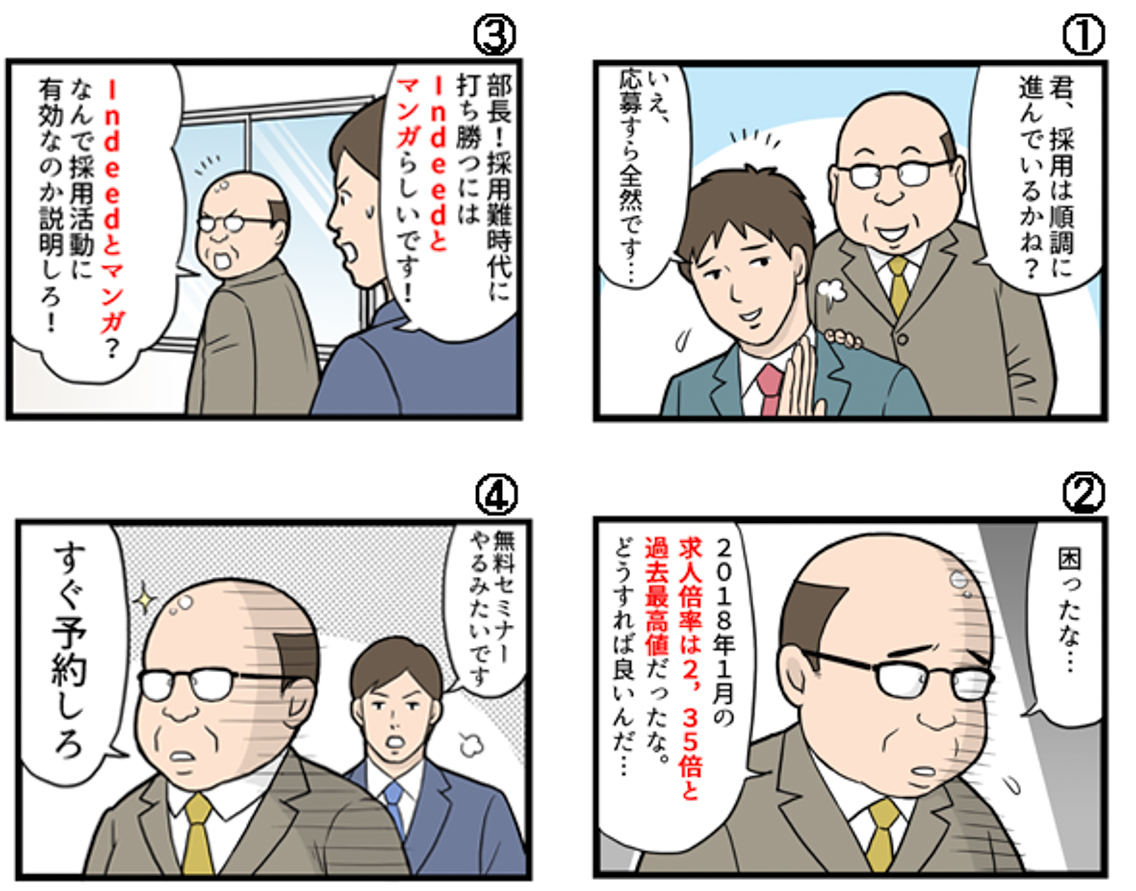 Source: https://ferret-plus.com/10060
Additionally, research by Shinfield found that when a landing page for beauty supplements used manga, the conversion rate increased by 1.5 times.

Source: https://mangamarketing.jp/s_mangalp
It can be used alongside influencer marketing.
Manga artists have a dedicated fan base on Japanese social media, and thus by including their creations in brand advertisements, brands can showcase artists as an influencer. Case in point, businesses like wwwaap make use of this kind of influencer marketing successfully, and acts as a management agency for 70 manga artists, helping them gain over 10 thousand followers.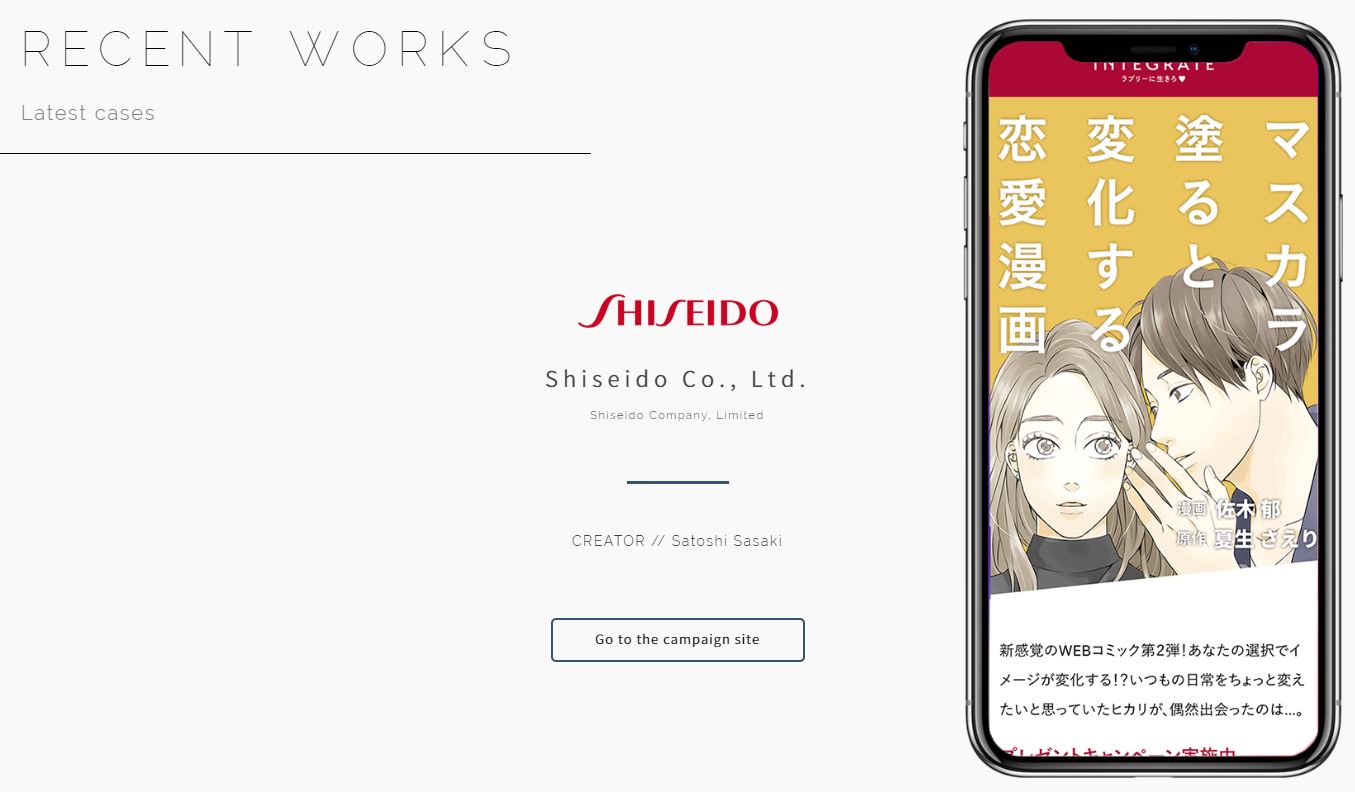 Source: https://wwwaap.co.jp/#artist
Examples and trends in manga advertising
It is not unusual to see a manga character appealing to Japanese consumers. Here are some examples which show the trends in manga advertising.
Suntory The Premium Malt's
Kosaku Shima, a popular manga character among Japanese salarymen, was promoted to company president as part of the series' plot in May 2008. In partnership with Suntory, it was made possible for Japan's real salarymen to raise a glass of the brand's award-winning beer, The Premium Malt's, to Shima, coinciding with this episode in the story. This collaboration also involved events, advertising through mass media, storefront displays, and development of merchandise. The campaign was a success and was covered by national news throughout Japan.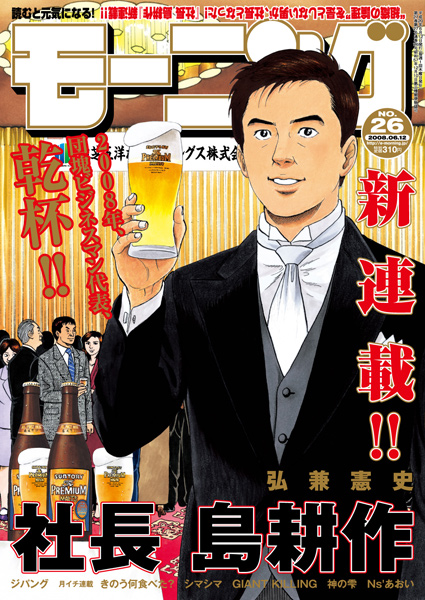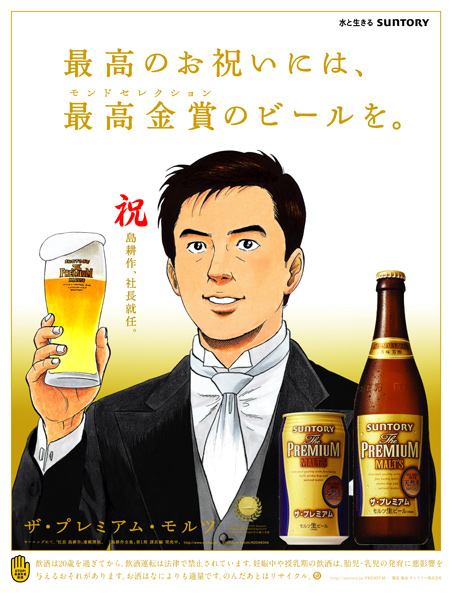 Source: https://www.kettle.co.jp/english/works/kosakushima.html
Nissan
In 2005, Nissan' Serena family car was featured in the manga Cooking Papa, which involves a responsible family man, corresponding the brand's product launch.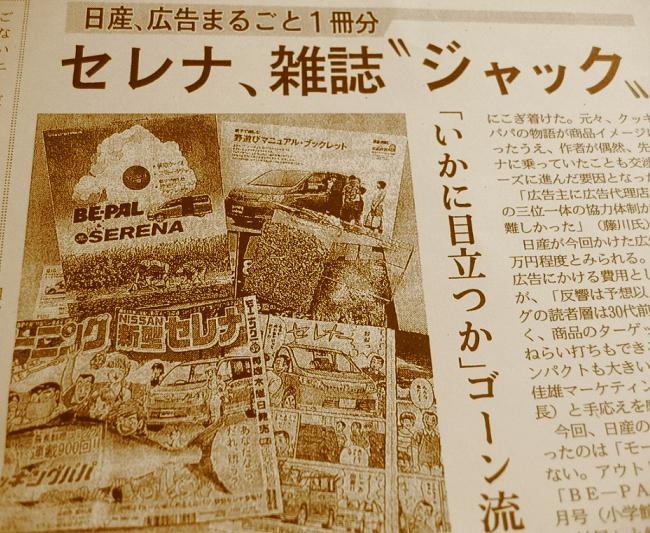 Source: https://minkara.carview.co.jp/userid/132018/blog/830171
RIZAP
RIZAP, one of Japan's major gym operators, launched a manga series featuring its services, the advantages of working out, and significance of a balanced diet when trying to get fit. The incorporation of photographs of real food and real people into a standard manga format set this series apart from other manga advertisements. Moreover, this manga ad was optimized for mobile screens and was shared through LINE, Japan's top messaging app.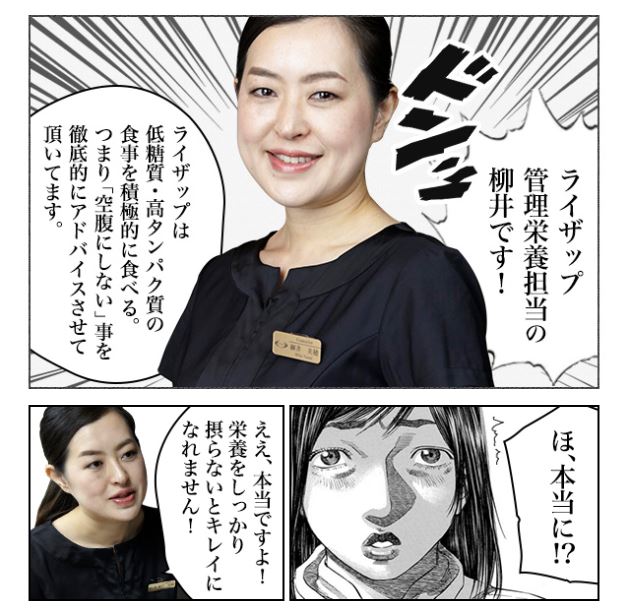 Source: https://www.rizap.jp/lp/line-170909/index.html
Nike
Nike, in partnership with Beacon Communications, implemented the "Bukatsu" campaign which targeted high school sports enthusiasts. The campaign offered audiences access, via QR codes, to a manga series that featured basketball player Kobe Bryant, football player Ronaldinho, baseball player Daisuke Matsuzaka, and other professional athletes.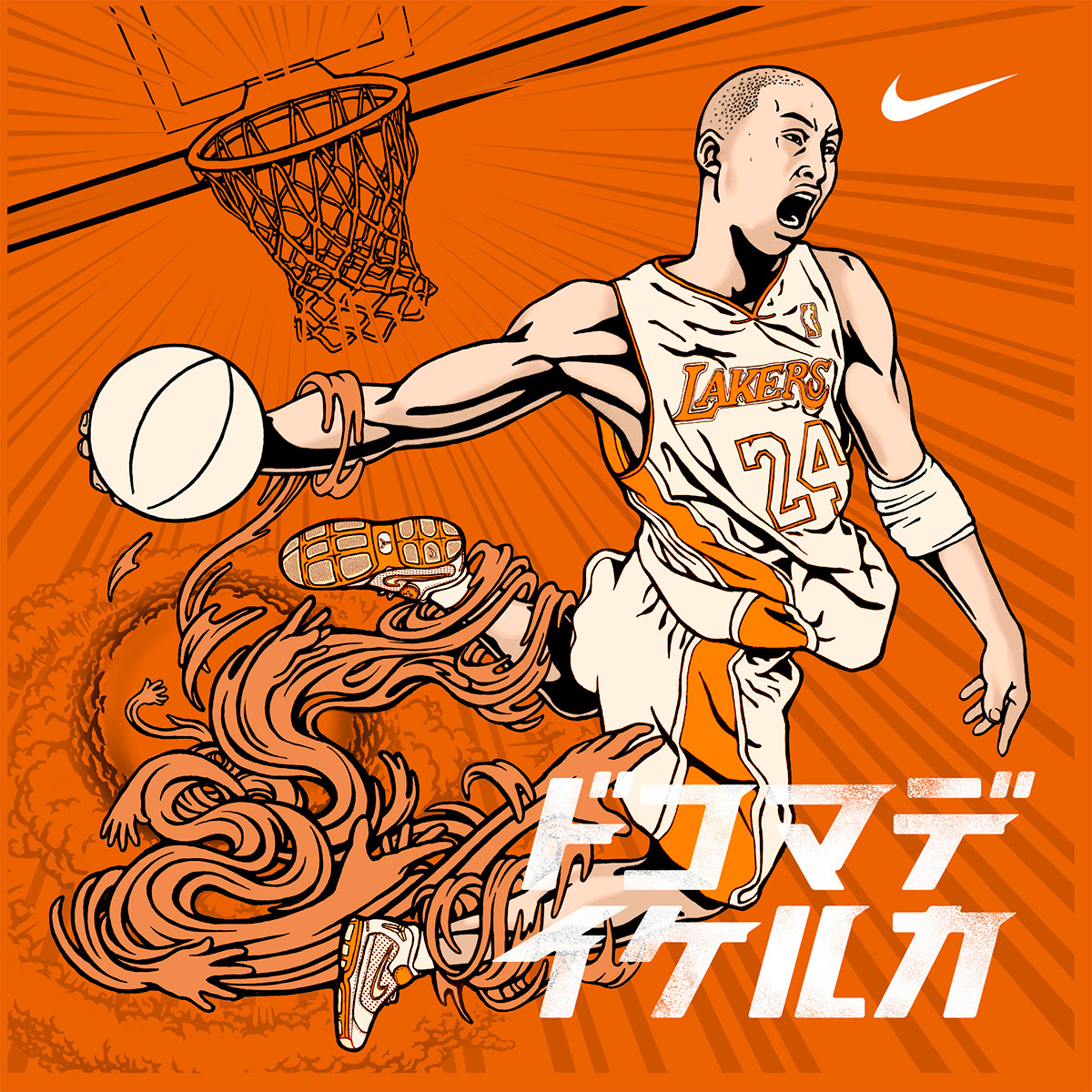 Source: https://www.behance.net/gallery/33006555/NIKE-BUKATSU-MANGA
Information-technology Promotion Agency Japan (IPA)
IPA, a government agency within the Ministry of Economy, Trade, and Industry, published a short manga series in 2015 entitled "PASSWORD — I Want to Securely Protect You" which aimed to raise awareness of protecting and setting strong passwords. The series featured a humorous play on the popular girls' (shojo) genre of manga, which typically emphasizes romantic relationships or emotions and regularly involves archetypal power dynamics, actions, and exchanges of words. In the manga, words that raise awareness about passwords and privacy cleverly replace those of love and affection.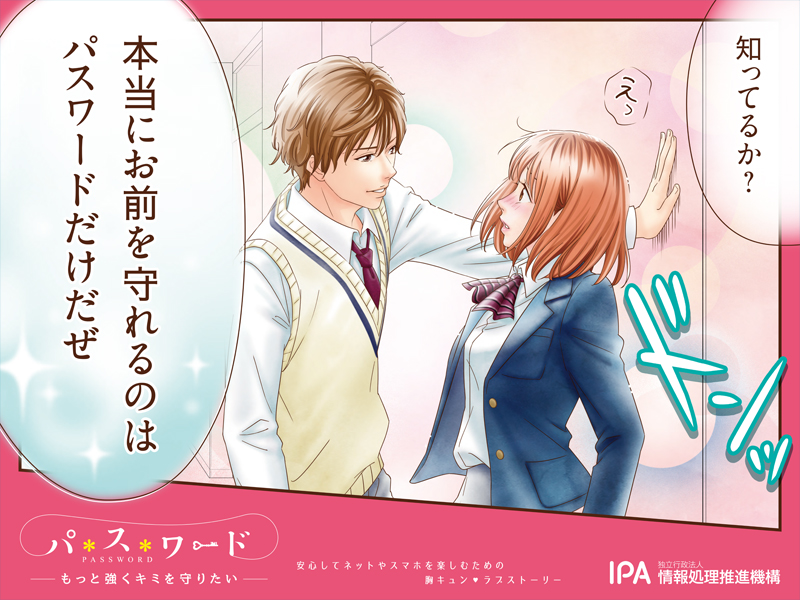 Source: https://www.ipa.go.jp/security/keihatsu/munekyun-pw/slideshow/index.html
High-end wines
"Drops of God," a wine-themed manga, played a substantial role in spreading awareness of high-end wines in Japan, which were featured in the plot according to the authors' preference.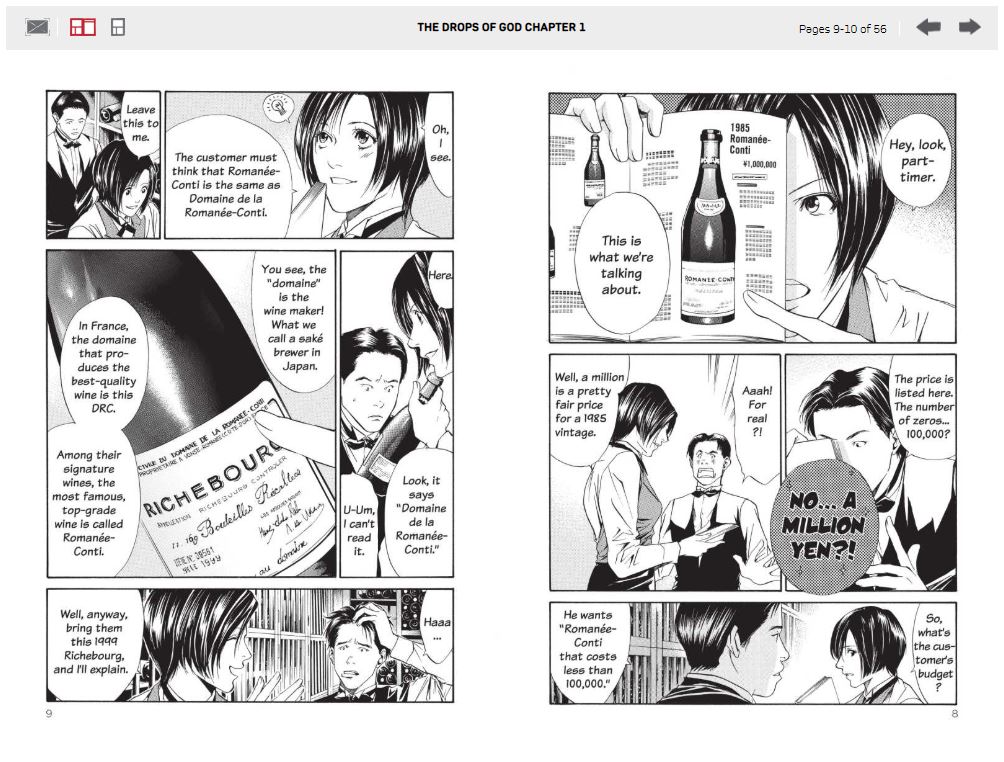 Source: https://kodanshacomics.com/series/drops-of-god
Official authorities
Following the two consecutive missile launches from North Korea in 2017, the Hokkaido Prefectural Government published manga illustrations on their website to educate their residents about the precautionary measures when the J-Alert system sounds.
The four-page comic series features different scenarios of six characters going about their daily routines and their actions after the J-Alert warning. The local government encourages everyone to spread and share manga with their families and friends to increase public awareness.

Source: https://japantoday.com/category/national/north-korea-missile-alert-manga-produced-by-hokkaido-government-office
Summary
Manga's value as a marketing tool in Japan should not be overlooked. Even though it is considered a mainstream medium in the country, manga can also be employed to reach particular niche audiences. Manga comes in both paper and digital formats, with the latter rising in sales over recent years.
Manga is considered as an effective tool for advertising because of its visually-appealing nature and its ability to retain the viewers' attention. Additionally, marketing with manga has been proven to improve a campaign's click-through rate and conversion rate. Another advantage of manga advertising is that it can coincide with influencer marketing, making a campaign gain an even higher reach.
Although there haven't been any studies on manga advertising outside of Japan, the rising popularity of the medium can open many opportunities for brands seeking to use a fresh and unique approach in their marketing.
Learn more about marketing using manga by contacting us at Info Cubic Japan today.
---
Featured Photo by Willian Fujii on Pixabay