The most populous country on Earth, China, has over 800 million internet users within an ever-changing landscape of innovation and evolution. This presents endless opportunities for both businesses and consumers.
For domestic and international businesses, or for anyone involved in the digital world, China should not be ignored. However, whenever China is mentioned, their complexity, cultural differences, internet censorship, and language barriers are the first things that come to mind.
This article aims to guide and inform anyone wishing to embark on a digital strategy in China with a series of useful insights on China's search engine market, an introduction on the structure and features of Baidu, as well as the advertising options in it.
Why Baidu?
In most countries, Google is considered the number one search engine. However, in China's case, only 3.6% of all searches are made on the Western search giant. This may be partly due to Google being blocked by the Great Firewall of China. Nevertheless, they never had a very strong position even before the block was implemented, since local search engines dominated in the country.


Source: https://gs.statcounter.com/search-engine-market-share/all/china
Baidu is the unquestionable leader in China, with 75% share of the search market. It is followed by Sohu's Tencent-backed Sogou, lagging at number two with 13.25%. Google comes third at 3.6% market share. Haosou has been rapidly emerging with 2.96% overall share. Other search engines, such as Shenma, Youdao, Bing, and Yahoo, altogether make up 5.23% of all searches in China.
Baidu, which literally means "hundreds of times", embodies a tireless search for the ideal. Their name was inspired by a poem written more than 800 years ago during China's Song Dynasty which compares the search for a hidden beauty amongst chaotic glamor with the search for one's dream while confronted by life's many challenges.
…Hundreds and thousands of times, for her I searched in chaos
Suddenly, I turned by chance, to where the lights were waning, and there she stood.
Established by Robin Li and Eric Xu in 2000, Baidu is a tech company most famous for its search engine. They were one of the driving forces in China search, duplicating several features of Google in its approach and design. While Baidu can be easily dismissed as a mere Chinese replica of Google, they are actually very distinct upon closer inspection.
One of the major reasons why Baidu is China's search engine market leader is its ability in parsing and interpreting Chinese text more effectively compared to other search engines, which provides results with a higher quality. In addition, Baidu also has the largest index of Chinese web pages in the world and is undeniably completely focused on the Chinese. As a matter of fact, its user interface is only available in Simplified Chinese and gives more importance to Chinese language sites. There are only a few non-Chinese language sites that are even included in the index or show up in the search results.
Similar to Google, Baidu does not limit itself only to search but also offers an assortment of services which include cloud computing, travel sites, maps, music and video platforms, translation services, a replica of Wikipedia with over 16 million articles, a web browser, and Android-based mobile operating system, and even self-driving cars. Baidu, like Google, earns a huge chunk of its revenue from selling ads on its search results pages and ad network.
It is estimated that 3.5 billion queries are made in a day worldwide on Google. This is close to Baidu's numbers, which is estimated at 3.3 billion queries made per day. While there is a tendency to associate Baidu solely with China, it actually receives traffic from more than 100 countries due to the movement of labor from China to other countries.
Baidu Features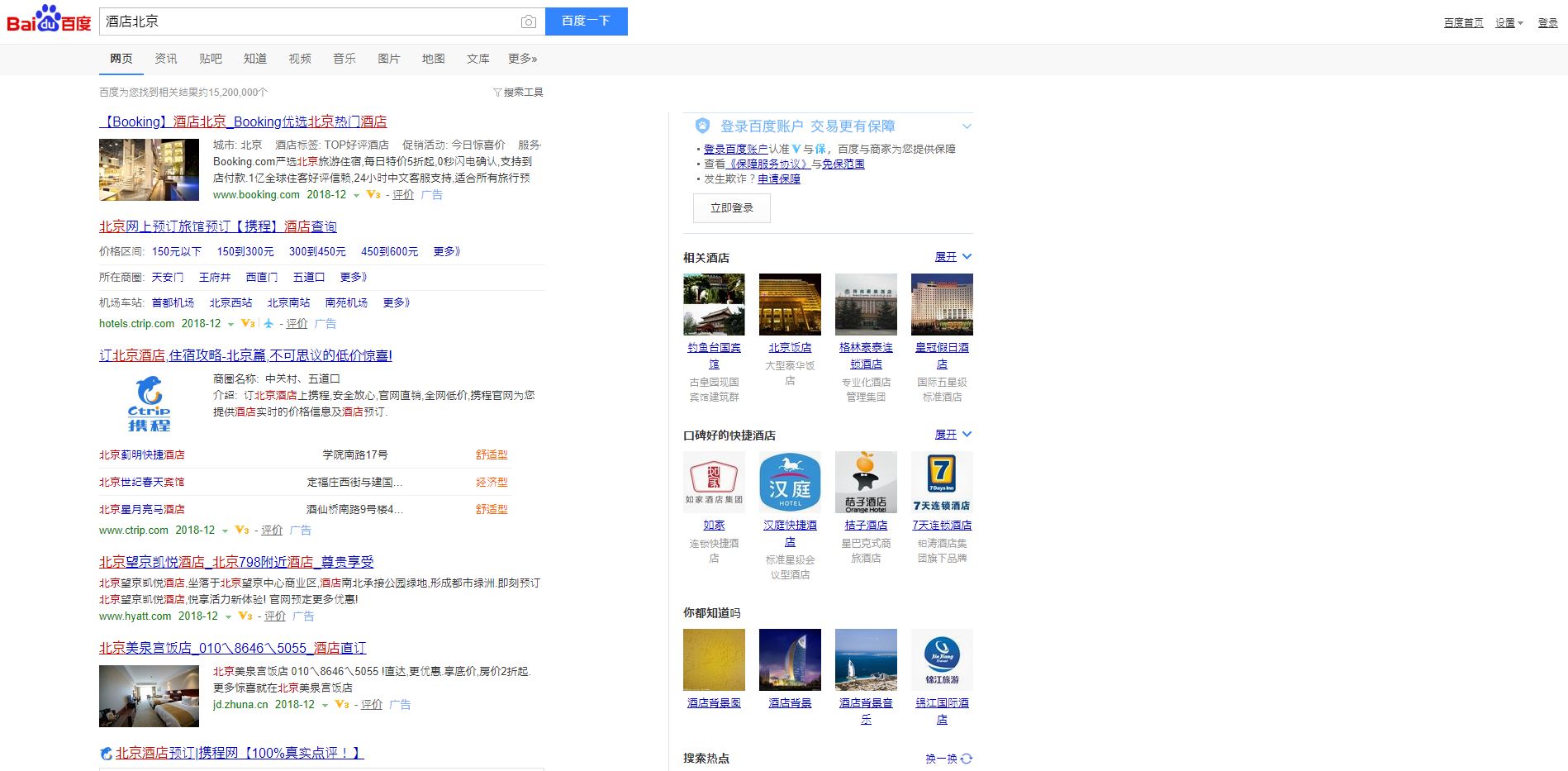 Baidu SERP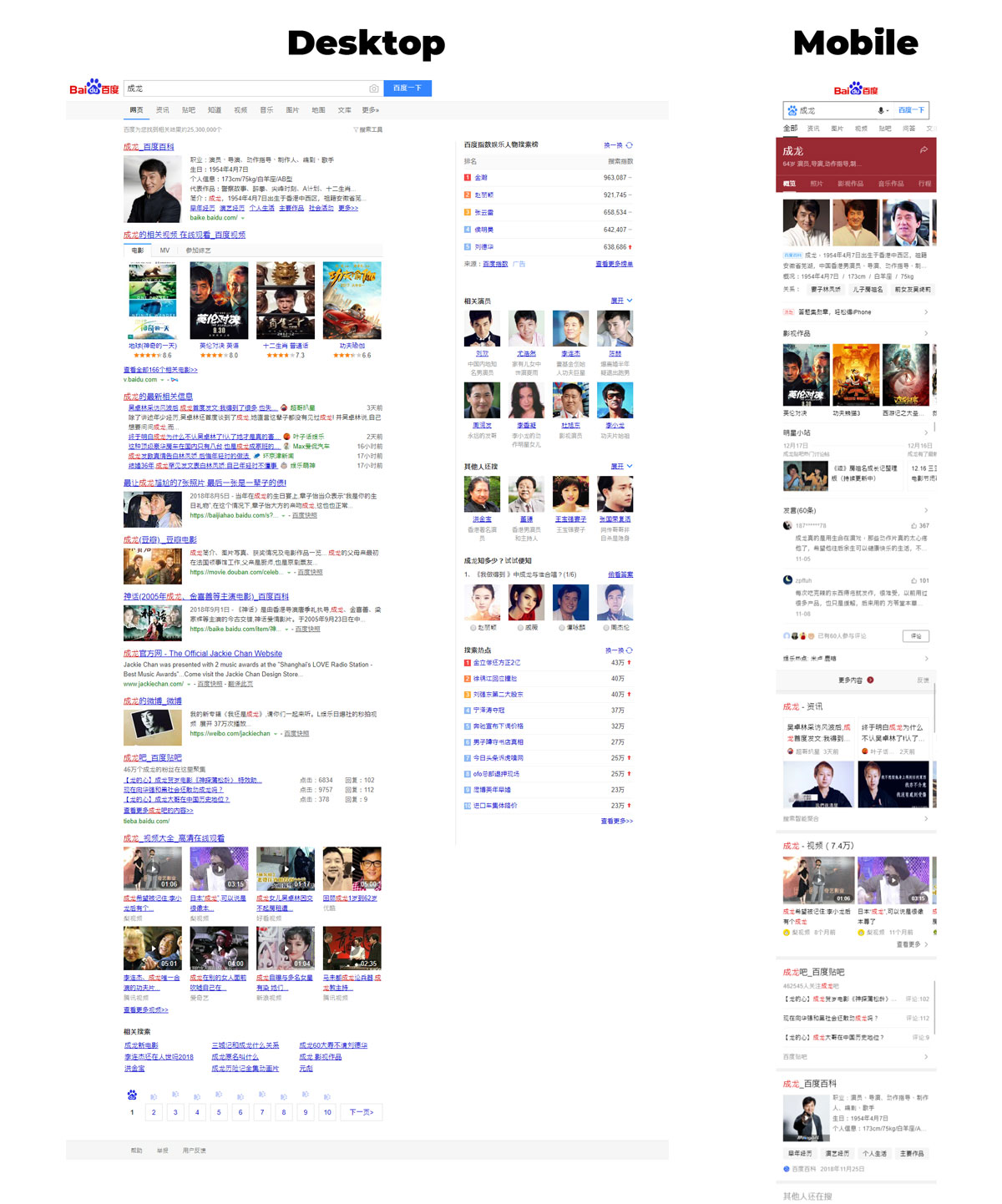 During their early years, the resemblance between Google and Baidu were clear. However, over recent years, Baidu has developed numerous distinctive features to their search engine result pages (SERPs). The features that make Baidu unique from Google are the following:
The interface is available in Simplified Chinese only. Other languages are not supported.

Links clicked on the SERP open in a new window, which keeps the Baidu window open for users to return to it.

The bulk of organic results have thumbnail images linked to them. Image-based related searches are available for nearly every single search on the right portion.

Baidu has their own tool (Baidu Open or Baidu Webmaster Tools) for submitting structured data. Most of the rich snippets on Baidu are custom-made for Baidu's unique features and manually submitted by website owners.

Google's mobile search has the same URL as its desktop version. On the other hand, Baidu uses m.baidu.com for its mobile search engine.

If a website is not mobile-friendly, this may be transcoded by Baidu to make it load earlier for mobile devices. When this occurs, its content will be hosted on Baidu's servers. This all transpires automatically, without any action or approval by site owners.

Baidu implements a domain credibility system that shows the level of trust it has for a domain in their SERP snippet. Sites must apply for the badge, for a fee, and are normally offered only to paid search customers. The influence of this badge on organic ranking is uncertain. However, many believe that Baidu does not treat it as a ranking factor, but it can certainly improve a website's search appearance and click-through rate.

Baidu's own features can take up almost 70% of the available area on the first results page. In contrast to Google, Rich Snippets on Baidu can be more dynamic and interactive. Their size can be very big, can have heaps of links in them, or even have interactive JavaScript apps included on the SERP.
The SERP's layout can differ according to the type of search made. While some queries may present the usual 10 blue links, most Baidu searches return a great number of ads, Baidu's own features, and other types of rich snippets.
Special SERP Features
As mentioned earlier, Baidu also has its own unique features. It offers around 60 different SERP features and products, which include:
Baidu Baike – this is Baidu's equivalent of Wikipedia. It contains over

16 million articles

which are all compliant with Chinese government censorship.

Baidu Wenku – Wenku serves as a portal for members to upload and share files and online versions of books for free.

Baidu Tieba – Tieba is a social interaction platform, similar to Reddit, that comprises approximately 10 percent of all Baidu traffic. Users input a topic into the search bar, and they can then view other people's ideas on a specific topic.

Baidu Zhidao – Zhidao is a question-and-answer platform, akin to Quora and Yahoo Answers. It relies on user-generated content and is moderated for any forbidden content. This is a gamified platform where users are rewarded with "credits" when they answer questions posted by other registered users.

Baidu Jingyan – This is a feature similar to Zhidao wherein users can share their experiences and knowledge on how to perform a specific task or solve a problem.

Baidu Fanyi – Fanyi offers free and instant multilingual text translation and webpage translation services. It supports 28 languages which include Chinese, English, Japanese, Korean, Thai, French, Spanish, and German, and covers 756 translation directions.
An example of a SERP layout which includes some of these features is as follows: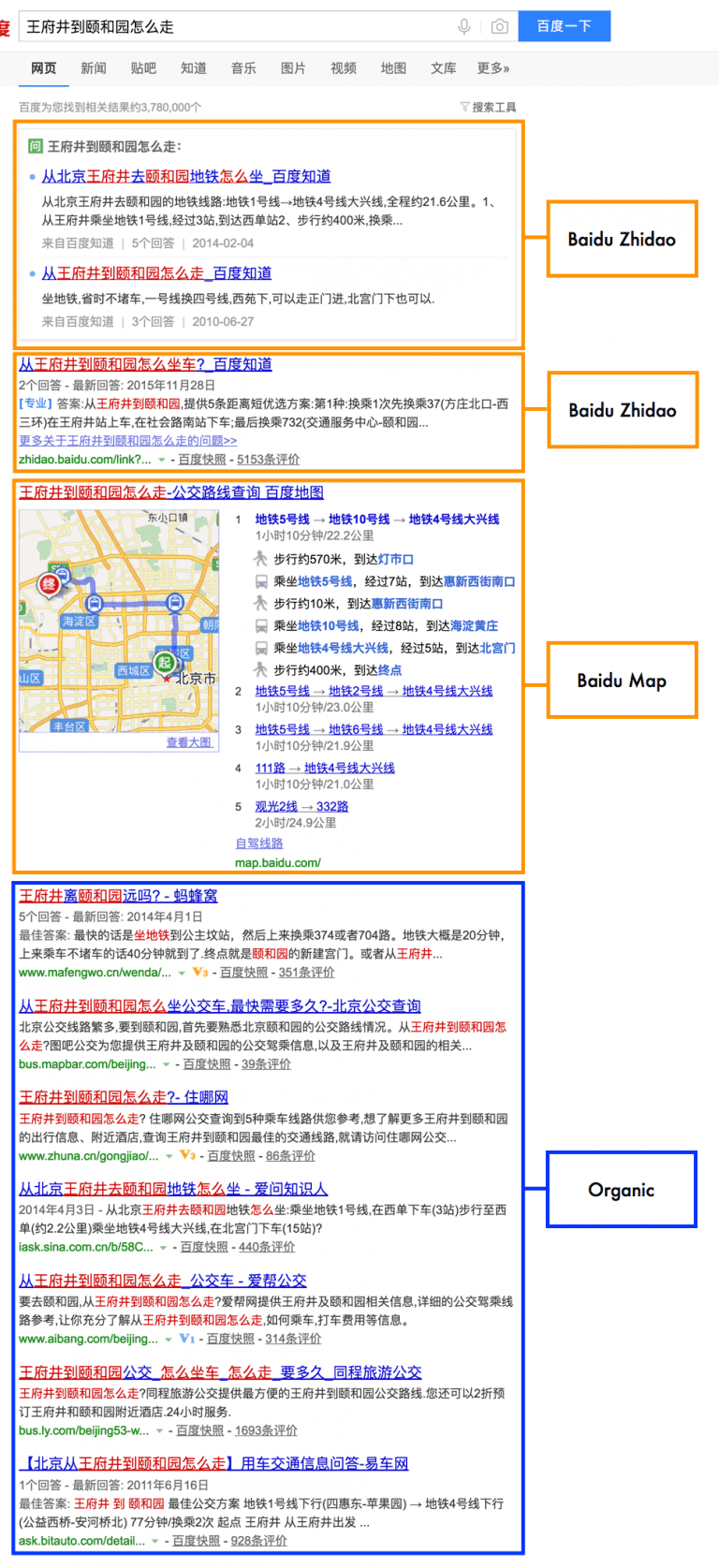 Advertising on Baidu
Digital marketing strategies on Baidu are categorized into Baidu SEO and Baidu PPC. Baidu PPC can also be called Baidu Advertising. Essentially, there are three types of Baidu advertising: Baidu Brand Zone, Baidu Search Advertising, and Baidu Union Advertising.
Baidu Brand Zone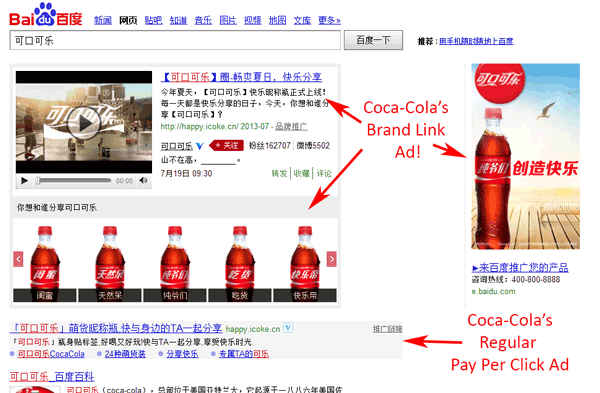 Baidu Brand Zone is an exclusive service offered by Baidu to big and established brands. It features images, videos, flash animations, and links to events or products. The benefits of this kind of advertising are greater brand exposure and more attractive presentation.
Baidu Search Advertising
Baidu search ads are displayed in varying layouts:
Default Text Ads

Sitelink Extensions (Basic)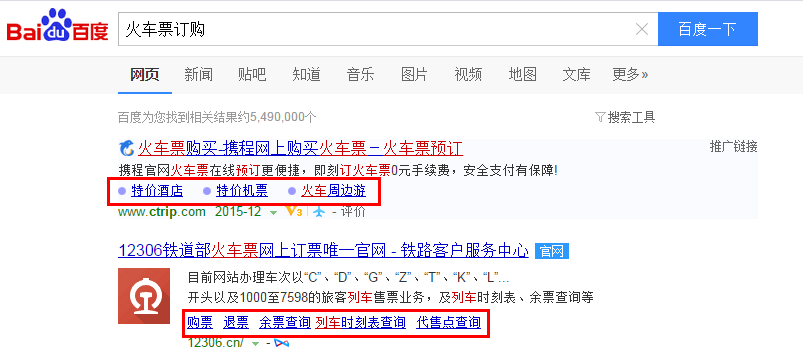 Baidu Image Ads / Image Extensions

Multi-Image Ads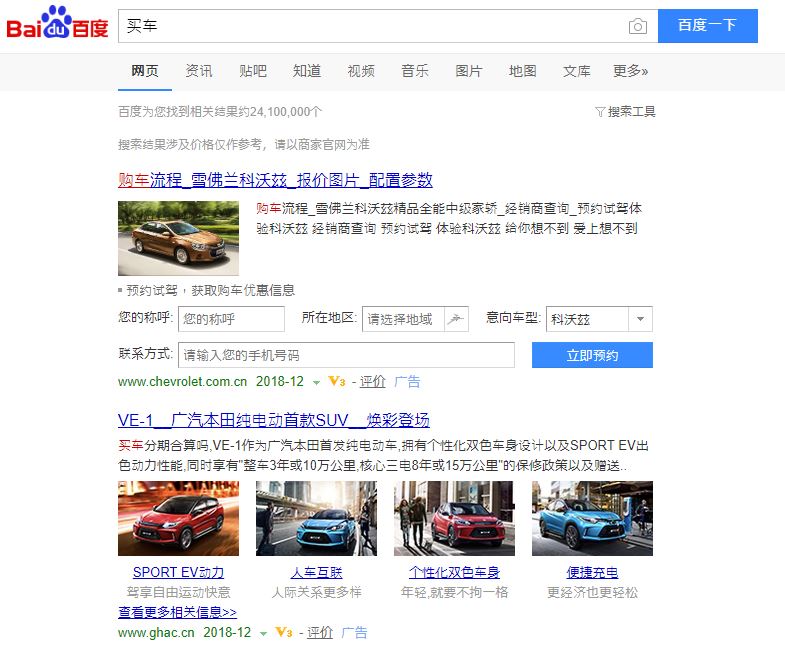 Baidu Union Advertising
Baidu Union Advertising displays ads across Baidu-owned-and-operated search products, music players, and desktop apps as well as Baidu's business partners. Baidu's algorithms determine where and how ads are shown according to the target audience's demographics, location, and browsing history. Formats for advertisements include text links, banners, videos, full-screen and rich media.
Summary
It is already well known that China has the biggest population in the world, and out of that figure, there are over 800 million internet users. This also makes China home to the largest online population.  While those numbers seem attractive, it's undeniably critical that you know China's digital landscape and how to properly navigate within it. Unlike other countries that are dominated by Google, China's number one search engine is Baidu. This may make advertising in China trickier than advertising in different regions across the globe. However, with the right approach and know-how, you can achieve success.
To get started with your Baidu campaign, contact us at Info Cubic Japan. We are an official Baidu agency in Japan and we'll be more than happy to assist with any questions you may have.
---