Japan is currently one of the World's fastest growing e-commerce markets.
Some factors attributed to this rapid growth include the single language culture, developed economy, and highly urbanized population.
There are three major players in the Japanese e-commerce market while a continued rise of m-commerce, transactions completed via mobile device apps, brings more options and expands on the C2C environment.
This coupled with a developed distribution infrastructure and small country size for convenient and expedient delivery will ensure Japan's rate of e-commerce growth will only continue.
From 2018 to 2022 it is expected that the annual growth rate for revenue will be 6.2% and that Japan will remain one of the top 5 largest e-commerce markets in the world.
Top 3 E-Commerce Platforms
Rakuten, Amazon Japan, and Yahoo! Shopping Japan accounts for almost 50% of e-commerce sales in Japan.
Historically, Rakuten has been the clear leader but in recent years Amazon Japan has increased its presence in the market by investing in its own network of distribution centres.
It was announced last year that the Amazon Japan website will accept UnionPay cards to attract more customers from the overseas Chinese market.
Rakuten remains competitive but Yahoo! Shopping Japan has lost market share allowing Amazon Japan to continue its steady growth.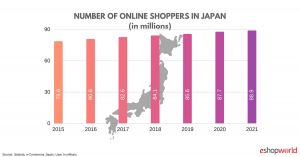 Rise of M-Commerce
While the majority of e-commerce shoppers in Japan still prefer to do their shopping from a desktop, the amount of people making purchases using their mobile devices has been increasing.
This trend has caused big retailers like Uniqlo to participate in online malls such as ZOZOTOWN.
These online malls allow B2C commerce to occur at a higher convenience for the consumer which will continue to drive sales with the expected increase of mobile penetration rate to reach 54.4% within the next 4 years.
The mobile commerce growth of the last several years has also given rise to an increase in C2C buying and selling habits thanks in part to apps like Mercari.
Since its inception in 2013, the Mercari app has seen more than 100 million downloads not only in Japan but also in other countries such as the US and the UK.
Mercari has also taken steps to increase protection against fraud for their users by requiring a seller to input more personal information before listing an item on the marketplace.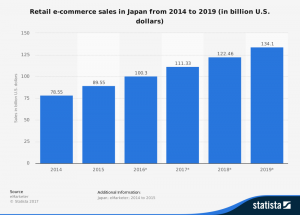 The Future of E-Commerce in Japan
The digital landscape of Japan is currently experiencing internet penetration at 82.1% of the mainstream population which is expected to rise to 83.2% just by 2021.
Competition in the current e-commerce environment has led to a great amount of spending for marketing.
In 2017 alone, online advertising spend was estimated to slightly more than 37 billion USD.
According to a JETRO survey, 24.4% of the domestic Japanese companies involved in the survey reported that they use sell via e-commerce and roughly half of them are selling to consumers in the overseas market.
Some industries which are expected to experience major growth in the e-tail marketplace are Fashion and Electronics & Media.
It is projected that Fashion will become the leading e-tail category over Electronics & Media within the next three years.
Contact Info Cubic Japan today to take your e-commerce marketing to the next level.
---
REFERENCES:
Japan – eCommerce
https://www.export.gov/article?id=Japan-E-Commerce
Japan B2C Ecommerce Country Report 2017 https://www.ecommercewiki.org/Prot:Japan_B2C_Ecommerce_Country_Report_2017_(free)
Japan eCommerce Insights | 88.92 Million Online Shoppers By 2021 https://www.eshopworld.com/blog-articles/japan-ecommerce-insights-2017/
JETRO World Trade and Investment Report 2017 https://www.jetro.go.jp/news/releases/2017/7aea93e5ad0dc1c8.html
Flea market app Mercari eyes June listing in Tokyo
https://asia.nikkei.com/Markets/Capital-Markets/Flea-market-app-Mercari-eyes-June-listing-in-Tokyo
Retail e-commerce sales in Japan from 2014 to 2019 (in billion U.S. dollars)
https://www.statista.com/statistics/289736/japan-retail-e-commerce-sales-figures/
Featured Photo by Jelleke Vanooteghem on Unsplash