There were 40,329,000 Internet users in Korea in 2012, which comprises 80% of the Korean population. This puts Korea in the top tier of Asian countries with a high level of Internet usage. Korea also has a very high rate of broadband use, which even surpasses the rate in countries like Japan and America.

| | | |
| --- | --- | --- |
| | | Reference |
| Population | 50,010,000 | IMF-World Economic Outlook Database 2012 |
| Internet population | 40,329,000 | Internet World Stats 2012 |
| Internet use | 80% | |
| Scale of online advertising market | 1.8 trillion won | DIGIECO 2012 |
Korea is ranked number one in the world for Internet accessibility at 99.3% (Organization for Economic Co-Operation and Development).
30% of Internet users read e-books (Arirang News).
The search engine advertising market in 2011 was valued at 1.1 billion USD, which was equivalent to 68% of the online advertising market (Campaign Brief/Cheil).
For the year 2011, the e-commerce market was worth 881 million USD. This was a 21.2% increase from 2010 (Statistics Korea).
1% of Internet users use credit cards for online purchases. 22.8% use money transfers (Statistics Korea).
87% of Internet users participate in social media (comScore).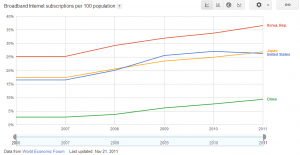 Fig 6.1: Number of broadband Internet subscriptions (per 100 people)
Korea's online advertising market in 2011 was valued at 1.8 trillion won and has sustained an annual growth rate of 20% since then.
Online advertising comprises 20% of the total ad market in Korea. The value of the search advertising (e.g. PPC advertising) market in Korea is 1.1 billion USD and dominates 68% of the total online advertising market.
Search engine advertising has become an approximately 978 billion won industry, and it has become a common form of advertising among Koreans.
Given that search engine advertising's share of the online advertising market has reached the heights it has, it should be part of any online marketing strategy in Korea.
The Korean Search Engine Market
In Korea, the search engine Naver has the highest share of the market at 75.59%. Daum, the second most popular search engine in Korea, has about a 16% share of the market.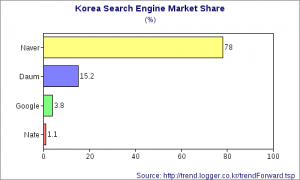 Fig 6.2: Overall search engine shares in Korea
One of the dominant features of Naver is its exceptionally long SERP. Also, the position of content on the page can shift depending on the keyword searched.
Some items that will appear on the first page include PPC ads, informative entries based on the searched keyword (the Korean version of Yahoo! Answers), shopping results, Naver Blogs, organic search results, directory sites, Naver Café pages, news, movie information, videos, dictionary entries, and more.
Naver's Knowledge iN and blog service often appear in the top area of the SERP, so writing articles for these services could be one way to approach SEO.
Because many Korean search engines, such as Naver, include a wide variety of informational sources on the first SERP, users are accustomed to staying on the first page and accessing only the sites that are presented to them.
Thus, among Koreans, traveling to the second page or those further is becoming less common. Due to this phenomenon, having ads appear on the first results page is imperative.
For Naver, the number of spaces available for paid search ads increases and decreases depending on the keyword searched, so we recommend checking your keywords to see what you can expect for availability.
This type of search results presentation that is happening among major Korean search engines is called unified search.
Simply stated, unified search is a method that involves an analysis of the users' needs associated with searched keywords and the subsequent presentation of different categories based upon these perceived needs.
Naver has two patterns of ranking for their unified search which work in union to display results.
The first type of ranking is called collection ranking. This type of ranking pattern shifts the order of major categories on the SERP based on the searched keyword. For example, if you were to search "movie," the category listed at the top of the SERP would be show times.
If you were to search "baseball news," on the other hand, blogs or news sites with the most up-to-date news on baseball would be shown.
The other type of search pattern Naver implements is its multi-ranking system, which ranks pages within these larger categories.
Google, which has a smaller share of the Korean market, has interestingly customized its SERP appearance for Korean users.
The image below exemplifies this unique display. This might be due to the strong influence that Naver has on the search engine market in Korea.
Fig 6.3: A sample Google Korea SERP, customized for Korea
PPC Advertising in Korea
The PPC ad service that Korea's leading search engine, Naver, provides is called "Click Choice."
Daum, the second most accessed search engine in Korea, features a service called "Clix."
Since Daum only commands a relatively small share of the Korean search engine market, Naver is the recommended PPC advertising service for SEM in Korea.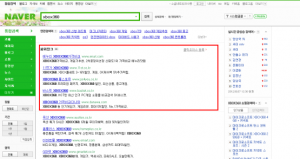 Fig 6.4: The area highlighted above is where Naver's Click Choice ads appear.
Click Choice is Naver's paid search service. The lowest CPC for the service is 70 won (approximately $.06), and bid adjustments can be made in increments of 10 won.
Keyword Type
Click Choice only allows exact match settings for uploaded keywords. Because broad match cannot be utilized, it is important that you think of many keyword variations ahead of time in order to ensure your advertisement will appear as many times as possible.
The "exact match" setting means that an ad appears only when the searched keyword exactly matches a keyword registered to the ad. Naver's exact match setting ignores spaces between words.
Thus, both "America vacation" and "Americavacation" would bring up the ad associated with that keyword. Naver's exact match also differs from Google in that it will not bring up ads for keywords that have spelling errors or vary orthographically from those that are uploaded.
For example, in a search performed for the keyword "Korea travel", the results below would appear:
"Koreatravel"
"Korea travel"
However, results such as the following wouldn't appear:
"Korea travel cheap"
"Korea travel riservetion"
"travel Korea"
Ad Copy – Character Limits
The character limits for Click Choice ads are a maximum of 15 for the title and 90 for the description (normally there is a 45 character limit for the description, but there is an option of increasing it another 45 characters).
The character limits are influenced by the page number on which the ad appears. For the first page, only up to 45 characters for the description will be shown; for pages two and after, up to 90 characters can appear.
Since most successful SEM will be done by listing on the first SERP, it is recommended that you construct the ad to not go over the 45 character limit.
The description is two lines and has a character limit of 90. The green bar graph indicates the length of time this ad has been running (the longer the green bar, the longer it has been shown on Naver).
It is unclear as to how this graph actually affects viewers.
Ad Copy – Copywriting
Korean PPC ad copy is like those of Western languages in that they tend to insert sentence fragments instead of full sentences to keep messages short and under the character limits.
Korean PPC ads are especially to the point, though, and shortening selling points or information about the target promotions as much as possible is a popular tactic.
Title: 일본여행전문 AA여행사
Description: 도쿄최저가 30만원. 조기예약 50% 할인. 면세점 쿠폰 제공. 매일 깜짝 이벤트
Title: Japan Travel Specialists AA Travel Agency
Description: Tokyo from 300,000 won. Early reservations 50% off. Coupon gift for Duty Free Store. Specials daily.
The above exemplifies the shortening technique that is characteristic of Korean PPC ads.
The Click Choice Bidding System
Naver's Click Choice bidding system adheres to the following formulae:
Ad rank = bid amount X quality score
CPC = (next highest score/quality score) + 10 won
Just like Google or China's Baidu, Naver does not guarantee first rank for ads based solely on the bid amount; it is also important they earn a high quality score.
Naver's quality score looks at things such as keyword-ad relevancy, keyword-landing page relevancy, and the CTR of an ad.
So, making sure to address these areas when creating campaigns is vital to ensuring a higher score.
Click Choice ads are shown in numerous places, more so than other paid search platforms. Some of these areas include the top area of the SERP, called the "Power Link" area (up to 10 ads can be shown here), the middle area of search results, labeled "Biz Site" (up to five ads can be shown), and in the Naver Knowledge iN and Blog areas (up to three ads).
Advertisements on Click Choice can also be shown in other large search networks, which include sites such as Korea's popular shopping site G-Market www.gmarket.co.kr, and auction site www.auction.co.kr.
Naver's default settings allow for your PPC ads to be shown in places other than the search results, but if you want to limit your ads to just this area, you must turn the network settings off.
Korean PPC Ad CTRs
Korean PPC ads tend to have high CTRs. One major reason is that keywords are all set to exact match, so they are better aligned with the needs of the searchers.
Moreover, Naver thoroughly inspects the keywords and ads that are uploaded onto its PPC platform, so all of the ads have a trustworthy appearance and, thus, attract more clicks.
Brand Advertisements
On Naver, PPC ads are not the only form of advertisement; there are also "Brand Ads," which are special ads that appear for brand name searches.
If a user types in a query for a brand name, a large advertisement of that brand will appear at the top of the Naver SERP.
These ads can include images or video, too, which make them quite attractive and increase their CTR.
These ads are not charged per click. Instead, they are charged by the number of times per month the keywords registered to them are searched.
The time frame that these ads can be run is 7-90 days.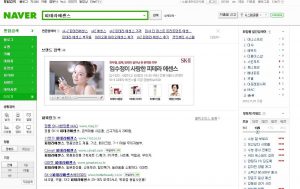 Fig 6.5: Naver Brand Advertisement example—it takes up most of the SERP's first view.
The Naver Keyword Tool
Naver has a keyword tool just like Google, so before running any PPC ad campaign, you can analyze the keywords you are considering uploading.
In order to gain access to this tool, it is necessary to register for a Naver account.
The Naver keyword tool provides category-based keyword search volumes, such as by season or industry.
It also provides the number of parties that have bid on a given keyword.
Thanks to this feature, the level of competition associated with each keyword can be found out, and planning your bidding strategies for each keyword becomes easier.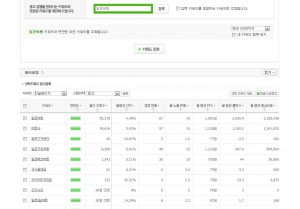 Fig 6.6: A screenshot of Naver's keyword tool
Korean SEO
Although for Korean SEO Naver is the search engine of choice (it has the top share in Korea), only three websites are shown in the first page of organic search results.
Moreover, as previously explained, Korean users tend to rarely venture to the second page of the search results.
For other Korean search engines as well, organic search results are few in number. This seems to be the trend in Korea.
For Naver, the position of the organic results can shift depending on the keyword searched, so there is little merit to investing in your website's SEO.
Rather, it is important to utilize Naver's services, such as its blog or SNS, in addition to images, videos, and other media in order to gain a stronger presence in the results page.
Blogs are especially popular in Korea, and you will find that they occupy the top area of search results quite often.
Consequently, using the Naver blog service to promote your business can be quite an effective online marketing strategy.
Just to be sure, we conducted a heavy search in Korea for SEO services and came up with few, if any results.
This goes to show that in Korea, SEO is not as important or in demand as it is for other countries. What is in demand is marketing through PPC advertising, blogs, and social media.
Website Registration
There is no URL registration page for Naver to rank in its organic search results.
Naver, like other search engines, performs constant searches for new links and indexes these pages as they are come across, so there is no need to register your URL on Naver to appear in the SERPs.
However, Naver does have a directory service similar to Google Places, which you can take advantage of to possibly get your business higher in the SERPs when relevant.
This is definitely a more preferable alternative to a traditional directory. If you are considering this as an option, check out the following link:
After a directory submission is made, it will take up to a week for your site to appear. It is possible to register sites developed in languages other than Korean, too, but considering that the user base of Naver is Korean, websites in the Korean language are recommended.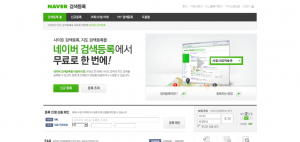 Fig 6.7: Naver's directory page—A Korean telephone number is needed in order to register.
Need help with opening up an account on Naver and managing your digital marketing campaigns in Korea? Contact Info Cubic today.
Featured Photo by Saveliy Bobov on Unsplash