Japan is one of the countries in the world with the highest rate of Internet use; for Asia, Japan only falls behind South Korea.
The size of the Japanese market is quite large, so it is an exceptionally attractive market for Western companies looking to penetrate the Asian online market.
| | | |
| --- | --- | --- |
| | | Reference |
| Population | 127,611,000 | IMF-World Economic Outlook Database 2012 |
| Internet population | 100,457,000 | World Bank 2012 |
| Internet use | 79.1% | |
| Scale of online advertising market | 618,900,000,000 JPY | Dentsu 2011 |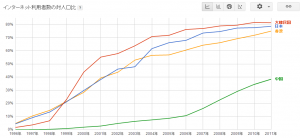 Key: Korea (red), Japan (blue), Hong Kong (orange) & China (green)
Fig 5.1: For Asia, Japan is only behind South Korea in total Internet use per country.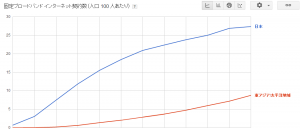 Key: Japan (blue) & All of Asia (red)
Fig 5.2: Japan is also a leading Asian country for broadband internet use. It is exceptionally higher than the Asian average.
In light of the data above, it can be said with confidence that Japan is a country with a developed online market.
It isn't like other developed markets around the world, though, not even other Asian countries.
Just like the Japanese offline market, the online market also has a unique composition when compared to similar-sized markets of the West.
These traits are important to keep in mind when you are planning Internet marketing strategies for Japan. In this chapter, I will touch on a few of these items.
The Japanese Search Engine Market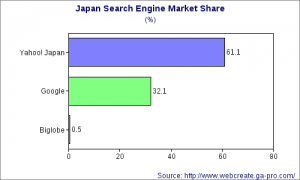 Fig 5.3: Overall search engine shares in Japan
The leading search engine in Japan in terms of overall market share is Yahoo! Japan.
Google comes in a strong second, though, and it continues to get more popular.
What's interesting to note, however, is that currently Yahoo! Japan is using Google's search engine to operate its searches.
Therefore, Yahoo!'s share of the search engine market in Japan can actually be attributed to Google.
If you were to calculate the search engine share by search engine algorithm use, 90% of the overall share would belong to Google.
PPC Advertising in Japan
Yahoo! Japan and Google are the two most used search engines in Japan.
I therefore recommend advertising on both. In the past, both search engines had their own PPC platform on which advertisers would run their campaigns.
Now, however, Yahoo! Japan's PPC advertising platform, Promotional Ads, uses the same engine as Google AdWords.
This makes the transition of running campaigns on Promotional Ads smoother for the AdWords veteran.
But, it must be said that both platforms are not identical, and so it can take some time to master Promotional Ads.
Simply taking your campaign data on AdWords and transferring it to Promotional Ads is not possible. Certain modifications must be made.
Promotional Ads differs from other countries' Yahoo! paid search advertising services, as well.
It is essentially a Japanese service, so if a user were to set up an account on Promotional Ads, he could not use it to advertise on Yahoo! in other countries.
Other countries' Yahoo! search engines are using the Bing platform anyway.
Also, signing up for their advertising service requires Japanese language skills, so this is also something that must be considered.
In this section, I will focus on Yahoo! Japan's Promotional Ads service and its many features that differ from Google's AdWords.
It is my hope to help you adequately prepare yourself for paid search advertising in Japan on Yahoo! and Google AdWords.
Promotional Ads: Unique Features
The Yahoo! Japan PPC platform has many features that are similar to AdWords, so overall it will be fairly easy for AdWords advertisers to run paid search campaigns once they have become accustomed to its format.
However, there are certain differences that might force users to spend a little more time than usual for their daily operations.
First and foremost, most of the PPC platform is available in English.
The only problematic areas for non-Japanese speakers will be the display network and certain features such as the help center and agency portal, as these have not all been localized for the English language market.
Linguistics aside, though, there are other certain aspects of Promotional Ads that might pose a bit of a challenge for those unfamiliar with the platform.
l would like to introduce a few in particular: (1) campaign, ad group, and ad and keyword limits; (2) the data import feature; and (3) campaign/ad group/keyword settings.
Understanding the differences between Promotional Ads and AdWords with respect to these areas will definitely help to smooth your ad campaign operations.
Data Limitations
Below is a list of the limitations for Promotional Ads. For the purpose of comparison, I have also included AdWords' limits.
As you will see, Yahoo! Japan does not allow the volume that Google does. Many will argue, though, that it provides enough.
Item
Promotional Ads Limit
AdWords Limit
Campaigns
100 per account
10,000 per account
Ad groups
2,000 per campaign
20,000 per campaign
Ads
50 per ad group
50 per ad group
Keywords
2,000 keywords per ad group

5,000 keywords per campaign

50,000 keywords per account

20,000 per ad group

5,000,000 per account
For those who find the Promotional Ads limits disappointing, there is still at least one solution.
If you were to advertise through a Japanese SEM agency, it is possible to contact Yahoo! Japan and have certain limitations increased.
This is a feature only available for SEM agencies though.
Data import feature
The Promotional Ads platform facilitates the process of importing and editing large amounts of data with its import feature.
Rather than using an editor program such as that which AdWords provides, Promotional Ads accepts a bulk .csv file as a medium for importing all the data necessary for running an account.
This is not a problem for people with plenty of Excel experience; however, for those who do not have a strong command of the Excel program, this feature of Yahoo! can be quite troublesome.
The larger a Promotional Ads account is, the bigger the files will be and the longer they will take to upload.
Also, it is important to note that one mistake will cause the import of your data to fail.
This can frustrate even the seasoned professional, as it wastes a lot of time.
So, it is always important that you set more time aside for your account operations on Promotional Ads.
Why doesn't Yahoo! Japan offer an editor you ask? Well, Yahoo! Japan does have one, but it doesn't operate in the same fashion as Google's—this will be elaborated upon later.
So, advertisers are left to import their data via .csv files with rows upon rows of data.
Make sure your Excel skills are up to par and you enter all the data necessary before attempting to import on Yahoo! Japan.
Campaign/ad group/keyword settings
The campaign, ad group, and keyword level settings available on Yahoo! are all available on AdWords, so if you're an AdWords professional, you don't have to stress over learning how to operate new features.
Fortunately, for your campaign settings, most of the features that AdWords includes are also available on Promotional Ads.
However, certain advanced options are limited or non-existent.
For reference, I have listed some features below that are not featured on Promotional Ads.
Some of these—or even all of these—are used regularly by AdWords marketers, so knowing beforehand the alternative measures you will have to take in order to get around the lack of options will help you to run your paid search campaigns more smoothly:
If you would like to exclude a specific IP address from being able to see your ads, this is the feature to use. This is often used to prevent being charged for clicking your own ads.
This feature allows you to select whether you want ads showing for plurals, misspelling or other similar alternatives to your registered keywords.
Automatic conversion-based bidding strategy
Advertisers who would like to have Yahoo! automatically bid according to their conversion data (like this AdWords feature allows) will unfortunately not be able to find it.
Campaign/ad group/keyword level automated rule creation
This is another feature of AdWords that you will not find on Promotional Ads. You will have to stick to manual operations when managing your account.
Promotional Ads: Text Ad Characteristics
One aspect of Promotional Ads that many advertisers like is the additional space they are provided to compose their ad copy.
I have included a chart that compares AdWords and Promotional Ads' character limits for 2-byte Japanese text ads.
| | | |
| --- | --- | --- |
| Item | Promotional Ads | AdWords |
| Title | 15 characters | 12 characters |
| Description 1 | 19 characters | 17 characters |
| Description 2 | 19 characters | 17 characters |
| Display URL | 29 characters | 17 characters |

What's more, in addition to the extra characters advertisers are provided, there is also a wider range of characters that users can incorporate into their ads on Yahoo!'s service.

I have provided some of the characters that Google does not allow to be used in AdWords, but which can be inserted into text ads run on Promotional Ads.

| | |
| --- | --- |
| Character Type | Example |
| Underbar | _ |
| Three dot leader | … |
| Operators | = ≠ ∞ |
| Arrows | ⇒ ⇔ → ← ↑ ↓ |
| Other symbols | ¥ # ♪ @ 〆 ※ 〒 ★ ☆ |
Reference: Yahoo Promotional Ads
The extra number and types of characters that can be utilized through Yahoo! Japan's Promotional Ads is one of the attractive characteristics of the Japanese paid search platform.
The higher level of freedom in copywriting that the medium provides advertisers can lead to higher CTRs for your ads.
I recommend using the extra features that Yahoo! provides so that you may experience higher CTRs for your ads and, hopefully, more overall sales of your products/services.
The YDN
To expand advertisers' reach even further, Yahoo! Japan also features a display advertising service, the Yahoo! Display Ad Network (YDN).
The YDN is in many ways similar to Google's Display Network (GDN).
What it does is essentially make banner advertising possible on various types of websites for users located across Japan. It also includes various targeting features that help to narrow the scope of advertising campaigns so the best traffic possible is gained.
This means that users are capable of advertising to a select group of Internet users in a small Japanese city or millions of Japanese throughout the nation.
Nearly all of the targeting capabilities that AdWords features, such as ad time scheduling, website exclusion, selection of target users' gender or age group, and others, are included in the YDN.
Advertisers used to the GDN might find the system a bit challenging, though, as not all data or targeting options that AdWords' version provides are available on the YDN; the overall format is different, too.
One of the biggest challenges, though, is that it is only provided in Japanese. This, along with the other items listed above, are some things that must be taken into account before attempting any display ad campaigns.
Nonetheless, the YDN is a relatively advanced display advertising platform and can provide effective targeting of your advertisements in Japan.
I have chosen the following screenshots to illustrate the process of organizing a display campaign on the YDN.
When structuring your campaign, there are various targeting settings, one of which labeled "interest categories".
This setting allows you to target the interests of Yahoo users. A wide range of topics is available to choose from, such as car tires, social issues, or flower viewing.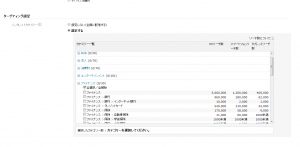 Fig 5.4: Screenshot of the "Interest Categories" target setting
There are also website categories, which allow you to narrow the types of sites on which you would like to run your campaigns.
Here too, categories are numerous. Some of the top level website categories include news, SNS, entertainment and specialty sites.
Getting more granular, the YDN also includes an age targeting setting, which actually has a more defined list of age groups than the GDN.
There are even age groups that include minors.

Fig 5.6: Screenshot of the age group target setting
Another important targeting setting is the regional targeting feature. Like the GDN, various local targeting can be done through regional settings.
This allows for more effective targeting and can consequently lower CPAs.
If you want to ensure a more effective campaign from the start, definitely utilize this setting.
Although the YDN is lacking in some minute features when compared to the GDN, in areas such as keyword targeting or the number of banner sizes that can be advertised, it serves as a fairly complex and effective display advertising platform.
It can even be argued that you can perform more effective targeting on Yahoo! Japan, because websites and user interests have been categorized specifically for the Japanese market.
Some advertisers actually have seen better results on the YDN when running campaigns simultaneously on the GDN.
This goes to show that for Japanese display advertising, Yahoo! Japan should not be disregarded as one of your key media.
I recommend checking out the YDN and testing its effectiveness yourself.
Promotional Ads: Useful Tools
Yahoo! Japan Promotional Ads' tools are not as advanced as AdWords' overall, but they have most of the same features and even have some that AdWords doesn't, so they are useful for planning and optimizing your Japanese SEM campaigns on Yahoo!.
In this section, I will introduce two tools in particular that are undoubtedly beneficial when running paid search campaigns.
The Yahoo! Keyword Advice Tool
The keyword research tool that Promotional Ads provides its clients is in many ways similar to that of AdWords.
You won't find as many keywords provided to you as you will on Google's Keyword Planner, but the data provided through the tool is in many ways much more thorough.
For example, just putting in the URL of the site you want to advertise will give you a list of up to hundreds of keywords with the following information:
Competitiveness
Monthly Search Volume
Estimated Average CPC
Estimated Average Position
Estimated CTR
Estimated Impressions / Day
Estimated Clicks / Day
Estimated Cost / Day
The above items are provided individually for PC/tablets, mobiles, and smartphones, so you can see right away how keywords should be bid according to device.
Some other great features of the Yahoo! Japan Keyword Advice Tool are the changes in search volume graph and demographic data that are accessible via the same page.
With the search volume changes graph, you can view how often your group of keywords was searched over the last year in both monthly and hourly increments.
This type of data can help you adjust your bidding and overall advertising strategy for your campaigns. The other feature, demographic data, is valuable, because it shows you the locations, days of the week, and the genders and age ranges of users searching for the keyword group you designate.
All of this data is available through Promotional Ads' Keyword Advice Tool. Some might feel the data provided is much more than what is actually needed to run a successful campaign, but for individuals who are looking for the most thorough keyword data they can find, Yahoo! Japan does a pretty good job.
The Yahoo! Japan Tag Manager
Another great tool that can really make tracking your online marketing performance hassle-free is the Yahoo! Japan Tag Manager.
The Tag Manager is a convenient program that allows users to analyze multiple types of tracking data using only one universal tag. What this means is the Tag Manager program can be your one-stop solution to tracking the performance of your Japanese SEM campaigns, because both Promotional Ads and AdWords data can be tracked using the platform.
Of course, if you want to track data from sources other than Yahoo! and Google (e.g. Criteo, Adobe SiteCatalyst, or MicroAd BLADE), that is possible as well.
Below I have listed some of the great features of the Tag Manager for your reference:
Some of the numerous benefits of using the Tag Manager are:
The analysis of your overall performance is simplified.
More than 100 different types of tags are supported.
Time and labor inserting a variety of media's tags is reduced.
Web page load time can be reduced.
Tag errors are identified in real time.
Tags can be turned on and off in real time.
Data loss can be prevented.
As you can see, the Yahoo! Japan Tag Manager is a convenient tool that includes many great features that facilitate the process of performance assessment.
It is also easily accessible via the "support tools" tab on the Promotional Ads management screen.
For more detailed information regarding the Tag Manager, visit the official site at: http://tagmanager.yahoo.co.jp/ (in Japanese).
Japanese SEO
 In 2010, Yahoo! Japan announced it would start running its searches using Google's search algorithms.
Up until the change, it was necessary to perform SEO in light of both search engines. Now that both services use the same search engine, SEO has become easier in many respects; now, measures only need to be based off Google's algorithms.
Thus, rankings are nearly always the same for both search engines.
Speaking of other search engines, there is Bing in Japan, which comes in third place behind Yahoo! Japan and Google; however, its share of the market is very low, and companies rarely optimize their sites to it.
Japan's SEO market has changed significantly within the last few years.
The old standard SEO strategy of general and pay-per-performance link building is now shifting to a focus on strengthening website content and link earning, mirroring industry developments happening in the West.
This is due to the strong actions Google has taken in recent years to eliminate search engine spam. In light of this, Japanese companies, just like their Western counterparts, will need to decide which path they want to take regarding their site's SEO.
Depending on whether they approach SEO as a short-or long-term method of increasing their site's traffic, the measures to be implemented will differ. SEO isn't merely a process to improve a site's search engine ranking; it is, instead, defined as a way to improve one's site traffic organically with respect to the goals of your business.
To predict the future of Japanese SEO, I would say all one needs to do is analyze what measures companies in the West are implementing into their own sites.
It's only a matter of time until it fully makes its way to Japan.
Google and Yahoo! Japan: SERP Differences
As stated above, Yahoo! Japan uses the same algorithms as Google for its search engine, so the organic search rankings are the same; however, there are differences in the way the organic and paid search results appear visually.
For paid search results, for example, Google includes three that appear at the top of the page with a salmon-colored background.
Yahoo!, on the other hand, has up to five and the background is white, just like the organic results.
Consequently, Ads on Yahoo! are not as apparent as on Google and could lead to higher CTRs.
Also, if an ad appears in this top area, it will also appear at the bottom of the search results page, which is another feature different from Google.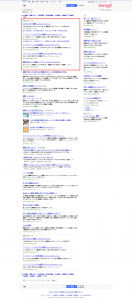 Fig 5.7: The number of ads at the top of Google and Yahoo! Japan's SERP is different. Here Yahoo is presenting 5 for the Japanese keyword "insurance".
Other major differences between the two search engines include related search terms, shopping results, and the map feature.
For related search results, while Yahoo! Japan includes them at the top and bottom of the SERP, Google only lists the entries at the bottom.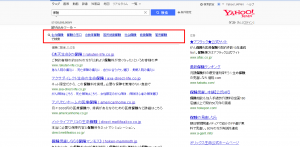 Fig 5.8: Yahoo! Japan also includes related searches in the top area of the SERP.
The map feature of Yahoo! Japan uses the same engine as Google's, so it's identical in that respect, but Yahoo! Japan has its own local business posting service called Yahoo! Loco.
This service shows business listings utilizing the Yahoo! Japan map feature.
In order to take advantage of this service, you are required to register your business on Yahoo Loco: http://loco.yahoo.co.jp/).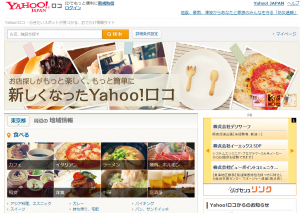 Fig 5.9: Screenshot of Yahoo! Loco
It is in this fashion that Yahoo! Japan's and Google's SERPs differ.
Knowing how they contrast is certainly something to always keep in mind, so that you can manage your Japanese SEO in a more effective manner.
Naver Matome and SEO
Naver Matome (http://matome.naver.jp/) is a great content curation site that has recently become quite popular in Japan.
Although Naver is a Korean company, the site Matome is purely Japanese: the Japanese subsidiary of Naver, LINE, created and maintains the site.
Naver Matome is free to register on and allows its users to create curations of the content that they find interesting on the Web.
Titles, body text, links, pictures, and more can all be collaged together to create their own blog-like page.
What's exciting about Naver Matome in terms of SEO, is that in early 2013, Yahoo! Japan signed a deal with Naver to include Matome posts on the first page of Yahoo! Japan's SERPs.
The SEO implications of this are that, essentially, with enough practice, curations could be used as a means of achieving higher rank on Yahoo! Japan's search results.
As signing up for an account is free, in the years to come, there could be an influx of SEOs all trying to tap into the resources that Matome provides.
As it is a free service, there is nothing to lose by creating an account.
So, I recommend trying some curating for yourself to see if you can create a post that will rank for your target keywords.
More Information about Japan
Japan, like other Asian countries, has its own unique array of social media platforms. While social media isn't purely SEM, it can play an important role overall in an online marketing campaign.
Indeed, there is often synergy that forms between SEM and social media marketing regardless of the country in which you are advertising.
In this section, I will discuss elements of Japan's social media market.
When looking at the SNS market share spread for Japan, surprisingly, Facebook doesn't come in first.
The top share of the SNS market belongs to one of the original Japanese social networking services, mixi. Data released for 2013 indicates there were approximately 27.1 million registered users on mixi.
On the other hand, the total number of Facebook users was measured at 19.6 million.
Even so, Japan's social media market is not that large when compared to the West.  Since the total number of Internet users in Japan amounts to 100 million, less than 30% are on mixi and even fewer on Facebook.
Other popular Western SNS, such as LinkedIn, with 9.7 million registered users, also have a presence in Japan, but are even less noticeable than Facebook.
So, as you can see, there is still much room to grow in Japan. This doesn't mean that digital marketers should avoid integrating social media into their online marketing strategies.
What is important is knowing the differences between popular SNS in Japan and those in the West.
Here, I will introduce some of the key differences between Facebook and mixi, so that you can figure out which medium would be best for you to utilize in your Japanese online marketing campaigns.
Account Creation
For mixi accounts, in order to register, you need to enter a valid Japanese cell phone number.
Facebook, on the other hand, doesn't require this to create an account. This is a big difference that can impede foreign marketers from using mixi's services.
User Names and Photos
Another significant difference between the two SNS is the registered user names and photos you will find. On the Japanese native SNS, mixi, you will find that most users have registered a pen name for themselves and haven't uploaded any personal photos.
This is largely due to the level in which privacy is valued in Japan. Japanese Facebook users, on the other hand, are more willing to post their real name and personal photos, because it is viewed as a more global service wherein users from around the world regularly make public their real name and personal photos.
These social/cultural trends can be found when browsing through Japanese user profiles.
'Footprints'
On mixi, there is an interesting feature called "ashiato" (footprints) which allows for users to view who has visited their page.
This can be a fun feature, because you can figure out which of your friends has taken the most interest in your profile.
Since this applies for all users, your activity will be tracked as well.
If you have a company page, you can see what types of users have taken an interest in your company.
Search Engine Integration
The last major difference I will mention is the integration of these media into search engine results pages. Mixi, being the purely Japanese platform, doesn't have its pages indexed on Google or Yahoo! Japan.
Therefore, you will not see any profiles in the SERPs. Facebook, on the other hand, will show user pages in the SERPs, so it is a more liberal platform in terms of privacy and social media marketing.
| | | | | | | | |
| --- | --- | --- | --- | --- | --- | --- | --- |
| | Registered Users | Account Creation | Visit History | "Like" type Feature | Name | Search Engine Indexation | Advertising Service |
| Mixi | 27.1 million | JP cell phone number needed | Viewable | No | Pen names | No | Yes |
| Facebook | 19.6 million | No cell phone number needed | Not viewable | Yes | Real names | Yes | Yes |
As illustrated above, while both mixi and Facebook are similar to each other in the respect that they are SNS, there do exist significant differences between them.
It is important to consider these before developing any Japanese social marketing strategies.
I hope that this brief introduction to the two platforms will serve as a good reference for your own social marketing campaigns.
For help with your digital marketing campaigns in Japan, contact Info Cubic today.
Featured Photo by Alexander Smagin on Unsplash