Hong Kong's population is only 7,130,000, but 74.3% of it is online. It has one of the more active online markets in Asia. Comparing television and Internet use for the years 2006 and 2010, it becomes clear that TV viewership has fallen over time, and Internet use has increased significantly.

| | | |
| --- | --- | --- |
|   |   | Reference |
| Population | 7,173,000 | IMF-World Economic Outlook Database 2012 |
| Internet population | 5,329,000 | www.internetworldstats.com 2012 |
| Internet use | 74.2% | |
| Scale of online advertising market | 91 million USD | SMB World Asia Edition |
HK$1.86 billion was used in advertising for Chinese New Year in 2012 (online and offline). This is 6.7% of the cumulative average yearly expenditure (Asia Media Journal).
According to a 2011 Google study, 78% of smartphone users saw ads and clicked on them. (Publicitas).
The online retail market in 2011 was 1.9 billion USD, and it has been estimated that it will grow to 2.5 billion USD by 2015 (PayPal/Enterprise Innovation).
37% of the population banks online (Nielsen).
For the population of Hong Kong, mobile phones have a 225.5% penetration rate (Office of the Communications Authority 2012).
Time Spent per Day Online & Watching T.V. (Mins & Percentage Change)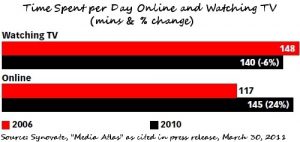 Fig 9.1: A simultaneous drop in TV viewership and rise in Internet use occurred between 2006 and 2010.
Foreign corporations that cannot host their websites in China often set up shop in Hong Kong. Due to China's restrictions, the number of these types of companies has multiplied in recent years.
In Hong Kong, both Cantonese and English are official languages. English, in particular, is used quite often in business as a large portion of business conducted in Hong Kong is with overseas companies.
With regard to Cantonese, it is important to note that, like Taiwan, Hong Kong uses traditional Chinese characters, not the simplified versions used in the mainland.
The Hong Kong Search Engine Market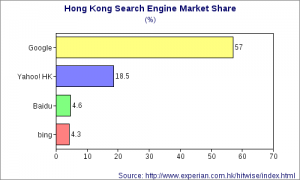 Fig 9.2: Overall search engine shares in Hong Kong
Baidu, which commands the top share for search engines in China, has only captured 3.58% of the overall search engine share in Hong Kong.
Thus, it is important to consider China and Hong Kong independently when developing an online marketing strategy for the greater China area.
PPC Advertising in Hong Kong
Before running SEM campaigns in Hong Kong, it is necessary to choose which language you will use as your ads' target language.
As previously stated, English and Cantonese are both official languages, and, thus, both are potential languages in which to advertise.
Consider the data below, wherein searches in English and Cantonese (traditional characters) were performed for "used car," "credit card," and "insurance."

Fig 9.3: "Used Car" monthly search volumes for Hong Kong

Fig 9.4: "Insurance" monthly search volumes for Hong Kong

Fig 9.5: "credit card" monthly search volumes for Hong Kong
As the screen captures above show, suggested bid price can fluctuate significantly depending upon language.
In the example of the keyword "Insurance", the English bid price is over twice the amount of its Chinese counterpart.
This helps to illustrate the important point of researching which language is best for a paid search campaign in Hong Kong.
Hong Kong SEO
Google's search engine market share in Hong Kong is the highest at 60%, so it is natural that SEO be conducted in light of Google's algorithms.
In second place is Yahoo! Hong Kong, which currently is being powered by Microsoft's Bing, so if ranking high on Yahoo! Hong Kong is preferred, optimizing websites to the Bing algorithms is ideal (SEO tips for Bing are explained in the post about Taiwan).
Regarding link building, while it is ideal to keep things local by using as many as possible from domestic websites, Hong Kong has a relatively small number of sites when compared to other countries, making difficult to build an effective portfolio.
In order to get as many links from as many relevant domains as possible, producing quality, attractive content is key, for it will likely lead to content sharing and the formation of multiple backlinks to your site.
Info Cubic are experts in executing successful digital marketing campaigns in Hong Kong. Contact us today for a free quote.
Featured Photo by Florian Wehde on Unsplash